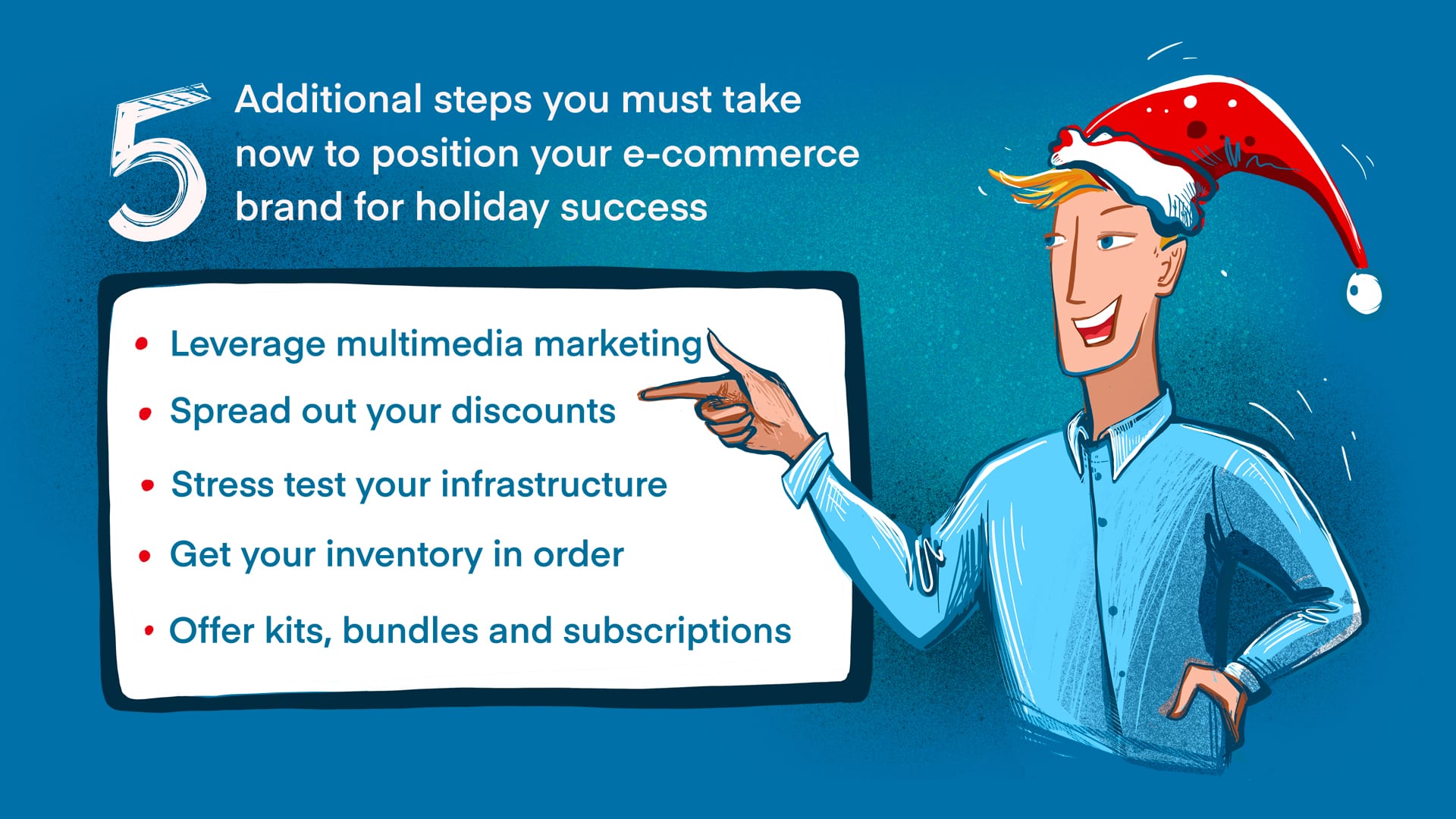 Experts are calling for another unprecedented holiday season for online sales. eMarketer predicts e-commerce will account for a whopping $206.88 billion of this year's holiday retail sales – 18.9% of a nearly $1.1 trillion pie. If the projection holds true, this would be a 11.3% increase over last year's record-setting holiday e-commerce sales.
Last year, e-commerce took center stage as many brick-and-mortar retailers were faced with shoppers reluctant to venture into stores. Online sellers were able to reap the benefits, but success also meant having to contend with unique fulfillment challenges: online orders surged, but supply chains were stretched thin and shipping carriers were struggling to keep up. 
While we have entered into a different evolution of the COVID-19 pandemic as this holiday season approaches, many of our top ten tips for holiday e-commerce success from last year still apply. Being proactive will be as crucial as ever when it comes to maximizing your selling potential. That said, even though there will be some inevitable similarities between this Q4 and last, you need to start taking steps now to be prepared for the differences.
This Holiday Season Has Its Own Unique Challenges
As we remain in the throws of the COVID-19 pandemic, the 2021 holiday season still has plenty of unknowns. However, there are some issues that every e-commerce seller will have to come to grips with in one way or another.
Brick-and-mortar is back. While in-store shopping was an option last season, many avoided it altogether. This year, the availability of vaccines and the growing push to return to normalcy have brought shoppers back into the stores. This adds an increased level of competition as e-commerce brands once again will have to provide value and convenience that can outmatch customers' local retail options – options that are growing by the day.
According to a National League of Cities report, after a devastating 2020 that shuttered many small retail businesses and led to the closure of over 12,000 retail chain locations, there has been a nearly 40% year-over-year (YOY) increase in retail store openings in 2021.
Many of these retail locations will not only be physical challengers to your e-commerce business, but they will be online competitors as well. Retailers are continuing to offer customers the opportunity to order online and pick up in store (affectionately referred to as click-and-mortar by some). This is a shopping style many customers grew more comfortable with out of necessity throughout the pandemic – ordering everything from groceries to cars online from local retailers. As the holiday shopping season approaches, expect customers to be more eager than ever to opt for click-and-mortar options as they seek out the convenience of online shopping without having to worry about fulfillment delays or shipping issues interfering with their gift giving. Your omnichannel e-commerce retail business will need to be prepared to offer top-notch service and reliability to compete as effectively as possible.
Labor is expensive. The national labor shortage remains a major concern. Even as job numbers continue to trend in a positive direction, key positions in the supply chain, logistics, and manufacturing industries remain unfilled. Companies are having to offer incentives and higher wages to try and staff up.
While this may be an issue you are facing now, this may mean that Q4 seasonal staffing will also prove both challenging and expensive. You will need to budget accordingly this holiday season – whether it is for your own staffing needs or the increased labor costs of those in your supply chain, logistics infrastructure, and/or customer service team.
Supply chains are still a mess. A shortage of warehouse workers, truckers, delivery personnel, and manufacturers also means the supply chains your business rely on are likely to struggle to keep up with holiday demand.
Depending on your merchandise and where it comes from, certain global shortages (like the ongoing semiconductor chip shortage or the shipping container crisis) may hinder your ability to get the inventory you need to meet holiday demand. If these types of challenges are already negatively impacting your business, starting to stock up now for Q4 may be more cost-effective than having to place expensive rush orders or going out of stock when the holiday orders start pouring in.
Inflation means costs and prices are rising. The Consumer Price Index (CPI) continues to grow month-over-month, and while the latest inflation reports seem to be in line with economists' projections, increased supply chain and fulfillment expenses will almost certainly be passed on to customers as they start their holiday shopping. Don't be afraid to optimize your own listing prices to account for increases in overhead.
Competition will be fierce. Even though e-commerce's share of holiday 2021 spending will likely be larger than ever before, there are more and more players in the industry than ever before as well. Be sure to start optimizing your marketing strategies, catalog listings, and website performance now to be ready to compete.
5 Additional Steps You Must Take Now to Position Your E-Commerce Brand for Holiday Success
While our advice for preparing for holiday 2020 still rings true today, there are several additional tips that can help you get the most out of holiday 2021:
1. Be prepared to leverage multimedia marketing. To stand out from the crowd, you need to be including diverse multimedia in your listings and marketing efforts. Use both video and optimized images tailored to your audience as a way of bringing your products to life. As you plan marketing strategies and listing revisions to target holiday sales, be sure to include relevant visual media whenever possible.
2. Spread out your discounts. With fulfillment looming as a potential bottleneck for holiday sales, you may want to reconsider your strategies for offering sales and discounts on your products.
Rather than hyper-focusing on Black Friday, Cyber Monday, or other short-term sales windows, spread out your discounts throughout the holiday season. You won't be alone, extended holiday sales windows have been a growing retail trend even before the pandemic. Jumping on board with this practice should help both your ability to maintain inventory (and avoid costly overselling) as well as your ability to not overburden a potentially short-staffed fulfillment team.
3. Stress test your infrastructure sooner than later. Be sure your website, warehouse, and staff are tuned-up and ready for the holidays well before they arrive. Investing in easily scalable software and technology now can eliminate the headaches of trying to scale a piecemeal collection of tools and interfaces amid an onrush of orders.
4. Get your inventory in order, know what you have and where you have it. You don't want to be caught flat-footed this holiday season with either too little merchandise or merchandise stored in the wrong places. Reliable cycle counting workflows – like those supported by Skustack – can help you establish a reliable tally of your stock levels now and maintain that accuracy and dependability when business picks up.
Furthermore, you need to be sure to have a proper inventory management system that allows you to initiate and track warehouse-to-warehouse stock transfers. One of the keys to keeping fulfillment times down (and customers happy) is having merchandise in close proximity to where orders originate. Whether this means maintaining bi-costal warehouses or enlisting the help of geographically diverse 3PL partners, Skutack and Sellercloud can help you get the products you need closer to where your customers are.
5. Consider offering kits, bundles, and subscriptions this holiday season. Combining related and/or complimentary items into bundled SKUs can be a unique way to add value to your e-commerce catalog and additional purchasing options for your customers. Skustack allows you to create, customize, and fulfill these kitted orders across your omnichannel listings without creating headaches for your inventory tracking or fulfillment teams.
Similarly, subscription offerings are particularly useful if you are concerned with carrying too much unsold inventory into Q1 2022. By offering customers what essentially boils down to a recurring order of a product or series of themed merchandise, you can create a gift that keeps on giving for your customers and your own bottom line. Subscriptions can provide a way to consistently move inventory and generate revenue even after the holidays have ended.
Skustack and the entire family of Sellercloud products can give you the tools and organization you need to manage your omnichannel e-commerce from a single, convenient interface – through the holidays and beyond. Contact us directly for a free demo today and put your e-commerce brand in a position to make this Q4 your best ever.