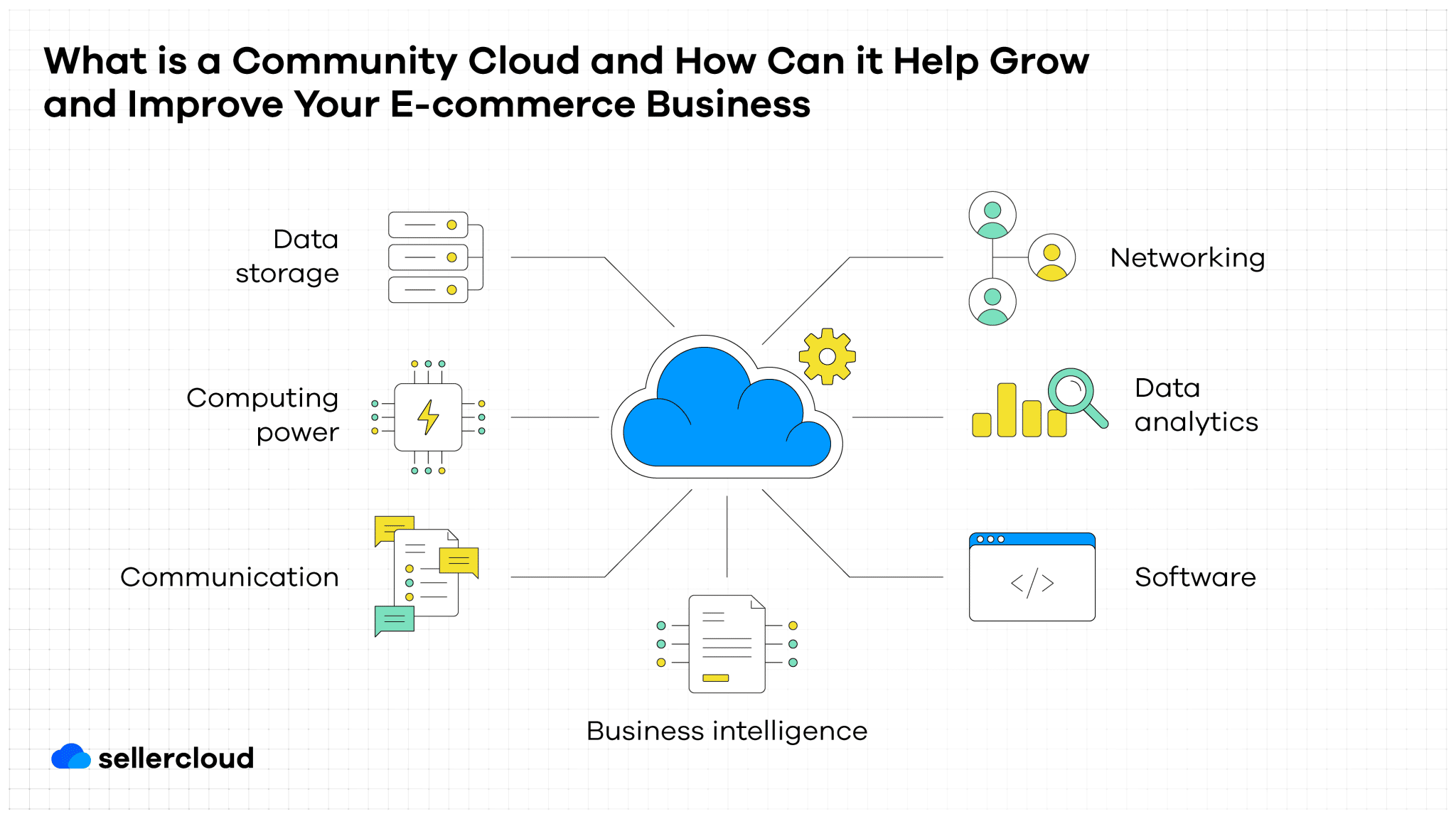 Cloud computing is a model for delivering digital services such as software, data storage, analytics, communications, networking, business intelligence, and general computing power over the internet. By moving these tasks to "the cloud," companies and users do not need to rely exclusively on personal devices and local servers to process, store, and interact with their data. Instead, businesses can use the resources and tools provided by cloud-based service providers to handle these tasks,
Moreover, cloud computing makes it simple to share information, tools, and software across an entire organization or community. For an e-commerce business, this decentralized approach can lead to increased efficiency, significant cost savings, and improved reliability compared to handling the same information and programs entirely in house.
Community clouds are a special model of cloud computing that take things further than other models, offering a level of deliberate interactive connectivity between organizations and businesses. This type of shared cloud infrastructure creates a space for collaboration across multiple organizations, individuals, and/or businesses. The result is the potential for mutual benefit in a variety of ways including the sharing of information, resources, infrastructure, and costs.
For e-commerce businesses, finding and engaging with community clouds can be a useful pathway to insights and best practices that can elevate your online sales, workflows, and omnichannel strategies to new heights.
Different Clouds for Different Needs
Cloud computing is a broad concept to unpack. It has countless potential functions across both personal and business use cases. As such, there are clouds of varying sizes and configurations that exist to serve this array of possibilities.
Public clouds, private clouds, hybrid clouds, and community clouds are all types of cloud-computing models that offer different levels of control, security, and customization. They each have strengths and weaknesses that must be considered before implementation.
Public clouds

are services owned and operated by third-party cloud providers, who make services and computing power available to businesses and/or the general public over the web. Some of these services are free to use, while others are only accessible through subscriptions or pay-per-use models. Public clouds tend to be the most affordable options for businesses and organizations. However, public cloud services offer varying degrees of security and confidentiality—making some options a potential deal breaker for certain sensitive types of data and use cases.




Most infrastructure as a service (IaaS), platform as a service (v), and software as a service (SaaS) offerings would be considered public cloud models. Users are able to remotely access computing power, programs, and even fully-featured platforms (like Sellercloud) from a web browser or terminal without having to host or maintain the software or hardware locally.

Private clouds

are the opposite of public clouds. Individuals or companies are responsible for running the hardware, software, data storage, and networking to run the cloud infrastructure. Since they are owned and operated by a single organization, private clouds offer a level of control, security, and customization that is far superior to public cloud options. This can make it simpler to comply with regulations surrounding sensitive data as well as protect trade secrets and internal communications. That said, the very nature of private clouds means that  they are usually more expensive and labor intensive to both set up and support.

Hybrid clouds

are distributed systems that span both public and private cloud infrastructures. This "best-of-both-worlds" approach can theoretically give users the added speed and security associated with a private cloud while providing the cost-effective computing and storage boost of a public cloud. In reality, the complexities associated with scaling and securing a hybrid cloud can present real challenges if not maintained effectively. Each upgrade or change in membership opens up potential challenges that must be addressed to ensure that the cloud's infrastructure remains functional for all members and that security remains intact.
What is a Community Cloud?
A community cloud is a distinct type of cloud-computing infrastructure that is shared by multiple organizations within a specific community—such as businesses within a common industry or geographic region. Although community clouds usually adhere to a private cloud model (particularly when it comes to data security and access limitations), they provide many of the benefits of a public cloud, like scalability and cost efficiency.
In function, a community cloud acts as a focused type of hybrid cloud that typically serves a specific function for a series of related individuals, organizations, and/or businesses. By intentionally honing in on a deliberate, narrow purpose, community clouds can serve useful functions while also minimizing many of the challenges and pitfalls of broader hybrid cloud models.
All told, community clouds offer a number of potential benefits for e-commerce businesses. By taking advantage of the shared infrastructure and resources of a community cloud, businesses can reap benefits over other exclusively public and private cloud models including (but not limited to):
Improved and secure communication

Reduced IT costs

Increased control over data and information

Access to specialized resources and expertise

Scalability
Types of E-commerce Community Clouds
The community cloud concept is particularly valuable to those in the e-commerce industry. The model can be wielded to serve different functions depending on the needs of a particular business and those it seeks to interact with.
Some of the most common uses for a community cloud in e-commerce include:
A knowledge base

– Success in e-commerce (or any industry for that matter) relies heavily on a combination of information and connections. Community clouds can be extremely useful platforms for improving access to both.
A knowledge base community cloud can take the form of a forum or message board space where users with common interests, goals, and challenges can come together. In this space, participants can interact and utilize their collective expertise, experience, and best practices to provide helpful—even profitable—guidance.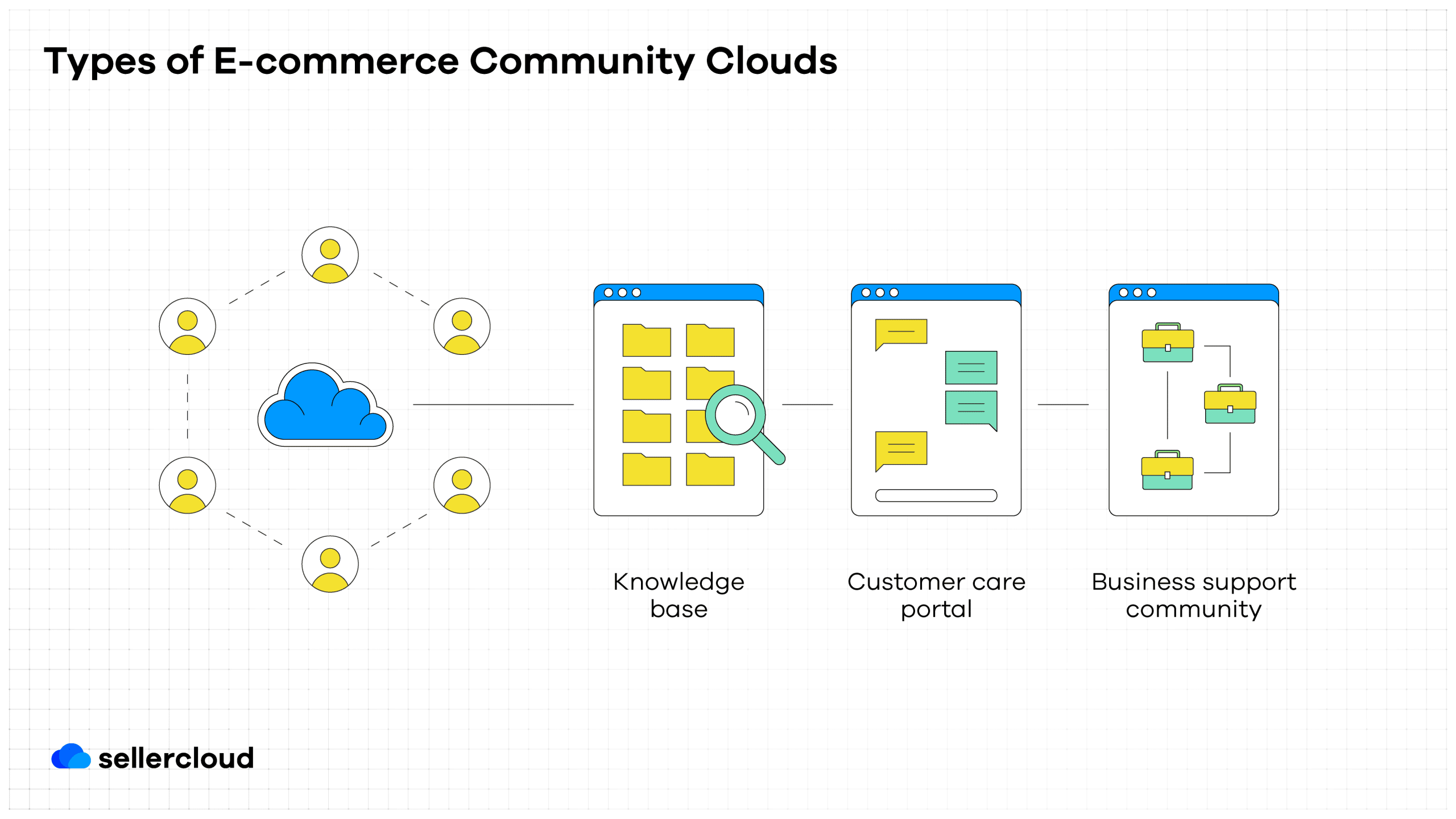 For example, a community cloud like Sellercloud's User Forum empowers businesses to share their knowledge and insights with each other. This communication-focused cloud experience makes it easier to keep up to date on the latest e-commerce trends, share platform developments, and even get updates about new tools, products, and technology. It also provides a direct communication pathway between Sellercloud users and the Sellercloud team to facilitate problem solving and useful suggestions for getting the most out of Sellercloud's platform and tools.
A customer care portal

– Some businesses utilize community clouds as part of their customer outreach and support. By offering customers a singular online destination for feedback, support, and other inquiries, businesses can streamline customer support workflows while also opening the door to opportunities for improving customer loyalty and brand development. What's more, an active and loyal user base can empower customers to help each other—saving your staff time and giving customers' a sense of having a stake in your brand.
All of this is particularly crucial for an omnichannel e-commerce business where focus on the customer is paramount. A community cloud can be the perfect ecosystem for fostering an open dialogue between brand and consumer while also connecting like-minded customers. The resulting insights can provide ideas and opportunities for how to improve products and develop new SKUs. Posts and conversations on a community cloud can even spur valuable customer testimonials that can be incorporated into your marketing efforts.
A business support community

– Running a business is seldom a self-contained enterprise. Especially in e-commerce, it takes a network of vendors and providers to keep a business running and growing. A community cloud can serve as a secure, centralized option for communicating and sharing digital resources across these partnerships.





This concept can be broadened to include relationship development between businesses as well. Inter-business community clouds can be created, focusing on specific locales or synergistic brands as a launching point for co-marketing efforts. They can also be shared spaces to spur innovation and business development.
Across each of these use cases, community clouds can also be leveraged as a form of shared services to cut down on infrastructure and other digital costs of running a private cloud independently.
It is worth noting that all Sellercloud users already have access to a thriving community cloud. Login to Sellercloud's User Forum today and join our team and customers as they share business-boosting tips, insights, and suggestions that can help support your omnichannel e-commerce business. Forge relationships and partnerships that can drive sales growth and workflow optimizations. Be in the know about the latest products, updates, and developments from Sellercloud.
Not a Sellercloud customer, yet? Contact us directly for a free demo and see for yourself how our cloud-based e-commerce growth platform can make a difference in your bottom line.