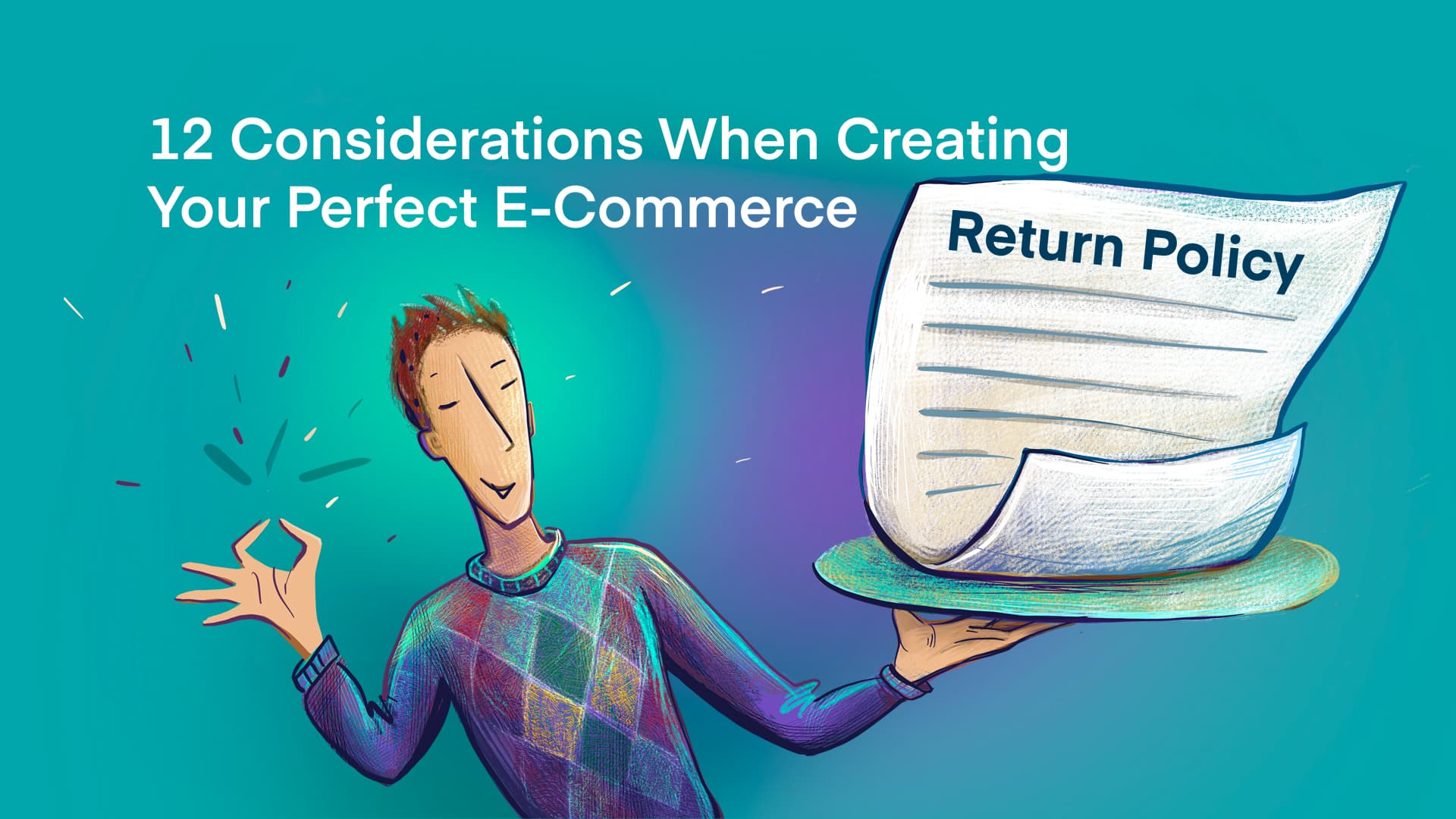 Returns aren't why people get into the e-commerce business, but effective and fair return policies certainly help keep e-commerce businesses in business.
This has become increasingly important as more and more customers are opting for the online shopping experience over the brick-and-mortar retail alternatives. In-store retail allows customers to physically hold and inspect a product, purchase the exact item they touched, and leave with their merchandise in tow. E-commerce sales are made at a distance through images, descriptions, and multimedia. Purchases are made on a screen and the merchandise has to be picked, packed, and shipped to the customers. Each of these extra steps is an opportunity for the buying experience to fail to meet customer expectations. When that happens, so do returns. How you prepare for these inevitable disappointments will go a long way in your ability to reach, satisfy, and retain customers – especially those who are more accustomed to traditional brick-and-mortar buying experiences.
Make Initiating a Return Simple
Customer self-service is becoming an increasingly common component of e-commerce returns. The fewer hoops a dissatisfied customer has to jump through to return or exchange merchandise they are not happy with, the less opportunities there are for further frustration and disappointment. When it comes to making things right, time is of the essence.
Third-party marketplaces know this. That is why the majority have created very customer-friendly return policies (sometimes too customer-friendly in the eyes of some sellers) that streamline the refund and exchange processes. A few clicks from an order status page and the RMA is generated, return shipping instructions are provided, and refund options are initiated. Being aware of these policies and keeping up on their frequent changes is essential if you are a third-party seller.
This simplicity is something you need to be prepared to emulate for your own first-party website sales. Including a simple to use return portal for your customers will help you create a more streamlined RMA process while, at the same time, promote buyer confidence for customers seeking peace of mind knowing that they are covered should their purchase experience not go exactly as expected.
Keep Your Return Request Response Time Short
The fact that a customer can initiate a return with just a few clicks and keystrokes doesn't mean anything if their request winds up sitting in an unchecked inbox. Turnaround time matters – especially when it comes to dealing with a dissatisfied customer.
Consider adding automated communications into your returns workflow so the customer feels in the loop about the process. Include sought-after information like return request approvals, clear instructions, next steps, and tracking information. This can help keep the customer cool, while also saving your customer service employees from getting swamped with predictable information requests.
Establish a Fair Return Window
While many times customers decide that they are returning a purchase the instant they receive it, there are also instances where the decision is made later. Common practice is to offer a set return window of 30, 60, or 90 days. When setting these windows, there are several key considerations to take into account:
The nature of the merchandise – If you are selling single-use or perishable items, a shorter return window typically makes more sense. Conversely, more durable or non-perishable items could benefit from longer windows.
Product quality – The more confident you are in your product's quality and durability, the longer a return window you can offer. This is something some customers pay particular attention to, especially when comparing two or more similar products.
Special circumstances – Some marketplaces and sellers publish specific return windows for gifts or times of processing delays (like the holidays or during a pandemic).
Willingness to make exceptions – There may be times when customers seek a return after a return window has expired. When that happens, you need to have a protocol for evaluating when/if a return will still be accepted. This type of good faith can help strengthen positive feelings toward your brand.
Make Return Exceptions Clear
Whether on a third-party marketplace or on your own e-commerce website, be sure to make explicit what items you consider to be eligible for a return
If you offer particular products that do not follow your typical return policy, make this crystal clear at multiple points before the point of purchase. These exceptions should never be surprises that pop up when an unhappy customer is trying to return a product. Some marketplaces may even override these exceptions if you cannot establish that you adequately made the customer aware of them before they checked out.
Clarify What Customers Can Receive in Return 
Be deliberate and explicit about what the end result of a return will be. If there are multiple possible outcomes (refund, credit, exchange, etc.), be sure that customers know which returns qualify for each end result.
If certain outcomes are more cost effective for you, consider making them more enticing. For instance, guaranteeing a speedy turnaround for an exchange is a way Amazon tries to steer customers in that direction instead of a cash refund.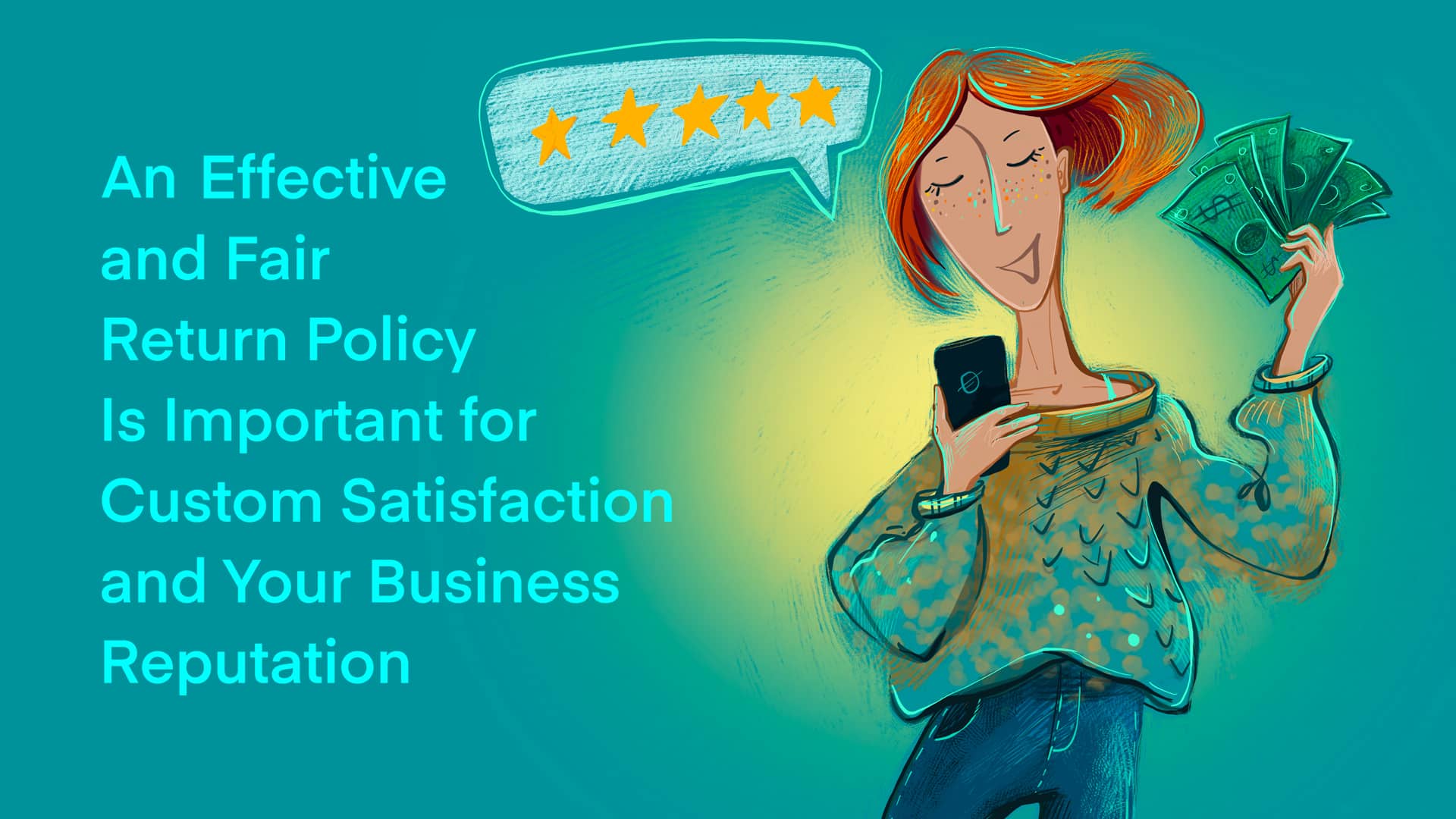 Prepare to Pay for Return Shipping
Regardless of the reason for a return, offering to pay for return shipping will keep your e-commerce business competitive with other sellers, retailers, and marketplaces. While this adds additional cost and overhead, it's yet another act of good faith that shows you stand by your brand and your products.
Use Pay-on-Scan Shipping Labels
Whenever you offer to pay for customers' return shipping needs, opt for shipping services that allow for pay-on-scan services. They work exactly as you would assume – your payment method is not charged until the return package is scanned and accepted by your shipping partner. This allows you to avoid paying for shipping labels that don't get used or get lost in transit to your customer.
Choose the Right Return Shipping Speed
Dissatisfied customers only grow in their disappointment the longer they are made to wait. It may be tempting to opt for the most inexpensive shipping option (especially if you are paying for return shipping), but the ultimate goal should be to complete the entire return process as quickly as possible. This will reduce the chances of negative feedback and also reduce the rate of repeated follow-up inquiries to your customer service department.
Be Smart About Your Return Acceptance Locations
A lot of the considerations involving return costs revolve around geography. Creating a returns workflow that operates as "reverse logistics" allows you to pay attention to details that you might otherwise ignore.
In particular, attempt to position your returns acceptance locations strategically in relation to your customer base. When packages don't have to travel as far, it can help keep both return costs and turnaround times down.
Make Your Return Policy Visible and Easy to Find
As mentioned, a great returns policy means nothing if customers don't know it's there. Rather than burying your returns-related information in the bottom of a terms of service document or nested in an ever-growing FAQ page, make it visible and accessible. Link to your terms in your website footer, in every customer service email, in your shopping cart, in your receipts, in your order details, and on your product pages.
Showing that you are committed to speedy and fair returns shows a commitment to customer satisfaction and your brand's quality. Wield it as the marketing tool that it is.
Enlist Legal Help
Before putting any policy live on your website or marketplace landing pages, it may be worth having a legal professional give it a once over. You may think you have dotted your i's and crossed your t's, but unintended missteps could prove costly if challenged by an exceptionally disgruntled customer.
Have a Plan for What Happens to Your Returned Merchandise
Last but not least, know what you are going to do with the products that get returned to you. Some may be able to be refurbished and resold. Others may need to be destroyed. Regardless of their fate, these products need to be processed and dealt with quickly to avoid getting lost in dead stock purgatory.
Ultimately, the better your returns workflow, the better terms you can offer your customers. The more buyer-centric you can make your brand, the easier it is to attract new customers and retain existing ones. A clear and fair returns policy improves your e-commerce business's overall customer satisfaction and thus can help improve your standing on third-party marketplaces. 
Sellercloud's omni-channel e-commerce platform is ideally suited to help you optimize not only your online sales, but also effective and efficient return workflows. Contact us for a free demo of how we can help you create and support a returns process that attracts customers to your brand and keeps them satisfied with their shopping experiences.