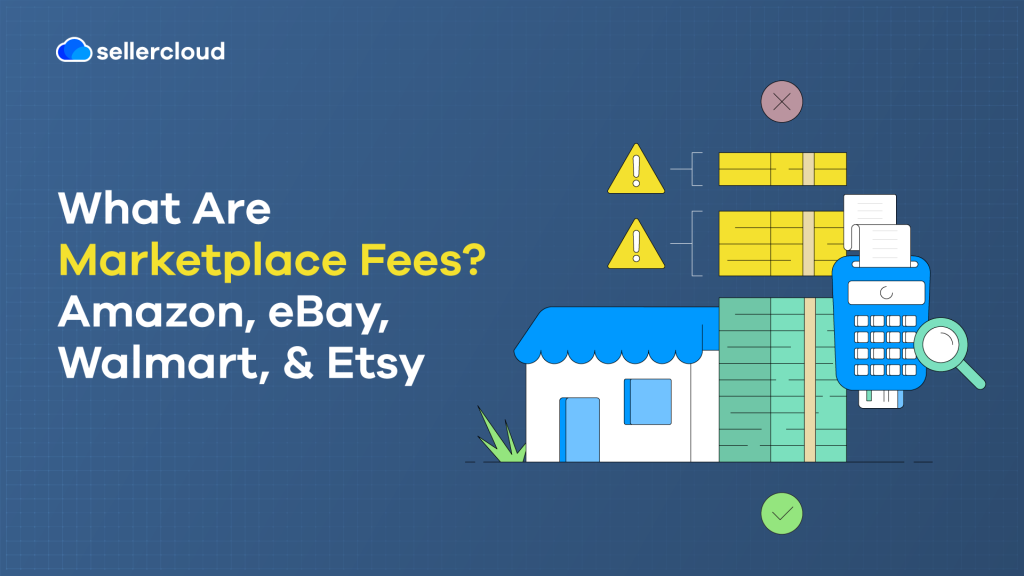 Marketplace fees are charged to sellers to operate on their platforms. We compare marketplace fees on Amazon, eBay, Walmart, and Etsy.
Some common marketplace fees include transaction fees, listing fees, subscription fees, and referral fees. However, fees depend on the marketplace.
Using Sellercloud, merchants can better track their finances across marketplaces and utilize accounting integrations.
According to a report by IMARC, the e-commerce market reached a size of $16.6 trillion in 2022 and is expected to reach $70.9 trillion by 2028.
That's big bucks for e-commerce marketplaces which make much of their money through the fees they charge merchants to sell products on their platforms.
Understanding how marketplace fees work can help merchants make better financial decisions and work towards reducing unnecessary costs.
In this article, we go over the most common e-commerce marketplace fees on some of the biggest platforms and a few effective ways to reduce the cost of marketplace fees.
What Are the Most Common E-commerce Marketplace Fees?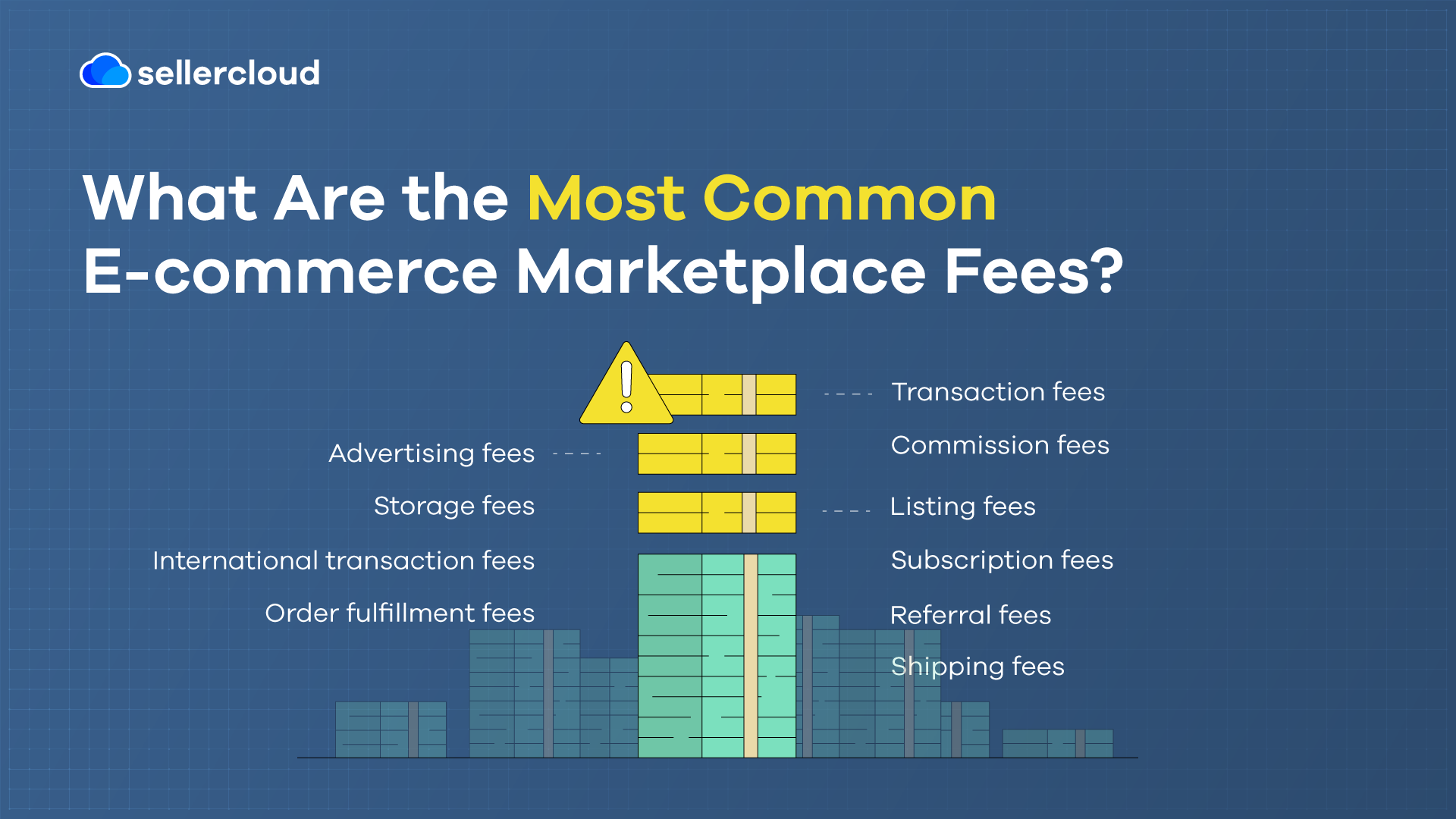 Many e-commerce marketplaces work differently, with different fees for different services calculated in different ways. 
It should also be noted that some fees serve a similar purpose, but different marketplaces give them different names and definitions.
Here's a quick look at the most common e-commerce marketplace fees:
Transaction fees

—Fee to cover the cost of facilitating a transaction between the seller and the customer. Also known as 'payment processing fees.'

Commission fees

—Charged when a seller completes a sale through a marketplace. Also known as 'selling fees.'

Listing fees

—You may be charged a listing fee to list your product for sale on some e-commerce platforms.

Subscription fees

—Some e-commerce marketplaces require you to pay a subscription fee to sell on their platform.

Referral fees

—Typically a percentage of the sale price, this fee is charged by marketplaces when a customer is referred to a product from the marketplace's search results or product listings.

Shipping fees

—Cost of generating shipping labels on behalf of the seller.
It's important to note that e-commerce platforms can also handle sales tax on behalf of merchants, though this is a tax, not a fee.
Other potential e-commerce marketplace fees can include:
Advertising fees

—Some marketplaces offer advertising on and off their platform.

Storage fees

—You may be charged if the marketplace stores your inventory as an additional service.

International transaction fees

—You may be charged this fee if you sell to a customer overseas.

Order fulfillment fees

—If the marketplace offers a fulfillment service, like Amazon's FBA.
These fees can depend on the marketplace, the services your business has signed up for, and any further fees specific to the platform.
On top of that, some marketplaces have fees for breaking the rules, and again these rules can vary depending on the platform.
Now that we have a basic understanding of the common marketplace fees merchants encounter let's compare the top four e-commerce marketplaces in the US—Amazon, eBay, Walmart, and Etsy—according to data from Similarweb.
Remember that these fees can easily change and are usually fully disclosed on the marketplace website. Reading up on these fees before signing up to sell is always a good idea.
Amazon Marketplace Fees
Let's start with the biggest and most expensive marketplace of all—Amazon—which has a wide selection of marketplace fees.
Interestingly, the fees Amazon collects from its marketplace are a significant part of its business.
According to an article by Marketplace Pulse, Amazon can take up to 50% of a seller's revenue from a sale.
This could be the case if you combine the cost of Amazon's referral fees, Fulfilled by Amazon (FBA), and advertising costs.
Marketplace Pulse also notes that Amazon's slice of revenue has increased—in 2017, it was closer to 40%.
They say this is because Amazon has increased fulfillment fees and made advertising unavoidable.
That said, you get a lot for your money when you sell on Amazon that you won't get from other marketplaces—but you must be sure you're paying for what you need.
Amazon is the largest online marketplace, so selling there exposes you to many customers. So, while you could pay more fees, you could still be profiting more on Amazon than other platforms.
Looking at Amazon's pricing page they break it down into four categories—selling plans, referral fees, fulfillment fees, and other costs.
Starting with seller plans, Amazon offers two—Individual and Professional.
The individual plan is free to sign up for, but sellers are charged a $0.99 listing fee (also known as a 'closing fee') for each item listed on Amazon's marketplace.
Meanwhile, a professional account costs $39.99, but merchants with this subscription are not charged a listing fee.
Early on, it's important to choose the right plan for your business, as either could end up being costly depending on how much inventory you're selling.
For example, if you are not selling enough, the professional seller subscription fee of $39.99 per month could be expensive.
Next, Amazon charges referral fees as a percentage of each product sold.
Amazon's referral fees vary depending on the product type, and some, but not all, have a minimum fee of $0.30—Amazon charges whichever is higher.
The referral fee percentage ranges from as high as 45% for Amazon Device Accessories to 8% for computers and consumer electronics. That said, this percentage is usually around 15% for most products.
According to Amazon, the transaction fee is included in the referral fee.
Amazon also offers merchants their FBA service, where they handle shipping, storage, customer service, and other tasks such as returns on behalf of merchants.
FBA costs rely on several factors, such as size tier, dimensions, unit weight, shipping weight range, and whether it's apparel.
The alternative to FBA is FBM (Fulfilled by Merchant), which is where merchants handle all the aspects of order fulfillment. FBM can be cheaper if merchants can handle what FBA provides at a lower cost.
Amazon has a 'Revenue Calculator' for FBA, which can help merchants estimate the price of the fulfillment service and compare the costs against their current fulfillment method.
For example, a $49,99 headset will cost merchants $5.80 in FBA fulfillment fees and a further $0.14 per unit in storage per month from January to September or $0.38 from October to December.
FBA also offers several service add-ons, including:
Inventory placement—$0.40.

Opaque bagging—$1.00.

Tape—$0.60.

Label—$0.55.

Bagging—$0.70.

Bubble wrap—$0.80.
Utilizing all these add-ons would cost you an additional $4.05, taking the cost of fulfillment up to $9.85.
Include Amazon's referral fee—in this case, $3.60—and, assuming the seller has an individual subscription, the listing will cost an additional $0.99 and the product was sold in November, the total cost per unit would be $14.82.
That leaves the merchant with a net profit of $30.17.
It is also important to note that merchants must pay for products shipped to FBA centers, which further cuts into the merchant's bottom line.
Other important fees to consider when selling on Amazon include:
Rental book service fees—If you rent books to customers, you must pay a $5 fee for each rental.

High-volume listing fees—For merchants with a high volume of active listings, Amazon charges $0.005 for each listing.

Refund administration fees—As Amazon explains, "if you refund a customer the $10.00 total sales price of an item in a category with a 15% referral fee, your refund administration fee will be $0.30 ($10.00 x 15% referral fee = $1.50)."
Merchants may also sign up for Amazon's advertising program, which uses "a cost-per-click, auction-based pricing model," where merchants decide the maximum they are willing to pay.
Lastly, eligible merchants can sign up for Amazon's Strategic Account Services, which provides merchants with a dedicated account manager.
However, Amazon's Strategic Account Services costs are customized depending on the merchant's needs.
eBay Marketplace Fees
According to their seller fees page, eBay charges a 'final value fee' of around 13.25% of the sale price (depending on the category), plus an additional $0.30 (which includes transaction fees).
Interestingly, eBay doesn't charge a listing fee for products. However, if you list over 250 products monthly, they will charge you a $0.35 insertion fee per listing.
Checking this page shows the percentage eBay takes depending on the product category.
It ranges from as low as 0.5% for 'Select Business & Industrial categories' on sales over $15,000 to a high of 15% for products such as jewelry and watches.
If you opt for eBay's Classified Ad format, you will need to pay $9.95 for a 30-day listing, but you will not need to pay final value fees.
eBay also offers 'optional listing upgrades,' which can include things like a subtitle or bold font and a range of other features. These features range from as little as $0.35 to $5.
You can also pay for international site visibility for auction-style listings, ranging from $0.10 to $0.40.
eBay also charges several special fees for certain situations. Here are a few you should know:
An additional 6% fee on top of the final value fee if your account does not meet eBay's minimum seller performance standards.

An additional 5% fee on top of the final value fee if you receive a considerable number of 'Item not as described' return requests when you reach your 20th month of selling on the platform.

eBay can charge sellers a $20 dispute fee if you are found to be responsible for a buyer-seller dispute.

Merchants can also be charged 1.65% of the total sale amount if they sell outside the US and are

not

using eBay International Shipping.

A 3% currency conversion charge is applicable if you make a sale in another currency.
eBay does not offer a fulfillment service like Amazon's FBA.
Walmart Marketplace Fees
As Walmart explains, "you pay for what you sell." Walmart has the simplest marketplace fees compared to Amazon, eBay, and Etsy. It only charges a referral fee, which you can read about here.
Referral fees can range from a low of 6% for categories like personal computers to 15% for most other categories. It's also worth noting that the price of these products can also impact the fee percentage.
Walmart doesn't charge a subscription, listing, or even transaction fees.
However, Walmart does not cover shipping, returns, or customer service—merchants must cover this themselves, which can make it harder to calculate the total costs of a sale.
Theoretically, this could mean that the cost of selling on Walmart could exceed other marketplaces unless sellers opt-in for Walmart Fulfillment Services (WFS), which charges based on dimensions and weight.
An additional optional fee is if you decide to use Walmart Ads, which can cost around $1,000 monthly with the 'Self-Serve Campaign' or $25,000 for a 'Managed Campaign.'
Etsy Marketplace Fees
Etsy charges merchants several marketplace fees; you can read about them here. These include:
Listing fees—Etsy charges $0.20 when you publish a listing.

Transactional fees—Merchants are charged a fee of 6.5% of the displayed price of the product, plus the cost of shipping and gift wrapping.

Advertising and promotional fees—Charged if you opt-in to use Etsy to advertise your product. The cost depends on several factors, such as if they are displayed on Etsy's site or elsewhere.

Subscription fees (Etsy Plus)—Another optional service, costs $10 monthly and gives sellers a range of tools to sell their products.

In-person selling fees—If you use the Square reader to sell in-person, you will not be subject to the 6.5% listing fee but will be charged a $0.20 transaction fee instead.

Payment processing fees (Etsy Payments)—If you are eligible to use this service, you will be charged per transaction, though many factors influence the price.

Pattern fees—Those using Etsy's website-building tool 'Pattern' will be charged $15 monthly.

Currency conversion—A 2.5% currency conversion fee on the sale amount will be charged if you sell a product in another currency.
An additional fee worth mentioning is regulatory operating fees. But these are only charged to sellers in the UK, France, Italy, Spain, and Türkiye.
Another important thing to note about how marketplace fees work on Etsy is that they are automatic and come from the funds in your account.
However, US merchants can sign up to use Etsy's 'AutoBilling' feature, which charges outstanding fees to their credit card if their account balance doesn't cover it.
Which Is the Cheapest E-commerce Platform to Sell On?
Figuring out which of the top four e-commerce marketplaces is the cheapest to sell on is tricky because each marketplace offers different services and charges fees differently.
Let's keep it simple and focus on only the basic fees—the ones you must pay at the bare minimum, excluding optional services, and let's assume you're selling the same product on each platform for $100.
Amazon
Listing fee—$0.99 per listing.

Referral fee—Typically around 15% of the price of the product.
Total cost—$15.99.
eBay
Final value fee—Typically around 13.25% of the price of the sale, plus $0.30.
Total cost—$13.55.
Walmart
Referral fee—Typically around 15% of the final sale price.
Total cost—$15.00.
Etsy
Listing fees—$0.20 per listing.

Transactional fees—A fee of 6.5% of the displayed price of the product.
Total cost—$6.70.
Out of all four of the marketplaces we looked at in this article, Amazon is the most expensive platform to sell on, and you can see why.
Walmart comes in a tight second, and eBay comes in third place.
While Amazon and Walmart's referral fees are quite competitive, as is eBay's final value fee, the cost to list on Amazon is the priciest.
Amazon charges $0.99 per listing (or $39.99 for a professional account), while in comparison, Etsy charges only $0.20 per listing, and eBay and Walmart do not charge at all.
Furthermore, as a highly competitive platform, you can end up lowering your prices more than expected, arguably making it even more expensive to sell on Amazon than elsewhere.
At $0.20 per listing and a 6.5% transaction fee, Etsy is by far the cheapest of the four, but it is not the most appropriate marketplace for all merchants.
To be frank, focusing too much on the fees is all beside the point. Instead, it's more important to consider if this is the right marketplace for maximizing sales for what you sell.
Amazon might not be the cheapest, but it could be more profitable for your business if you make more sales through them—that's super important to remember.
More to the point, selling only on marketplaces with the lowest fees can sometimes be a mistake.
Products may take longer to leave shelves, for example, which could harm your business in terms of storage costs.
Additionally, having all your costs go through one marketplace can be practical for some businesses as they can see all their expenses from one interface.
Choosing the cheapest marketplace, you may need to partner with more service providers to get all the services you need, which can be more expensive.
Ultimately, it's more important to consider which marketplace is more appropriate for your products than the fees you'll have to pay.
For example, Etsy specializes in handmade, vintage, and unique products, so selling on this platform makes the most sense if your store does too.
How to Reduce Marketplace Fees?
Looking to reduce marketplace fees is a wise thing to do, but the options are often limited. Marketplace fees will never be zero—e-commerce platforms must make money somehow.
One of the key things you can do is ensure you have the right account or subscription set up for your business.
For example, if you are selling on Amazon, it could be that you need to upgrade to a professional account from an individual account.
This could be the case if the $0.99 per listing charged to an individual account exceeds the $39.99 subscription for a professional account.
Meanwhile, on eBay and other platforms, ensure that you have signed up for the right store subscription for the products you sell and your sales volume.
Further to that, could you be paying marketplace fees for services you are not using? For example, could it be the case that you are paying for advertising, but most of your traffic is coming from elsewhere?
Evaluate what you have signed up for and see what could be removed. A downgrade could be better for your business if the unnecessary fees harm your bottom line. 
Lastly, always play by the rule of the marketplace. Breaking the rules can get you fined or penalized, or in the worst-case scenario, even banned on some marketplaces.
Selling on more than one marketplace will increase the fees you have to pay, but it is the best way to reach more customers and increase profits.
How Sellercloud Helps Merchants Manage Marketplace Fees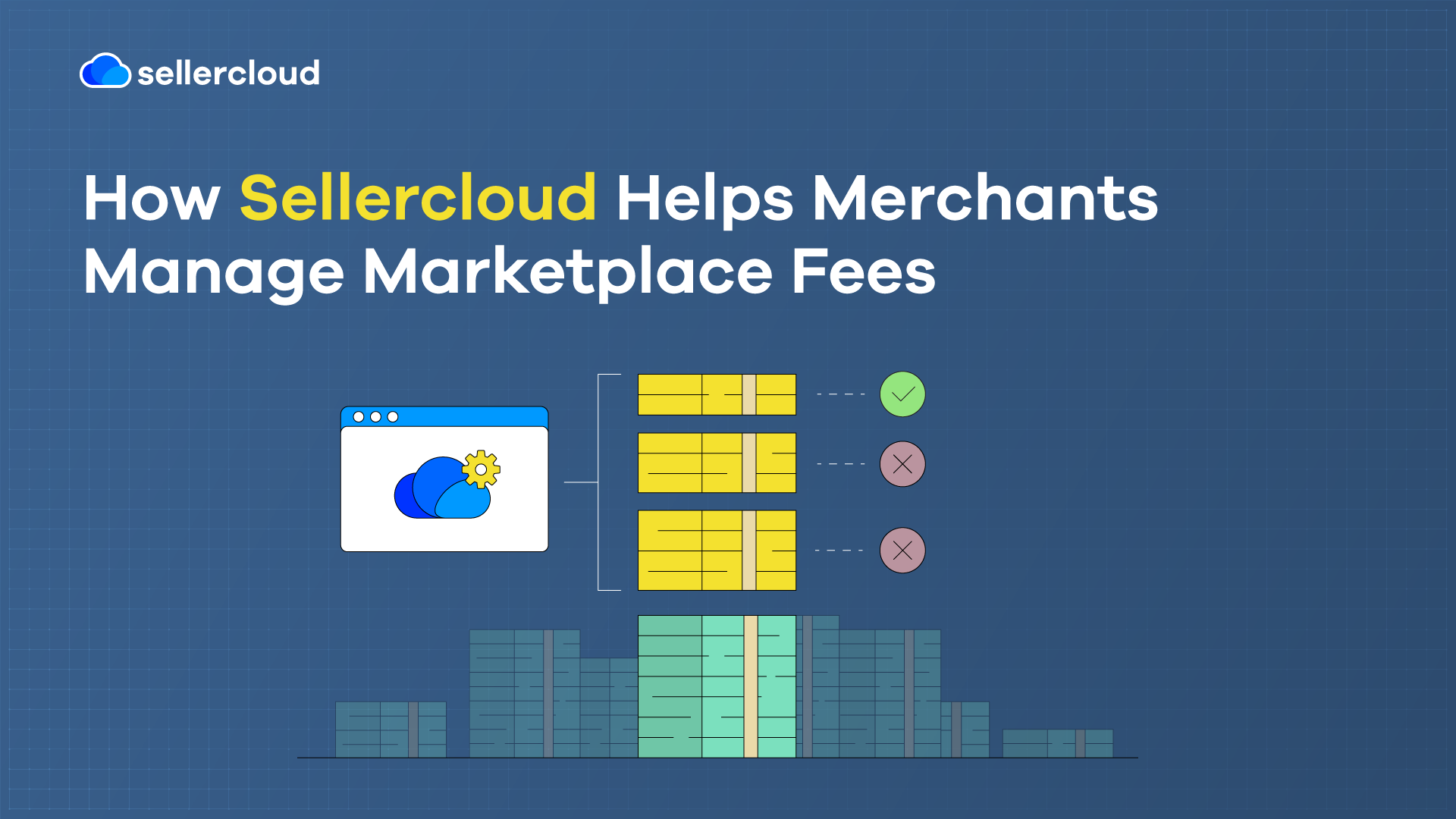 You'll likely never be able to completely cut marketplace fees, but there are plenty of other expenses you can work towards reducing.
It all starts with increasing the visibility of your costs and accounting from a centralized interface, which you can do with Sellercloud's accounting integrations.
Using Sellercloud's Quickbridge, merchants can keep better track of all their marketplace financials. 
Merchants can easily export Sellercloud data for all purchases, sales orders, taxes, and commission fees into QuickBooks.
On top of that, Merchants can also export Profit & Loss reports by individual product and track order-related fees, commissions, and taxes by channel.
That's not all. Sellercloud can also help merchants manage their costs in other vital areas, such as shipping, using Shipbridge.
With Shipbridge, merchants can ship and manage all their orders from one interface, plus configure shipping rules based on criteria such as destination, package weight, and order value.
Shipbridge also utilizes Sellercloud's Certified partnerships with all major carriers, including FedEx, UPS, and DHL.
On top of that, Sellercloud offers various plugins to support even the most highly customized workflows.
If that wasn't enough, Sellercloud is also integrated with a plethora of accounting services, including TaxJar, ConnectBooks, and Avalara.
Furthermore, as mentioned above, merchants should also focus more energy on increasing profits, which can be done with Sellercloud by selling on multiple e-commerce marketplaces.
Why only sell on Amazon when you can simultaneously sell on Amazon and eBay? Don't limit your access to potential customers on other platforms.
Regarding fees, Sellercloud is 100% transparent—see how Sellercloud's fees work here.
Key Points
Remember these key points on e-commerce marketplace fees.
The most common e-commerce marketplace fees are transaction, commission, listing, subscription, and referral fees.

Calculating e-commerce marketplace fees can be tricky because they can be charged in various ways.

Further to the above, some marketplaces offer additional services at a cost that can make selling online more convenient.

Amazon is arguably the most expensive marketplace to sell on, but it also has access to the most customers.

Using Sellercloud's accounting integrations, merchants can increase the visibility of their marketplace financials from a centralized interface.