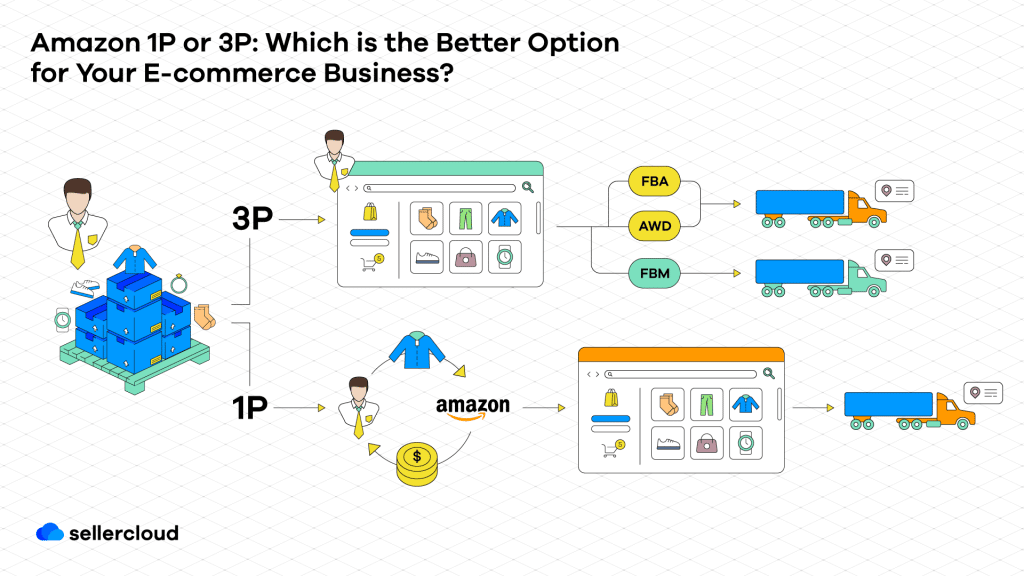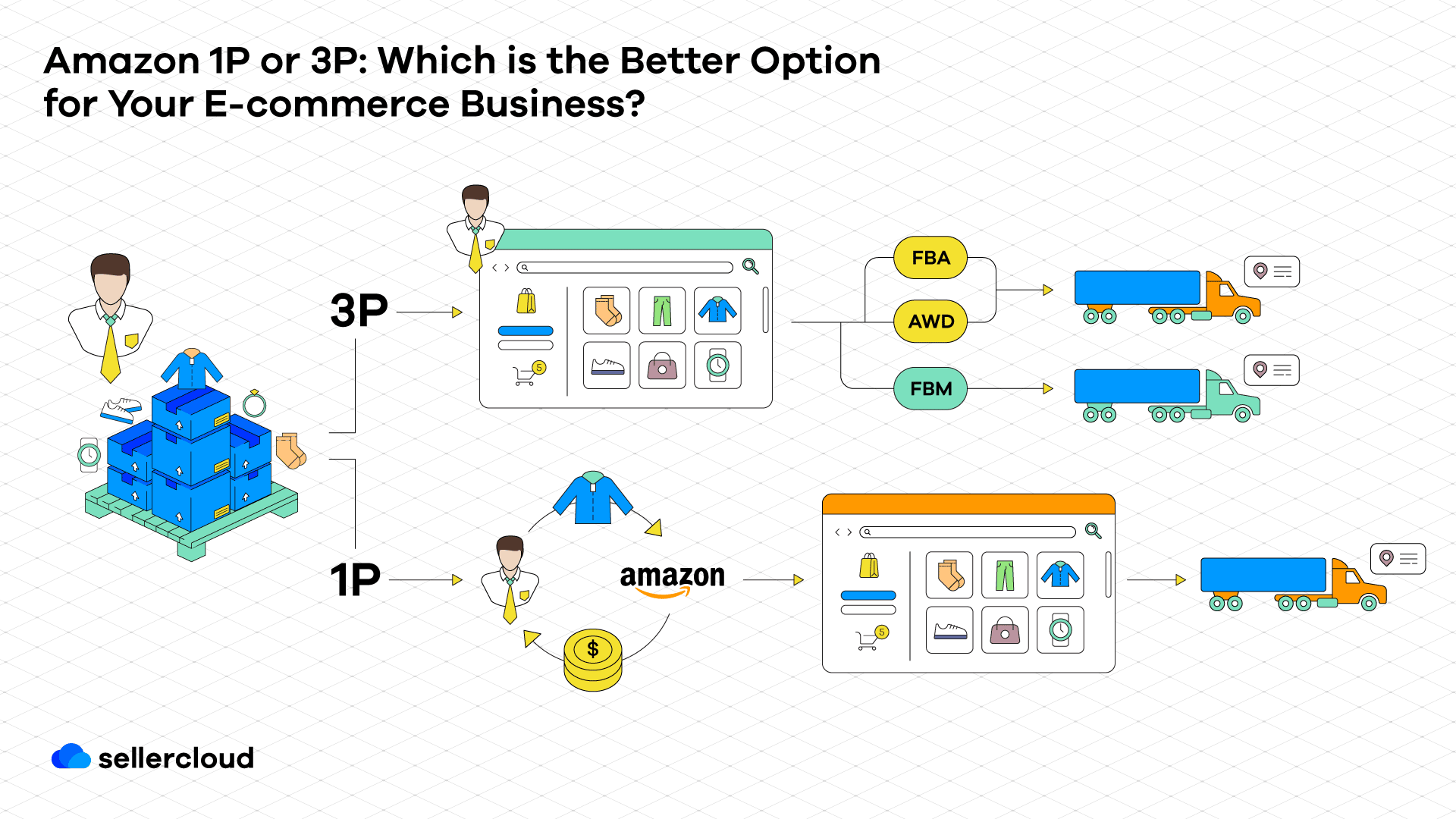 There is no shortage of ways to sell on Amazon. However, most e-commerce businesses sell on Amazon Marketplace as third-party (3P) sellers. Whether it's with Fulfillment by Amazon (FBA), Amazon's Warehousing and Distribution (AWD), Fulfillment by Merchant (FBM), or simply as a traditional Amazon Seller Central user, these popular and profitable pathways to reaching Amazon's over 300 million customers involve a unique relationship between sellers, customers, and Amazon.
As a 3P Amazon seller, you maintain responsibility for listing and pricing your products (and potentially fulfilling orders as well), while Amazon takes a cut according to their per-sale fee structure. It is a model that e-commerce businesses have long relied on to successfully reach customers, boost sales volumes, and drive profitability.
That said, 3P is not the only way to sell on Amazon. Invited sellers can also take advantage of first-party (1P) sales opportunities on Amazon Marketplace. In a 1P arrangement, Amazon becomes your business's direct customer, not the shoppers on Amazon Marketplace. Amazon purchases inventory wholesale through its Vendor Central platform and then lists, prices, and fulfills orders using your products without any further involvement from you or your company.
Each of these paths has their own unique advantages and disadvantages. It is up to you to decide whether a 3P or 1P arrangement is best suited for your brand and business when it comes to selling on Amazon Marketplace.
The Pros and Cons of Being a Third-Party (3P) Seller on Amazon
Becoming a 3P seller on Amazon is simple. It is also the primary way most individuals and businesses sell on Amazon Marketplace. Most businesses will opt for the professional plan on Seller Central that currently costs $39.99 a month plus additional selling fees (which vary by product category).
Sellers can also opt to take advantage of either Fulfillment by Amazon (FBA) or Amazon Warehousing and Distribution (AWD) to—for additional fees—outsource fulfillment, warehousing, and other logistical support elements to Amazon.
As a 3P seller, there are several inherent positives and negatives that contrast with the 1P Amazon sales experience:
Pros
3P sellers retain control over their product pricing. This is the biggest selling point for establishing a 3P sales relationship with Amazon rather than a 1P one. The past few years have shown how volatile product pricing can be. Unlike 1P sellers whose products are priced by Amazon, 3P sellers have full control over their pricing adjustments (as long as they conform with Amazon's terms of service). Not only does this give you the potential for higher profit margins, it helps alleviate issues that may arise if Amazon sells your products below any minimum advertised price (MAP) threshold agreements you may be trying to comply with on other channels.
3P sellers can make brand- and omnichannel-focused listing choices. For omnichannel sellers, this is a key selling point for opting for a 3P selling relationship with Amazon Marketplace. Omnichannel e-commerce is a customer-focused approach to how you present your brand, products, and overall customer experience. While Amazon has fairly rigid policies about listings, listing media, and pricing, there is still plenty of wiggle room to position the channel as a key pillar of a successful omnichannel strategy with well-written product descriptions, accurate categorization, and strong product media choices.
3P sellers maintain greater inventory flexibility. As a 1P seller, once you move a large quantity to Amazon to sell, it is literally entirely out of your hands. If you handle your own fulfillment (read: you are not relying on 3PL services and/or FBA, AWD, FBM to handle bulk inventory quantities on your behalf), it is possible to utilize the same inventory stockpiles to fulfill orders across multiple channels. You know exactly what you have, where it is, and when it's time to restock.
3P Amazon sellers get paid more quickly than 1P sellers. Amazon disperses payments to 3P sellers every 2 weeks. In contrast, 1P sellers can wait up to 90 days for their Amazon purchase orders to be paid. 3P provides sellers much faster access to their revenue—a serious consideration for any e-commerce businesses with cash flow concerns.
Cons
You are largely on your own to list and market your products effectively. Amazon provides 3P sellers access to a marketplace and customer base in exchange for commissions and/or subscription fees. However, when it comes to crafting engaging listings, getting your products to appear in the relevant SERPS, and winning the Buy Box, that's up to you. Doing so successfully requires regular attention and time from you and/or your team to reach your products' optimal sales potential.
3P sellers on Amazon are responsible for securing their own logistical and fulfillment support. You need to stock your inventory, manage your warehouse, and pack and ship your customers' orders. This involves time, labor, and monetary commitments to ensure that you can keep your upstream and downstream supply chains in sync and meet demand.

Knowing this can be difficult and even overwhelming for some sellers, Amazon offers services like FBA and AWD to help tackle these fulfillment challenges (for a price). These marketplace-based 3PL programs can minimize or eliminate the logistical hurdles associated with third-party e-commerce sales.
3P Amazon sellers must be serious about inventory management. To compete with Amazon's own same-, one-, and two-day shipping offerings, you need to position yourself for logistical success. This means streamlining your upstream and downstream supply chains to be able to get products in and out quickly and efficiently.

Failing to fulfill orders quickly and to customers' satisfaction can affect your standing as an Amazon Marketplace seller. Similarly, overselling and regular out-of-stocks can also result in strikes against your account. Rack up too many of these negatives, and you will find yourself suspended or even removed from Amazon Marketplace entirely.
The Pros and Cons of Being a First Party (1P) Seller on Amazon
When assessing the value of a 1P sales partnership with Amazon, it is important to remember that it is an invite-only opportunity. You will need to have established yourself as a business and/or brand that can bring success and value to Amazon's customers.
That said, just because Amazon offers you the opportunity to become a 1P seller does not always mean you should take it. There are serious pros and cons to consider before taking the leap.
Pros
Amazon knows how to market products. If it's exposure you seek, Amazon's 1P seller arrangement is likely to get you exactly that. 1P listings include free, Prime shipping; a higher likelihood of featured search results (SERPS); and product display ads on product detail pages. Also, because Amazon can operate on thinner margins than you can, it is likely that your products will be priced very competitively.

It is worth noting that 1P sellers can also create and run their own advertising campaigns to help improve their inventory sell-through rate and spur future POs. These come at a cost, but can help grow your 1P appeal in Amazon's eyes.
Larger, consistent purchase orders (POs) from Amazon simplifies your inventory management. For most businesses, shipping bulk, wholesale orders is a simpler, more cost-effective fulfillment proposal than shipping out individual D2C orders. What's more, once your inventory has been shipped off to Amazon, it is literally and figuratively out of your hands. The majority of the responsibilities and costs associated with managing and storing that inventory is no longer your concern.
1P has fewer clerical concerns than 3P. Beyond fulfillment, 1P Amazon sellers do not need to worry about accounting for things like per-item fee calculations, computing and collecting sales tax on a per-order basis, managing listings, repricing products, or processing returns. Amazon bought your merchandise and is now responsible for all of these associated issues that come with selling it. There are certainly fees (and even charge-backs) that Amazon will charge 1P sellers, but they typically are less varied and cumbersome to deal with from a bookkeeping perspective than with 3P sales.
On the whole, being a wholesaler saves you on shipping and fees. Shipping in bulk is typically less expensive than piecemeal D2C order fulfillment. Plus, the removal of a per-item fee on every transaction can result in some significant savings depending upon what these expenses are costing you as a 3P seller.

Furthermore, the Vendor Central fee structure is a more direct, consolidated formula than the much more intricate, per-item fee structure of 3P Amazon sales through Seller Central.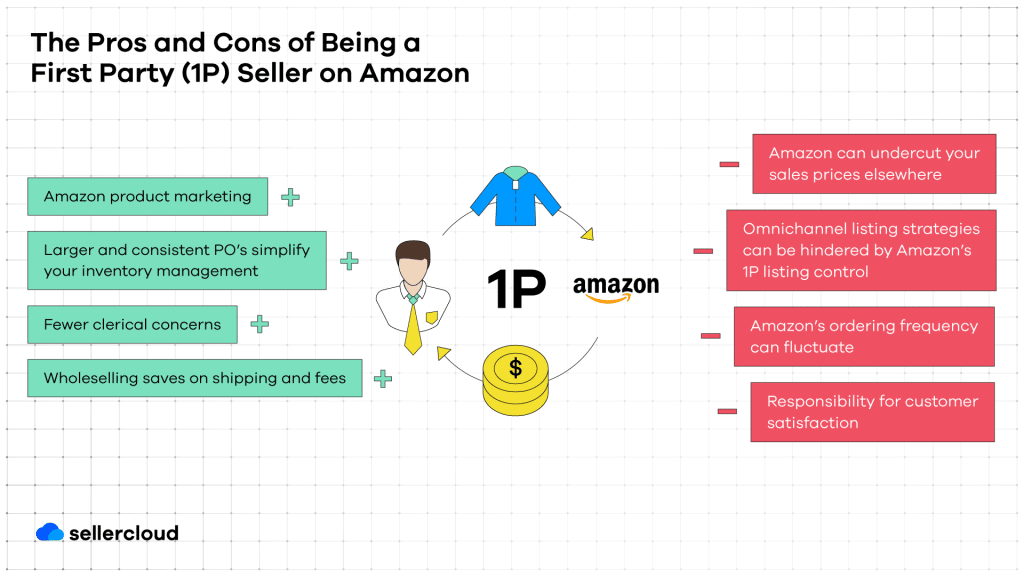 Cons
Amazon can undercut your sales prices elsewhere. In order to remain compliant with Amazon's minimum advertised price (MAP) policy, 1P sellers must be sure to keep prices on non-Amazon sales channels at or above Amazon's advertised rate. This can lead to reduced profit margins with other 1P and 3P sales channels where you list the same product.
Omnichannel listing strategies can be hindered by Amazon's 1P listing control. Just because you have a particular style to the copy and media associated with your brand and product listings doesn't mean Amazon will conform. Once you have entered into a 1P arrangement with Amazon, they are free to list and market your products at their own discretion and in their own ways. You still have some input into your listings, but Amazon reserves the right to adjust any copy or listing visuals without your approval. Depending on the approach, Amazon's choices may or may not align with your larger omnichannel strategies.
Once you sell your inventory to Amazon, it's out of your control. When selling and fulfilling your products on your own as a 3P seller, you are responsible for your own quality control. As experts in your own merchandise and the protector of your brand, there is a familiarity with your products that can lead to an extra layer of care.

While Amazon certainly doesn't want to disappoint its customers, selling your products as a 1P to Amazon means that your inventory instantly gets folded into one of the largest warehousing and fulfillment networks on the planet. There is no guarantee that your products will receive the same or better care than your own warehouse team would provide. If this becomes an issue, Amazon will handle the customer service side of the issue, but there is the potential for harm to your brand that could translate to negative feedback and missed future sales.
Amazon's ordering frequency can fluctuate (or dry up completely). While a 1P sales approach may lead to regular wholesale orders (and reorders) from Amazon, there is no promise of when the next order will come. Not only that, you do not get to determine how much product inventory Amazon will order and/or be willing to carry. This can be challenging for 3P sellers who are accustomed to a regular, more predictable revenue stream from individual, D2C orders and Seller Central's bi-weekly payouts. Speaking of which…
1P Vendor Central payouts are less frequent than the 3P Seller Central pay schedule. Slower payments (invoicing / wholesale) mean payments are disbursed in either 30, 60, or 90 day intervals. This is common in many B2B e-commerce relationships, but seasoned 3P sellers may quickly miss the twice a month payouts they enjoy with 3P sales through Seller Central.
Which is Best for Your Business: 1P or 3P Amazon Sales?
As with all e-commerce decisions, there is no one-size-fits all answer to the question of whether you are better off selling as a first party or third party on Amazon Marketplace. To make this determination, there are some other key questions you should be considering first about your brand and e-commerce operation.
How does your e-commerce business currently operate?
To start with, take stock of your existing sales and fulfillment realities. If you currently have a profitable and efficient direct-to-consumer (D2C) infrastructure in place, staying the course with a 3P Amazon Marketplace approach may make the most sense.
On the other hand, if you regularly drive sales through wholesale retail or B2B e-commerce, trying to earn Amazon's 1P business is probably a more feasible and sound option than D2C sales. In this scenario, you can leverage your existing palletization, warehousing, and volume-shipping capacities to supply Amazon 1P POs.
How committed to omnichannel e-commerce are you, your business, and your brand?
As a 3P Amazon seller, not only do you maintain more control over your pricing and marketing efforts, but you are also better equipped to incorporate Amazon Marketplace into a broader omnichannel e-commerce strategy. As discussed, you can tailor your own listings to your customer base as well as ensure that you can maintain compliance with MAP requirements across all the channels where you sell.
Of course, if omnichannel e-commerce is not a priority and you are instead focused on a more single- or multi-channel strategy, a 1P Amazon relationship can be a very effective way to move wholesale volume. Furthermore, compared to 3P alternatives, 1P sellers typically have fewer labor and fulfillment obligations than if they were selling D2C. So, if your goal is to simply move as many products as possible, 1P may be the preferred path from an efficiency standpoint.
Which approach gives you the best combination of volume, profit margins, and payment disbursements?
It always comes back to the bottom line. Any decision between selling as a 1P or 3P (on Amazon or any other channel) should be based on the ability of your business to optimize profitability within the constraints of the channel.
In this particular case, 1P Amazon success depends on whether or not your business can fulfill large POs, accept wholesale margins, and/or tolerate slower payment disbursements than offered with a typical 3P Amazon relationship. If you have the supply chain reliability and warehouse management structures in place to move large inventory volumes in a cost-effective way, a 1P invite from Amazon could be a gamechanger.
Conversely, 3P Amazon sellers need to have the time, team, and efficiency to convert and fulfill D2C sales. 3P allows for more dynamic marketing and pricing strategies as well as more regular payment disbursement schedules, but you need to account for the labor, analytics, and bookkeeping responsibilities that come with them. Regardless, a 3P approach offers a flexibility and scalability that can offer attractive profit margins to e-commerce businesses of any size.
All told, much of the decision between a 1P and 3P Amazon sales approach comes down to your existing workflows and business plan. There is no single "right way" in e-commerce, just what is best for your brand's present and future. In this case, consider all of the advantages and disadvantages associated with each option, and find the best way to leverage Amazon Marketplace as a way to boost your profitability and exposure.
No matter your current setup or your future plans to scale, Sellercloud's omnichannel e-commerce growth platform is here to help. We support 1P and 3P sellers on Amazon and countless other high-value channels with the tools and software to list, track, sell, and manage your e-commerce inventory end-to-end. Contact us directly for a free demo today!