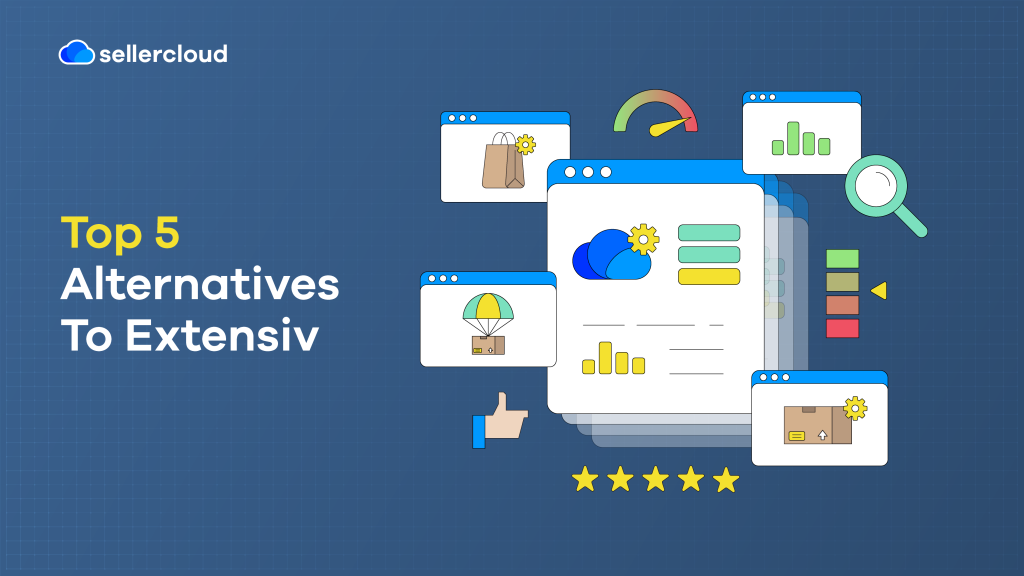 The top alternatives to Extensiv include Sellercloud, NetSuite, Linnworks, Cin7, and Brightpearl. We break down their top features and benefits.
Extensiv was previously known as '3PL Central' until it was rebranded in May 2022. It was founded in 2006, headquartered in El Segundo, California, and is privately held.
The company claims to have 240 employees, over 4,000 customers, and handles 3 million weekly orders on their 'About Extensiv' page.
Extensiv acquired Skubana and Scout in 2021, and Tracker Systems in 2016. These three services form the basis of their offerings.
Unfortunately, customers have been reportedly frustrated over the lack of seamless communication between Skubana and Extensiv.
In this article, we'll run through the top five alternatives to Extensiv so you can choose the best solution to transition to.
What Are the Best Alternatives to Extensiv?
Here are the top five alternatives to Extensiv.
1. Sellercloud
Founded in 2010 and built from the ground up, Sellercloud is not a software solution born out of acquiring several other services.
Instead, Sellercloud was built by talking directly to merchants, understanding their needs, and developing features that make their operations easier and more efficient and enable them to grow.
This approach has enabled Sellercloud to offer sellers the best catalog, inventory management, and warehousing features on the market today.
Furthermore, Sellercloud offers customization services, which most alternatives to Extensiv cannot offer, and provides the most comprehensive shipping options.
Today, Sellercloud manages 3 million orders a week and over 150 million annually.
Top Reasons to Consider Sellercloud:
Implementing Sellercloud is free (unfortunately, many alternatives charge for this service), and you can easily calculate how much you'd pay per order on Sellercloud's transparent

pricing page

.

Manage all your multichannel listings in one place, automatically create kits, and list the same product in multiple categories with shadow listings.

Dedicated products such as

Skublox

,

Skustack

,

4D Scale

, and

Shipbridge

to aid sellers with inventory management and fulfillment.

Manage refunds and cancellations across multiple marketplaces—a crucial feature Extensiv lacks.

An impressive

280+ integrations

with the option to create custom plugins for your needs.

Track warehouse activity using

Skustack Lens

's warehouse visualization features, including product and employee movements.

State-of-the-art automation features, like the

Rule Order Engine

, allow you to create custom rules based on workflow demand.

24/7 emergency, email, and ticket support, with the option to sign up for premium and platinum support.

Advanced

accounting

and

reporting

features.

Offers key Amazon services, such as Consolidated FBA shipments,

Amazon Buy Shipping In Bulk

, and Vendor Central.
Request a demo to see for yourself just how advanced Sellercloud is. Plus, see how Sellercloud compares to Extensiv.
2. NetSuite
Acquired by Oracle in 2016, NetSuite is an ERP (Enterprise Resource Planning) software with a very high level of functionality, including reporting and shipping features.
NetSuite is a particularly good option if you are also manufacturing the goods. You can also run your whole company through its software.
However, because manufacturers, not merchants, primarily use ERPs, NetSuite isn't integrated with many marketplaces, which can limit your access to customers.
Furthermore, NetSuite offers Standard and Premium edition packages ranging from $1,599 to $9,999 monthly—far more costly than Extensiv.
Top Reasons to Consider NetSuite:
Well-known reputable ERP software.

Centralize your entire business through one service (not just your e-commerce operations).

Multilingual service—available in several European languages as well as traditional and simplified Chinese and Japanese.

Advanced automation features.

Advanced customization features.
Limitations of NetSuite:
NetSuite is a large ERP that requires custom development and integrations. Both require a great deal of time and money.

Some users have reported inconsistent customer support quality. Some have suggested that response times and issue resolution could be improved.

NetSuite is highly complex with a steep learning curve, and it can take time for users to become proficient.

Advanced reporting features may require additional add-ons or third-party tools, increasing your overall spending.

NetSuite is firmly on the higher end of the pricing spectrum for ERP software.
3. Linnworks
If your primary reason for looking for an Extensiv alternative is its lack of shipping features, then Linnworks might be a suitable alternative for your business.
Linnworks offers integrations with major shipping carriers at no extra cost, along with shipping software, and enables merchants to create shipping rules to automate and simplify the process.
While Linnworks is a great alternative to Extensiv, like NetSuite, it's costly to use.
Linnworks requires a 1% revenue share based on order volume and an onboarding fee (between $4,000 and $12,000). It also charges for customizations and an external WMS (Warehouse Management System).
Top Reasons to Consider Linnworks:
Manage all your multichannel listings from one place.

Optional Premium support.

Virtual warehouse options.

Customization options.

Financial transaction reporting (not offered by Extensiv).
Limitations of Linnworks:
Linnworks is poorly integrated with an external WMS, which is also an additional expense.

Limited warehouse features beyond tracking inventory in the warehouse and virtual warehouse options.

Few purchasing features—cannot link a PO to FBA shipment, clone POs, transmit POs to vendors, nor send POs directly to FBA from vendors.

No 24/7 emergency line phone support.

It is a costly option for limited features.
See how Linnworks compares to Sellercloud.
4. Cin7
Cin7 is a robust, feature-heavy alternative offering an impressive 700+ integrations and a wealth of features unavailable to Extensiv users.
Most importantly, Cin7's wide range of reporting, catalog, and purchasing features will satisfy the needs of most sellers and fill in the vital gaps of Extensiv's offerings.
However, like Extensiv, Cin7 doesn't offer any shipping features—unlike Linnworks and Sellercloud. Cin7 also doesn't offer customization features either.
Top Reasons to Consider Cin7:
24/7 emergency line phone support, email and ticketing support, and optional premium support.

Virtual warehouse options.

Set dropshipping preferences for each product.

Retrieve product info from multiple sources, including Amazon listings and vendor feeds.

Manage refunds and cancellations across all marketplaces.
Limitations of Cin7:
No customization features whatsoever. Cin7 is solely an 'out of the box' solution.

No shipping features. Most importantly, Cin7 is not integrated with top US shipping carriers.

Missing key Amazon features, such as FBA inbound shipments and automatic inventory deductions for FBA transfers done in Seller Central.

Marketplace integrations must be requested. Only from that point can sellers configure them to their needs.

No listing features.
See how Cin7 compares to Sellercloud.
5. Brightpearl
Brightpearl is a well-known alternative to Extensiv. Like NetSuite, it is also an ERP, so it's a practical option for growing companies, with a decent number of integrations and features to satisfy most needs.
Brightpearl has a slight edge over Extensiv regarding warehouse features and reporting capabilities. On top of that, Brightpearl offers 24/7 emergency phone support and email and ticket support.
However, if you need shipping features, this is something Brightpearl doesn't offer at this point. Brightpearl also does not offer customization or listing capabilities and is not the best option for companies with multiple warehouses.
Top Reasons to Consider Brightpearl:
Over 200 integrations (Extensiv has approximately 110).

Settlement reconciliation and accounts receivable reporting—reports not available to Extensiv users.

Virtual warehouse options.

Full dropship control.

PO (Purchase Order) and RMA receiving software at no extra cost.
Limitations of Brightpearl:
Brightpearl acquired a WMS that is not yet fully integrated with the rest of its software.

Designed for

DTC

sellers, Brightpearl doesn't offer listing capabilities, so merchants will struggle to sell on marketplaces unless they use an additional platform.

Expensive—Brightpearl can charge companies up to $10,000 a month.

Brightpearl is not integrated with any major US shipping companies.

Missing vital reporting features, such as returns and refunds, shipping costs, inventory aging, financial transactions, and no option to add custom reports.
See how Brightpearl compares to Sellercloud.
Why Do Businesses Search for Alternatives to Extensiv?
Despite being a highly popular software service, there are several reasons why sellers feel the need to find an alternative to Extensiv. It largely comes down to specific but vital features missing from their offerings.
For a start, Extensiv doesn't offer automatic returns (RMAs—Return Merchandise Authorization), which is problematic because businesses will always need to manage returns, no matter how successful.
Extensiv also isn't ideal for growth because their system limits the number of SKUs (Stock Keeping Units) sellers can create to 125,000.
At first glance, it may seem like a lot, but a large, growing company can quickly chew up that number.
This is because SKUs are not just for tracking individual products in your inventory. SKUs can be used for different product variations, kits (made up of multiple products), and refurbished or used products.
It's unclear why Extensiv has this restriction, but it's not particularly encouraging for merchants knowing they may run out of SKUs.
Furthermore, setting up Extensiv also has its challenges. You will need a developer to integrate Extensiv's WMS and must pay for implementation.
Lastly, Extensiv doesn't offer shipping software and customizations, so you will need to source an additional shipping solution and be unable to modify its service to your company's needs.
How to Choose the Best Alternative to Extensiv?
How you decide on the best alternative to Extensiv is up to you. There are a fair number of things to consider, and the situation is different for each business.
You should start by doing a 'needs assessment,' where you evaluate your company's needs and isolate the gaps you currently have in your business.
To do this, you must speak with your stakeholders and staff to understand your company's requirements to succeed and grow. Based on this, you can determine what you need to find in your alternative to Extensiv.
The biggest gaps in Extensiv's service are its lack of RMAs, customizations, shipping partners, and SKU limits. Look for an alternative that overcomes those gaps.
Whichever alternative you decide to replace Extensiv with, there are a few things you will need to ensure they offer.
Implementation and training

. Implementation should be swift, painless, and not cost you an arm and a leg. Your staff should be up and running on the software without a sweat.

Documentation and support

. At times, you will have questions and run into issues. A good alternative should provide sufficient documentation and support to help in these situations.

Customization

. Your company shouldn't need to change how it works to use the software. You should be empowered to customize the software to work for your needs.
When you have narrowed down your alternatives, ensure you understand how they work. Implementing software you don't understand can be a major setback.
This is why you should always get a demo (be prepared to ask many questions—get all the answers you need to be sure the change is right for your business).
You should also find a software solution that is clear about its pricing. Compare what you are currently paying Extensiv to weigh up if you will reduce costs by changing to another software.
Lastly, ensure there are no legal reasons preventing you from transitioning from Extensiv to new software and that migrating data to a new system will not be problematic.
Why Is Sellercloud the Best Alternative to Extensiv?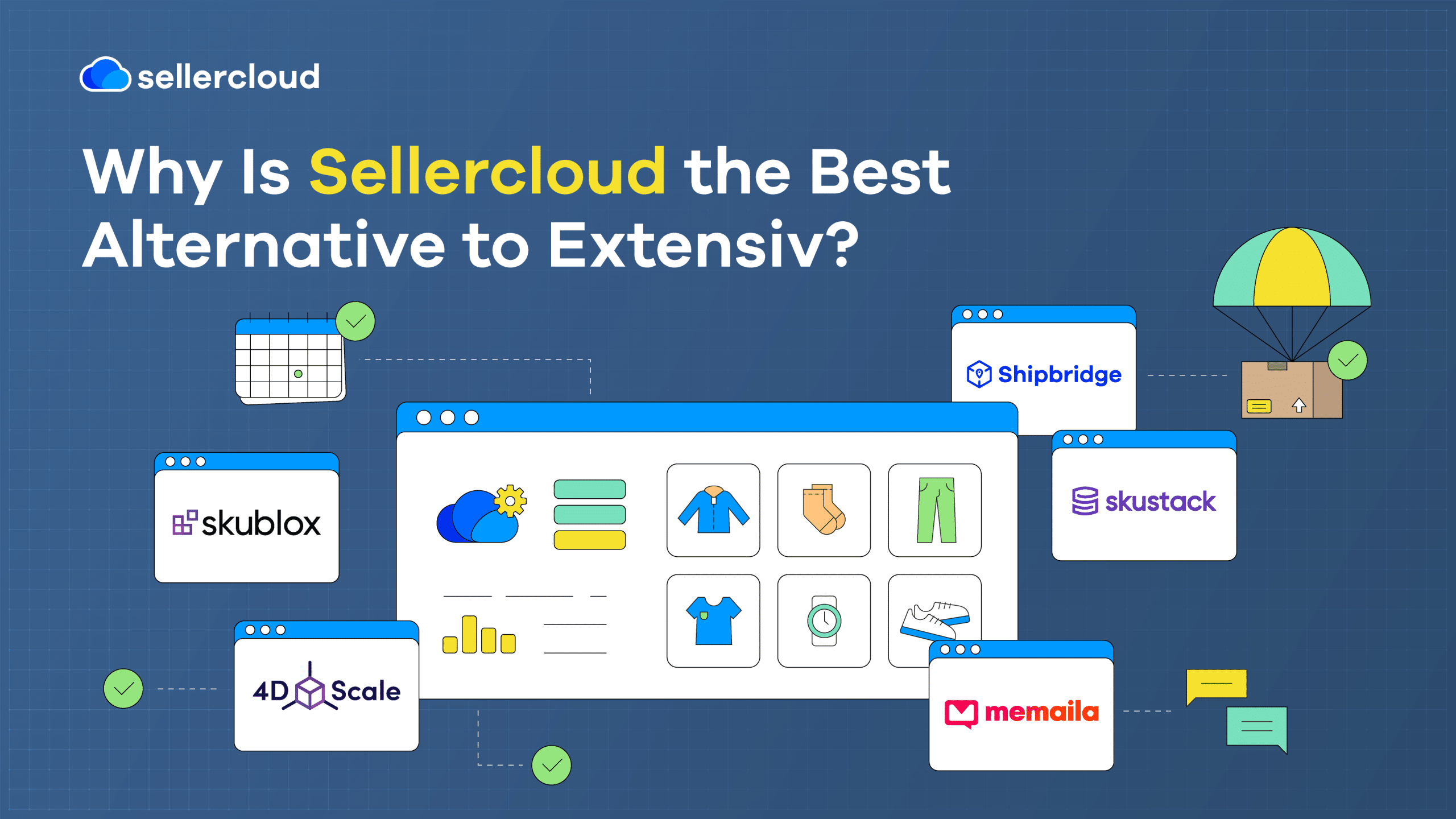 Extensiv has gaps in its offerings because it focused on acquiring companies (Skubana, Scout, and Tracker Systems) and linking them together instead of building their service themselves.
Linking these separate services is an incredibly arduous task because they would be built in their own way with different rules, tech stacks, and perhaps even different coding languages.
It also means they likely have a mountain of technical debt, which could leave them vulnerable to technical problems.
Sellercloud, on the other hand, has spent the last 13 years working directly with businesses to learn what they need to build a solution that covers all their inventory management, fulfillment, accounting, and reporting needs (and much more).
At first glance, you may think Sellercloud's offerings are overwhelming. However, you will learn that as your company grows, it is the only solution enabling you to do that with everything you need within arm's reach.
Check out how Sellercloud compares to Extensiv, and see how Sellercloud outranks its competitors.
Key Points
You are now well-armed to find a solid alternative to Extensiv. Remember these key points.
Extensiv is a cloud-based

omnichannel

order fulfillment and warehouse management platform that helps merchants centralize their operations into one service.

Alternatives to Extensiv include Sellercloud, NetSuite, Linnworks, Cin7, and Brightpearl.

Companies often source for an alternative to Extensiv because it doesn't offer RMAs, shipping software, and customizations. It also limits SKUs and is difficult and costly to implement.

When researching Extensiv alternatives, businesses should perform a needs assessment to isolate the gaps they must address when looking for a new software solution.

Sellercloud is the top alternative to Extensiv because it offers the most features and fewest limitations. Built from the ground up, Sellercloud is designed with sellers in mind to support growth.
Extensiv FAQs
What is Extensiv?
Extensiv—formerly known as 3PL Central—specializes in providing software solutions for third-party logistics (3PL) and warehouse management.
Extensiv's software aims to help businesses manage their inventory, order fulfillment, and shipping.
What Are the Core Values of Extensiv?
On Extensiv's company page, under 'What We Stand For' lists four values. They are Trust, Transparency, Commitment, and Change.
What's Extensiv's Pricing?
According to its pricing page, Extensiv charges fees for various parts of its offerings. 
For 5,000 orders, Extensiv will charge a business between $999 and $2,000. On top of that, Extensiv's 3PL Plan will cost you $99 per month, and standard support is free, while premium support will cost $1,199 per annum.
As mentioned earlier, implementation is paid and can cost between $1,500 and $5,000, and there is an optional onboarding fee of $169 for a 45-minute call and a 30-minute follow-up two weeks later.