These ten common fulfillment pain points can be tricky to deal with, but there are many ways e-commerce sellers can work around them and excel.
As your e-commerce business grows, you will only encounter more fulfillment challenges. While some may be harder than others, there are always effective workaround solutions.
Sellercloud offers a range of features and integrations to help e-commerce businesses overcome these challenges.
No one ever said fulfilling orders online was going to be easy. Sure, it seems straightforward enough—customer purchases product, you ship product, job done!—but we all know it can get very complicated very quickly.
The e-commerce industry has grown at an astounding rate. Jason Goldberg of Forbes writes that US e-commerce sales have grown 87% year-on-year since 2019.
Adding that, "Total US e-commerce sales for the entire period of the pandemic (from Q2 2020 through Q3 2022) are more than $630B higher than pre-pandemic forecasts."
So, what does this mean for the average e-commerce seller?
It means e-commerce companies are growing faster than ever, and as they grow, they will come face to face with many common e-commerce fulfillment pain points.
This article will reveal the biggest e-commerce fulfillment pain points and explain how sellers can overcome them.
10 Biggest E-commerce Fulfillment Pain Points and How to Solve Them
Let's look at the biggest challenges e-commerce companies face when fulfilling orders and the best ways to solve them. Here are the top 10.
1. Navigating Shipping Costs
The problem: Shipping costs will always be an expense that needs to be handled. It's just the cost of doing business. However, in an ideal world, it's an expense you'll want to reduce.
The less control and choice you have over shipping costs, the more expensive they can be. You could be missing out on real cost-saving opportunities.
According to Kim Souza of Talk Business & Politics, FedEx and UPS could raise their rates between 8% and 10% in 2023.
That doesn't mean you should stop using either, but it does mean that merchants should be more open to alternatives and compare different shipping rates to ensure they're getting the best rate possible.
The solution: You need a tool, like Shipbridge, to handle shipping tasks. Shipbridge can help you figure out the best rates with the best couriers. It can also automate shipping workflows and works with customizable plugins.
Sellers can also utilize Sellercloud's 4D Scale, which can help sellers accurately measure the weight and dimension of a package.
On top of it all, Sellercloud is also integrated with the top couriers in the US, so you can always find the most convenient shipping service.
2. Keeping Track of Multichannel (Or Omnichannel) Sales
The problem: To thrive in e-commerce today, you must sell on multiple marketplaces. You shouldn't just stick to Amazon and eBay because you'll miss many shoppers who prefer different platforms.
But this creates a problem—you can't see all your sales in one place. You need to log into one platform and then log into the next.
While this is not exactly practical, the real problem is that this can cause human error because you can't see the full picture.
Because your inventory data from different platforms is not synchronized, this has a knock-on effect on order fulfillment, increasing the likelihood of stockout or selling stock you don't have.
The solution: Sellercloud acts as a centralized point where your entire inventory can be accounted for across all the marketplaces you sell on.
You can also make changes to your listings from one place instead of manually making the changes on each platform.
On a more complex level, within Sellercloud, you can set up different companies for your business to sell products in different countries or target different audiences.
Other enormously helpful features include allocating, reserving, and tracking inventory, creating kits and product variations, and vital reporting features.
3. Carelessly Implementing the Wrong Software
The problem: If your inventory is not handled properly, it can make it extremely difficult to fulfill your orders effectively—and more importantly, it can be extremely costly.
A legendary example of this was in 2001 when Nike implemented inventory management software to handle their supply chain without properly understanding how it might impact their business.
As Christopher Koch of CIO summarized in 2004, "It was too slow, didn't integrate well, had some bugs, and Nike's planners were inadequately trained in how to use the system before it went live."
The ill-advised integration ultimately cost Nike $100 million in sales.
The solution: The solution here is to thoroughly research the available software options and the tools they offer merchants to keep on top of their inventory and fulfill orders. 
For example, Sellercloud's Skustack helps warehouse pickers locate products throughout the warehouse, scan them, pick them, and move them on for shipment.
Sellercloud also offers Skublox, which simplifies boxing and preparing orders for shipment with its put-to-light and pick-to-light technology.
Picked items are placed into the picking bin and organized into slots based on their destination. On the other side of the wall, when a slot is complete with orders, they are collected and packed for shipping.
You can also check out our inventory management guide to learn more about effective inventory management.
4. Inaccurate Forecasting
The problem: You can't predict the future. Unfortunately, no one can. Forecasting demand helps reduce the possibility of businesses running out of inventory or ordering in excess.
If you don't track inventory and collect data, it's impossible to forecast and prepare for changes in demand—you can be caught off-guard by increasing or decreasing demand—both can be costly.
The problem this creates is that you cannot fulfill orders because you don't have the right amount of stock.
The solution: Use software that collects this information and produces reports to help you forecast and plan better for the coming weeks and months.
Again, Sellercloud can help with this. Sellercloud can help collect data about your orders and use it to create forecasts based on demand and past sales.
Even better, with Sellercloud, you can automate these orders by setting up customizable rules for your business. Furthermore, Sellercloud's reporting features can also be used for decision-making.
5. Returns and Refunds
The problem: Returns and refunds are never fun, but they're a fact of life and will happen no matter how efficient your business is.
According to research by Capital One Shopping, "The average retail return rate is 16.4% for eCommerce and 16.5% for in-store purchases." That's a sizable chunk of sales that needs to be dealt with as swiftly and easily as possible.
Returns and refunds are tricky to organize because products can be sent back to merchants for various reasons.
The solution: Make returns and refunds easier to deal with to avoid upset customers and keep your fulfillment operations running smoothly.
Sellercloud and its products make each part of the returns process easier and faster. Firstly, in Sellercloud, you can easily generate and print RMAs, which helps sellers (and customers) keep track of returns.
On top of that, Skustack can be used to perform an SKU to SKU transfer, where a used product can be rebranded by swapping the SKU to classify the product as used or refurbished.
6. Orders Take Forever to Process
The problem: The longer an order takes to process, the more precious time you could miss where it could be in transit to the customer.
The problem could be that your order processing is disorganized and needs to be rethought. In an ideal world, the fulfillment process should be as streamlined as possible.
You should ask yourself, "what is our average order cycle time?"—the time it takes for an order to be processed and fulfilled from when it is placed until the customer receives the product.
Bear in mind that every business is different, warehouses are different, and the types of products they deliver are different, impacting your order cycle time (don't compare it to other businesses!).
According to Shippo's State of Shipping Report 2023, 44% of customers typically purchase shipping for two to three days.
So, merchants need to ensure they can at least reach these expectations without sacrificing the quality of their orders.
The solution: You can speed up order processing with a combination of tools like Skustack, Skublox, and Shipbridge.
With Skustack, as explained earlier, picking is made easier. Diving deeper, Skustack also offers what is called 'regional picking,' where orders are only picked from specific warehouse regions.
This enables pickers to divide their workload by region and increase efficiency. Additionally, Skublox helps with sorting packages, as explained above.
You can also use Shipbridge to view all orders in one place instead of multiple partner platforms and use Sellercloud's Order Rule Engine to set conditions for certain actions.
7. Tech and Software Integrations
The problem: You may use several services to optimize your order fulfillment but access them from different places.
Because of this, information might not always be in sync, or services your business needs might not be available or integrate well with what you already have.
An article by McKinsey says, "A robust tech foundation can give retailers the capabilities to boost performance across the board, but to date, most organizations haven't made sufficient progress."
McKinsey also believes that technology will be a "core driver of next-generation retail growth." So, getting your tech and software in order is of utmost importance.
The solution: Sellercloud has over 280 integrations at the time of writing. It can be a centralized platform to access your most used fulfillment services.
More impressively, Sellercloud can create custom plugins (it's our specialty) to help clients work the way they work best.
There aren't many e-commerce services you can't access, and Sellercloud's list of integrations will only keep growing.
8. Unexpected Supply Chain Volatility
The problem: Sometimes vendors run into problems and cannot get inventory to you, which can have a catastrophic impact on your business's ability to meet orders.
According to an article by Willy C. Shih of the Harvard Business Review, the US-China trade war and the COVID pandemic have forced many manufacturers to rethink their supply chains.
But what if there is another global pandemic or a worldwide recession? How will it impact your partners and suppliers' ability to work with you and complete orders?
Supply chain volatility can jolt shock your business and almost appear to come from out of nowhere. 
E-commerce businesses must be flexible and responsive to avoid unexpected supply chain volatility. However, that's easier said than done.
The solution: Merchants need intelligent software to help them with reactive decision-making to keep fulfilling orders, even when their suppliers are falling apart. Sellercloud gives merchants this much-needed flexibility.
In Sellercloud, when you create a PO (Purchase Order) and the supplier cannot fulfill it, you can update the estimated delivery date or change the supplier directly to a new supplier with just a few clicks and avoid chaos.
Even better, Sellercloud also supports vendor inventory feeds, so sellers can see how much inventory a vendor has. This way sellers won't be caught off guard when their supplier suddenly runs out of products.
You won't be able to make the problem disappear, but you can do your best to minimize the fallout from the volatility.
9. Customer Communication
The problem: Communicating with customers on several different platforms is very challenging. Messages can get lost, and customers can become irate.
A report by PwC states that "Nearly 80% of American consumers say that speed, convenience, knowledgeable help and friendly service are the most important elements of a positive customer experience."
Speed and convenience are hard to provide when you're lost in a mountain of messages on multiple marketplaces. You may miss important messages regarding deliveries and anger customers.
The solution: You need a tool that can centralize all your customer communication to one place, like Memaila, so you never miss out on customer queries.
(Note that for now, Memaila only works to communicate with customers on Walmart, Amazon, and eBay.)
10. Managing Inventory across Multiple Locations
The problem: The more locations your inventory is spread across, the more you'll grind your teeth with frustration when the inventory you need is not in the right place.
You may have multiple warehouses because you need more space or have warehouses strategically placed to fulfill orders in different parts of the country, for example.
Inventory in one or more locations needs to be moved around to free up space, and records need to be updated properly to show the change or risk havoc when pickers can't find them on the warehouse floor.
The solution: In Shipbridge, you can set up 'locations' and 'stations,' which are areas where orders are handled.
Setting up locations and stations in warehouses enables merchants greater control and oversight of their fulfillment operations. Merchants can then filter orders to avoid confusion by location and station.
Furthermore, you can restrict a channel to see inventory only for one warehouse—for example, Etsy orders are only fulfilled by one warehouse.
Sellercloud Conquers All These Fulfillment Challenges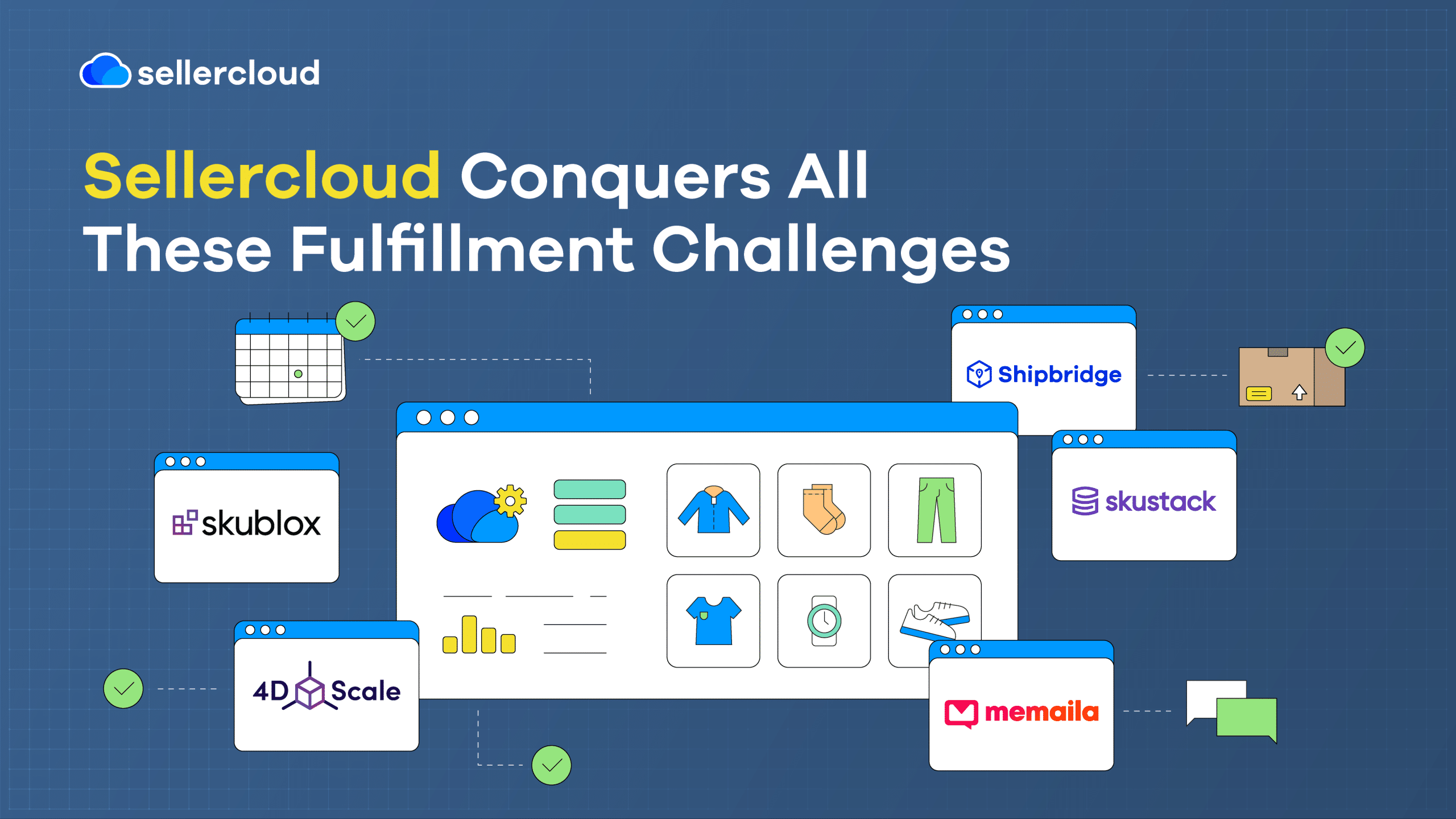 Sellercloud, its range of products, and an army of integrations can help merchants squash all these fulfillment challenges and more. In this article, we have mentioned:
Sellercloud

—Centralizes your entire e-commerce operations, makes handling inventory much easier, as well as listings across multiple marketplaces, offers customizable plugins, and a whole lot more.

Shipbridge

—Enables sellers to manage their shipments from one interface and empowers sellers to be flexible when needed. 

4D Scale

—Accurately weigh and measure the dimensions of packages before shipping them out to get the exact rate that works for you.

Skustack

—Empowers sellers to better organize their warehouse and pick products and can also track warehouse activity.

Skublox

—Trim the time it takes to pick, sort, and prepare products for shipment with Skublox's put-to-light and pick-to-light technology.

Memaila

—Communicate with Amazon, eBay, and Walmart customers from one place.

Sellercloud's integrations

—With over 280, you can integrate whatever service you need.
Read more about Sellercloud's products.
Key Points
Fulfillment challenges don't have to get you down. Remember these key points.
As e-commerce companies grow, they will face more challenges, but these fulfillment pain points can be overcome with proper planning and the right tools.

Carelessly implementing a software solution you don't understand can be a massive mistake—ensure you only adopt industry-leading technologies like those offered by Sellercloud.

Likewise, ensure that the software solution you adopt is compatible with the services you already use.

Merchants must be prepared for the unexpected. Supply chain volatility can seemingly come out of nowhere, and merchants must be able to react to mitigate the impact on orders.

With Sellercloud and its range of products, features, and integrations, merchants can minimize common e-commerce fulfillment pain points.