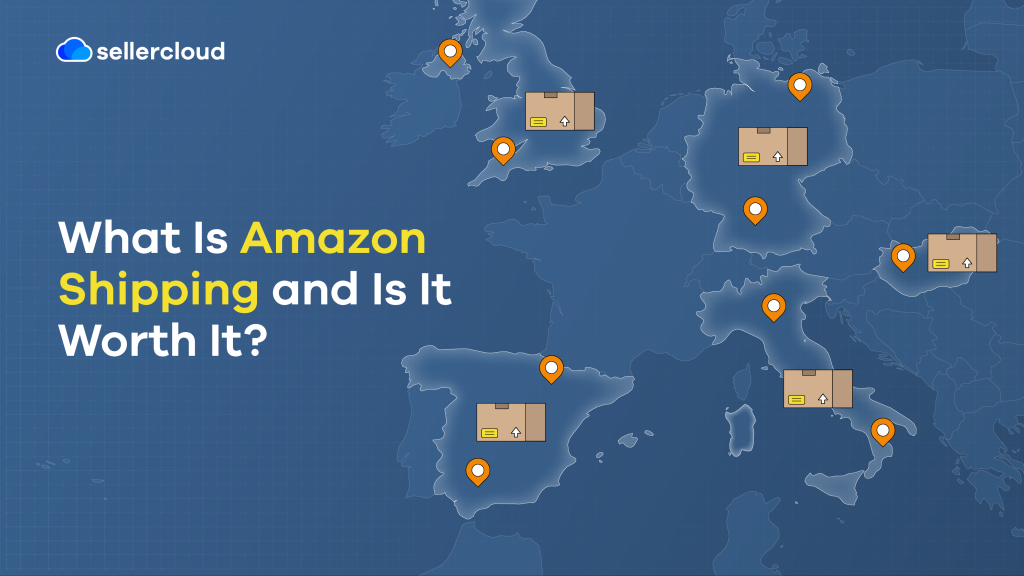 Amazon Shipping allows sellers to use Amazon's delivery services even if the sale took place on another platform—as long as they are Amazon sellers.
With Amazon Shipping, Amazon ships orders made on their platform and others if the products are also listed on Amazon. It shouldn't be confused with Amazon Buy Shipping.
Using Sellercloud's Shipbridge, sellers can select Amazon Shipping to fulfill their orders or alternative shipping options depending on which is more convenient.
When Amazon was just getting started in the early 90s, Bezos supposedly used to deliver orders himself from his car.
By 1997, after enormous success, Bezos flew personally to Japan to hand deliver the company's one-millionth order.
Operating for almost three decades, Amazon's logistics network is one of the largest in the world, delivering 1.6 million packages a day, according to Earth Web. However, some estimates put this number far higher (Amazon does not publish its daily volume).
According to data from Transport Topics, in 2021, Amazon.com Inc. was the 22nd largest private carrier in North America.
In this article, we will cover Amazon's little-known Amazon Shipping service, explain how it differs from the other services offered by Amazon, and explain when it's best to use.
What is Amazon Shipping?
Amazon Shipping, also known as 'Amazon Ground Shipping,' enables Amazon sellers who make a sale on Amazon or another platform or their website to fulfill the delivery with Amazon's delivery services.
Businesses must also sell on Amazon to be eligible to use Amazon Shipping, and the service is only available for domestic shipments.
Amazon Shipping is nothing new, and some sellers may still remember it from early 2020, but it was abruptly put on hold during the early days of the pandemic.
However, as of August 2023, the e-commerce giant has finally brought it back to life.
How is Amazon Shipping Different from Amazon Buy Shipping?
Aside from Amazon's tracking service, the terms 'Amazon Shipping' and 'Amazon Buy Shipping' are frustratingly similar, so it's no surprise that people can also confuse the two.
The difference is quite simple—Amazon Buy Shipping is a feature that enables sellers to buy shipping from Amazon's shipping partners.
Many sellers prefer to use Amazon Buy Shipping because Amazon's rates can be lower than the rates available to them through their carrier accounts.
Amazon Buy Shipping also has a bulk feature that enables sellers to buy shipping and print labels for multiple products all at once, which can be highly convenient.
Meanwhile, with 'Amazon Shipping,' you are paying for Amazon's shipping services from their fleet—not their rates with partners such as UPS or FedEx. Amazon will deliver your product.
Amazon Shipping should also not be confused with Amazon FBA (Fulfilled By Amazon), Amazon's fulfillment service, which handles storage, customer services, returns, as well as shipping.
Amazon Shipping only handles shipping.
Is Amazon Shipping a Good Solution for Your Business?
Yes, Amazon Shipping is a good shipping alternative worth exploring by sellers.
Amazon Shipping is designed to be a non-urgent ground delivery service that completes deliveries in five days or less and offers 24/7 support.
It is effectively another shipping service that sellers can choose over FedEx or UPS, for example.
Sellers who like the idea of Amazon FBA but only want delivery (and don't want storage and other services such as customer service) may find Amazon Shipping an appealing option.
What Is the Cost of Amazon Shipping?
To find out the cost of shipping with Amazon, it's always best to go directly to Amazon's site, where their rates are displayed.
Amazon's shipping rates are broken down based on product category (books, electronics, kitchen & houseware, etc.) and speed (Domestic Standard, Domestic Expedited, Domestic Two-Day, and Domestic One-Day).
Amazon also has additional shipping rates for Same-Day delivery, which are different for Prime and non-Prime members.
Unsurprisingly, Amazon's delivery costs have gradually increased year on year and are subject to change now and then as the marketplace's offerings change.
According to data from Statista, Amazon's delivery costs have risen from $3.99 billion to $83.5 billion in 2022 worldwide, including sortation and delivery center costs.
Fees are also a large part of Amazon's revenue. As you would expect, Amazon wants to capitalize on as much profit being made through its platform as possible.
According to an article by Nicole Farley of Search Engine Land, Amazon's fees can cut into as much as 50% of a seller's revenue from a sale, depending on which of Amazon's services they use.
And recently, according to an article by Emma Roth of The Verge, as of October 1st, 2023, Amazon will charge sellers a 2% fee for each product merchants sell without using Amazon's fulfillment services.
The fee will target Amazon's Seller Fulfilled Prime (SFP) members—but not Fulfilled By Merchant (FBM) sellers who are not part of Amazon's Prime program—and on top of the roughly 15% they are already charged by Amazon.
Seller Fulfilled Prime members often sell large items, such as furniture, which are hard to fulfill with Amazon's logistics network, which is better suited to smaller products.
The point we're making is that Amazon's fees won't remain static, and sellers should always be open to different fulfillment options and avoid depending solely on Amazon, which can be pricey.
You can learn more about the fees associated with selling on Amazon here.
How Much Should I Charge for Shipping on Amazon?
Deciding how much to charge customers for shipping on Amazon can be tricky. Ideally, you will want it to cover the shipping expenses and not burden your customers.
Additional shipping costs can be a significant turn-off for some customers. It is particularly disliked when it is only revealed when the customer reaches the checkout.
In fact, additional costs are actually one of the top reasons for cart abandonment.
According to an article by Anna Baluch of Forbes Advisor, additional costs, such as shipping, deter almost 50% of customers from finishing online purchases.
Because of this, some sellers choose to cover the cost of shipping in the product's price and promote this to customers as free shipping.
Ensure to research what your competitors are charging for shipping, and remember that it's wise to charge more for larger and heavier items that will cost more to ship.
Lastly, consider offering multiple shipping options—you may want to consider offering a faster option, which you can charge more for.
How Sellercloud's Shipbridge Makes Amazon Shipping Easier
It is a common misconception among Amazon sellers that Amazon provides the best shipping rates. Yes, utilizing Amazon's shipping options can be convenient, but their rates are not always the cheapest.
This is why it is vital that sellers ensure they have as many options available to them as possible. While one courier might be perfect for one address, another could be better for the next shipment.
With Sellercloud's Shipbridge, sellers can calculate shipping rates and choose the best service for them at that moment, whether it be Amazon Shipping or any other courier.
Most impressively, with Shipbridge, sellers can easily configure shipping rules that take into account a range of factors to automate the shipping process. These factors can include:
Delivery zone.

Promised date.

Package weight and dimensions.

Order value.

Marketplace.

Shipping provider.
With Shipbridge, you can always pick the best price for your shipments regardless of how many marketplaces you sell on and the shipping partners you use.
What's more, with Shipbridge, sellers can centralize their multichannel orders to make the workload more efficient and manageable, ideal for businesses of any size.
Finally, Shipbridge also offers a variety of plugins to customize your shipping workflow and get it exactly how you need it to be.
Key Points
Now you're a master of Amazon Shipping, remember these key points.
Amazon Shipping is a service where you can fulfill orders from other websites using Amazon's couriers as long as the product is also listed on Amazon's site.

Amazon Shipping shouldn't be confused with Amazon Buy Shipping, Amazon's FBA, or Amazon's tracking service.

Unsurprisingly, Amazon's shipping costs constantly change, so sellers must be flexible.

There is no golden rule for charging for shipping on Amazon, though it can be a significant reason shoppers don't complete the checkout process.

Sellercloud's Shipbridge automates and simplifies shipping. It helps sellers choose the most convenient service, whether that be Amazon Shipping or another courier.