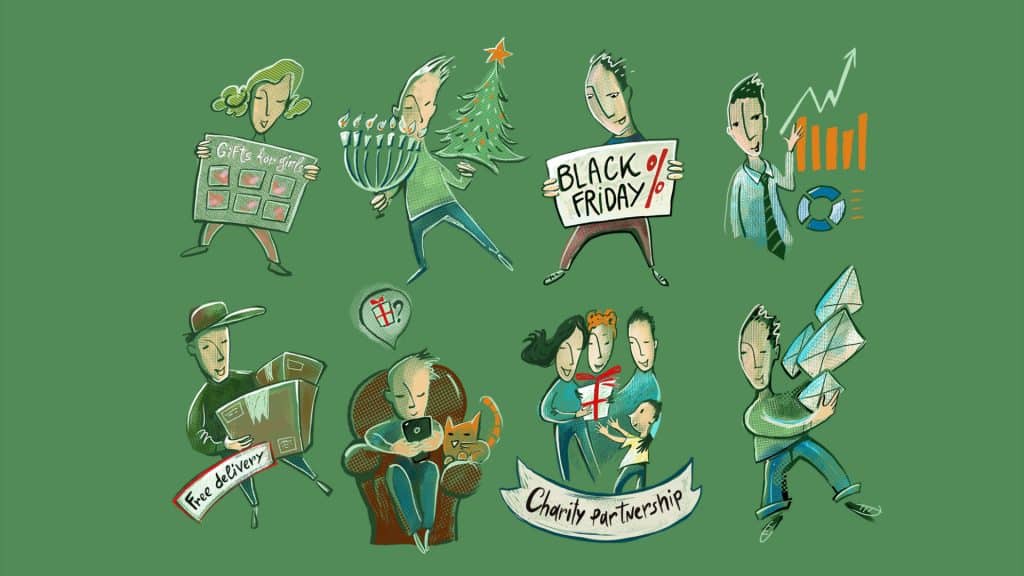 The most profitable time of the year for e-commerce has arrived, so it's time to plan promotions that will make the most of it. Online merchants received significant year-over-year sales increases in the 2016 holiday season, as more shoppers shifted from brick-and-mortar stores to the web. Because the trend is expected to continue, November and December sales should become even more important to the success of internet businesses. Here are some suggestions to help you capitalise on this year-end bonanza.
Gift Guides
Create visually appealing holiday gift guides for commonly searched categories such as gifts for kids and gifts for her, as well as gifts for fans of wildly popular sports teams. Shoppers begin researching gift ideas for various people in their lives long before Cyber Monday. Therefore, putting your products in gift guides can help potential customers discover your website, particularly if you have a very specialised niche item that would make a fantastic gift. Make sure your guides have evergreen URLs, so you can use them after December 31.
Holiday-Themed Landing Pages and Content
Just as brick-and-mortar stores decorate to get shoppers in the holiday spirit, the use of holiday themes on your website can set the mood. Have a special landing page to introduce hot sales items and specials by early November. Use frequently searched terms such as holidays, deals and offers. Create high-quality content around your products, and entice customers to share their comments and photos on them by offering a discount.
Sneak Peeks at Black Friday and Cyber Monday Deals
Give customers sneak peeks at the discounts you plan to have on these major shopping days, so they can plan on them. This can be accomplished by posting announcements with Black Friday and Cyber Monday tags on your Facebook, Twitter and Instagram pages. You can also place a large banner on the home page of your website. Consider allowing customers access to great deals on the Wednesday before Thanksgiving to get an edge over your competitors.
Targeted Email Campaign
Retailers raise their email frequency to their subscribers by approximately 50 percent during November and December. Review data on your customers, and divide them into groups based on their buying behaviours and interests. For example, customers who usually purchase low-priced items might not even read emails promoting costlier ones. Similarly, patrons who buy nutrition products might be captivated by an email on a new exercise video. In addition, separate customers into different time zones, so your emails will arrive at peak-viewing times.
Free Shipping
The perk of free shipping can help convert lookers into buyers if they are already in a purchasing mode. Due to its potential to promote sales, e-commerce stores frequently use the promotion during the holidays. However, to avoid losing money, follow these few guidelines. First, calculate how much free shipping you can afford: if you can't provide it site-wide, use it on a limited basis. Such tactics include establishing a minimum purchase threshold or using it as an incentive during a short sales campaign. Post your holiday shipping dates prominently on your site, so customers won't get frustrated when they miss a deadline.
Mobile Optimization
A current trend is to shop for the holidays using smartphones. Because this practice is projected to increase, e-commerce merchants are urged to optimise websites for mobile devices. The publication notes that many shoppers discover products in this way, even if they don't make the final purchase on their phones. Moreover, consider creating a mobile app that will permit you to send special offers to customers.
Charity Partnership
This strategy involves donating a percentage of revenue from sales to a charity. It may help your business because many Americans are more likely to shop at a retailer who contributes to a cause they support. You can also choose to adopt a charity that relates to the products you sell. For instance, if your store has pet items, you could align yourself with an animal shelter. An illustration of this charity-partnering concept is Amazon's Smile campaign, which donates a portion of sales to The Salvation Army.
Data-Guided Promotion Planning
Data from your previous year's holiday season should be foundational in planning this season's strategies. Examine your records to determine what worked best and what bombed. Identify any days or products that were especially successful. You may be able to combine approaches that performed well in the past with the latest promotional trends such as bundling, which is combining complementary items and offering them as 'package deals'.
It's not too late to include some of these suggestions in your holiday promotional strategy this year. Since brisk sales in November and December can have a tremendous impact on a retailer's annual income, consider the above options carefully. Some require a monetary outlay, which would have to be weighed against the potential benefit; while others necessitate very little cost. Try the ones that you feel best suit your business and budget.