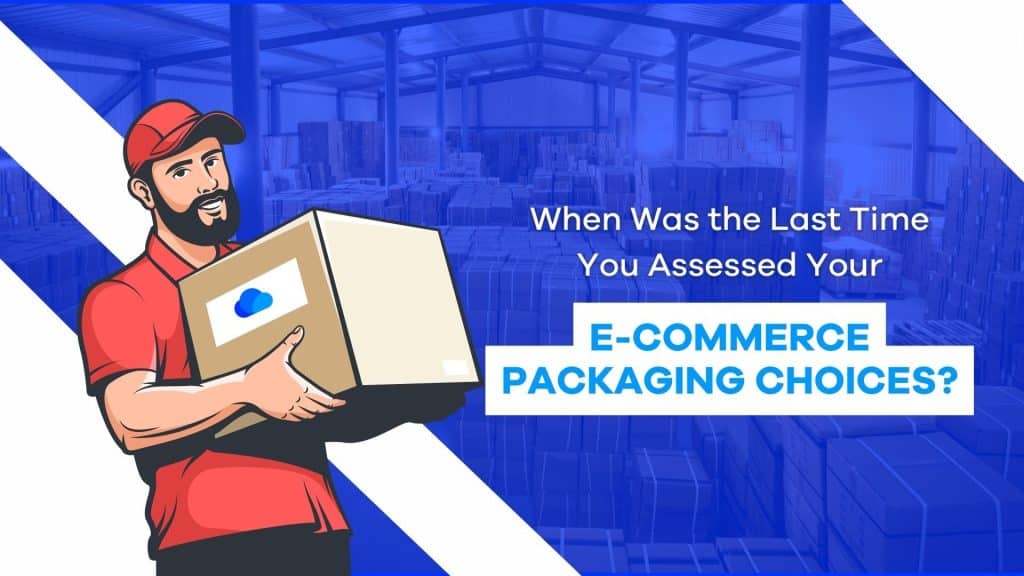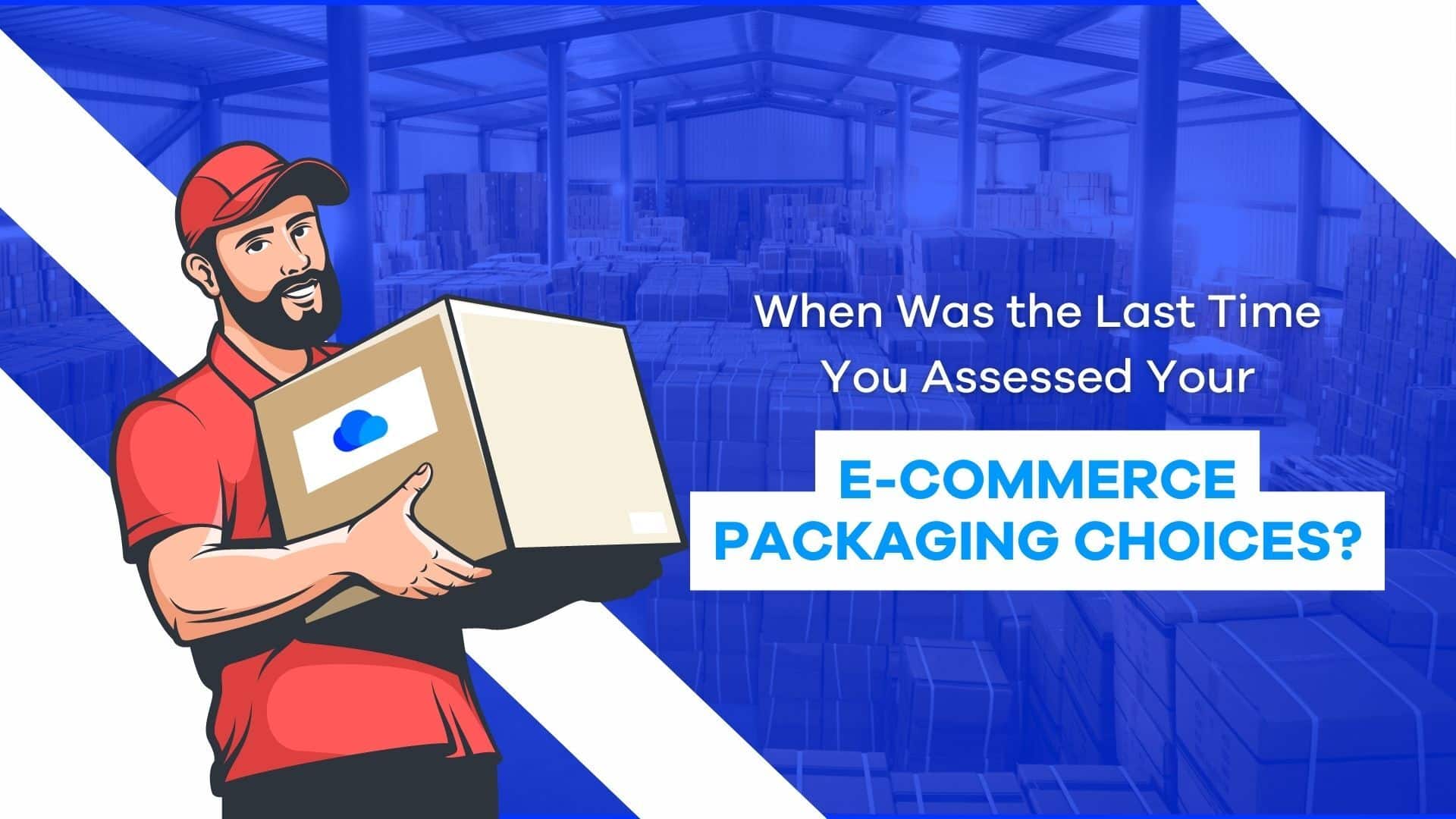 A fundamental element of a successful e-commerce business is packing and shipping your orders. This is a team effort that requires the right tools, staff, and workflows. A key part of that equation is the actual packing material you depend on to get your products safely to your awaiting customers.
Unless you are shipping products in their retail packages, every one of your shipments needs some combination of carton, wrap, and/or additional protective packaging. There are a number of choices depending upon the size of your products, the shipping services you use, the materials you are comfortable using, and how much you are willing to spend.
It begs the question: are you giving enough attention to that packaging and infill that you rely on?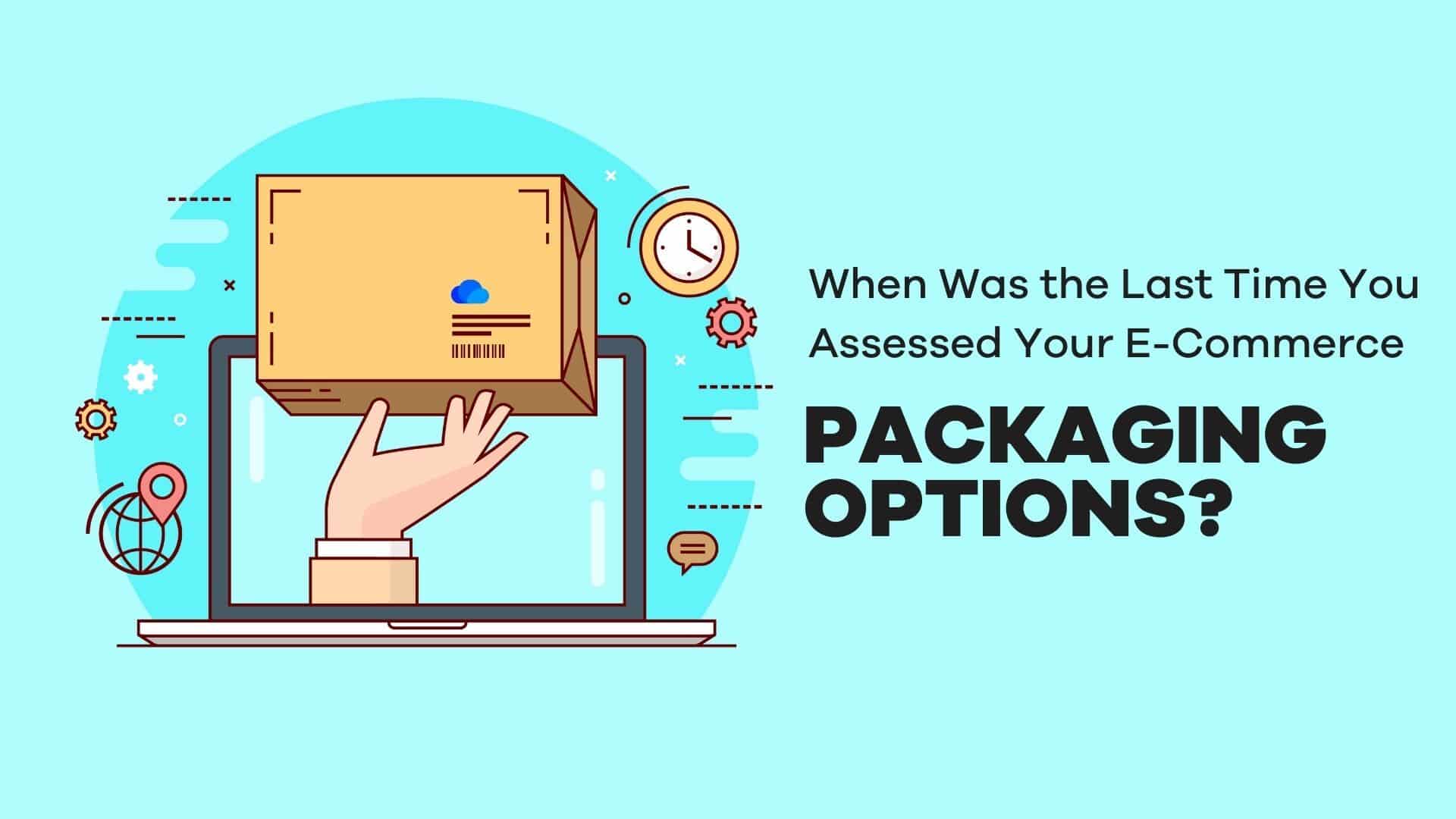 Packaging Options
There are a variety of shipping package types available for e-commerce sellers to consider. Each has their own pros and cons, but when used correctly with the right types of products, they all are capable of protecting your products in transit.
Envelopes come in a variety of sizes and materials that range in durability. This is an economical choice for loose, durable, and/or flexible items.
Sealable bags, like envelopes, are popular shipping choices for soft products such as clothing or well-packaged smaller items that are able to withstand repeated impacts in transit. Not only are they economical, but they require minimal storage space in your shipping department and can be packed and labeled extremely quickly.
Bubble mailers offer the convenience of envelopes, but with the added protection of a bubble-wrap layer. This padding makes bubble mailers a suitable and affordable choice for smaller items that may not be durable enough (or come with enough of their own retail packaging) to withstand the jostling of the shipping process.
Cartons and boxes are some of the most reliable and versatile packaging options available. They come in a variety of shapes, sizes, colors, and materials. The most common types are made from corrugated cardboard and are available in single-, double- and triple-walled thicknesses. When selecting the ideal box or carton, it is important to assess the weight and fragility of the products that you intend to use them for, as well as the effects that the additional weight and volume of your carton choice will add to your shipping expenses.
Further adding to their weight considerations, cartons are likely to require additional fill material like air pillows, packing peanuts, paper, or shredded pulp to prevent items from moving around and becoming damaged in transit.

It is also worth noting that cartons require extra steps to assemble, fill, and seal before they can be shipped compared to envelope-style options. That said, a well-organized fulfillment workflow will minimize the impact of these repetitive tasks.
Flat-rate packages are available from many shipping providers as a low-cost, standardized way to pack and ship orders. These mailers, envelopes, and boxes are available to sellers at little to no cost and ship for a single, predictable rate as long as the contents fit and do not exceed specified weight limits. What's more, most providers that offer these types of flat-rate shipping services provide the shipping packaging free of cost (the material cost is baked into the flat rate).

Depending on what you are shipping and the type of flat-rate mailing packaging you are using, filler material may be required to eliminate empty space inside the package and keep your merchandise secure.
Sellercloud's Shipbridge shipping software supports each of these different options. You can easily assign a specific packaging material to each product in your catalog so your warehouse team knows exactly how to pack and ship your individual product orders correctly. While this naturally would not apply to the consolidated shipping of multiple products in a single order, Shipbridge does allow you to assign specific package types to orders of specific total weights and volumes.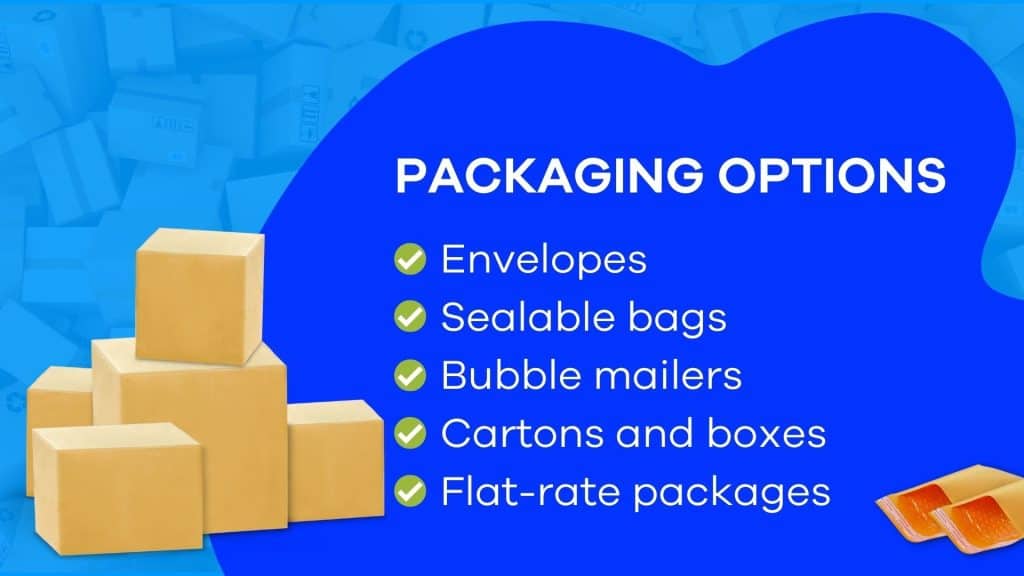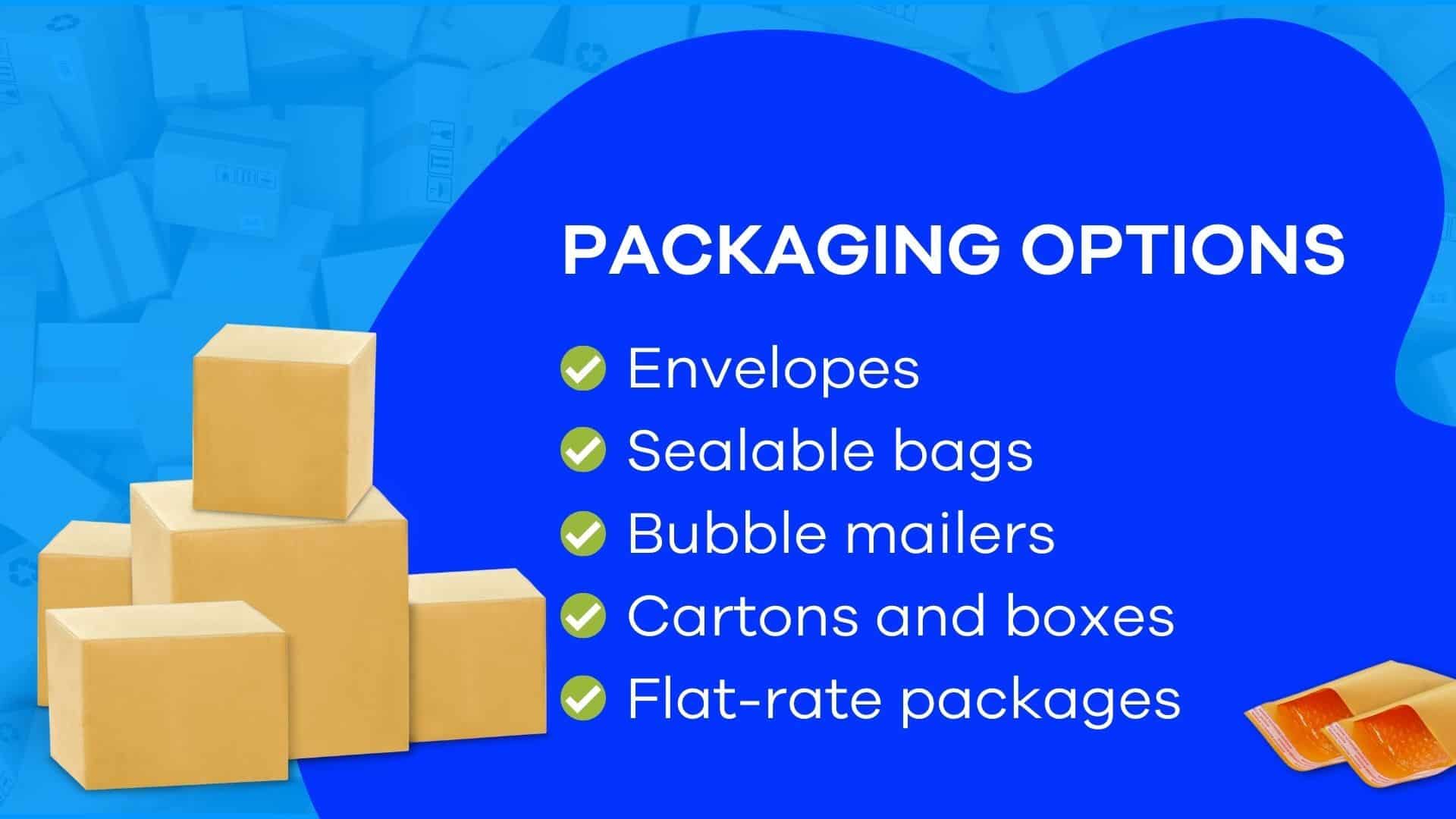 Critical Shipping and Packaging Material Considerations
For the most part, every item you sell as an online seller is going to require some kind of packaging. Making the optimal packing choice for each product means accounting for a number of different factors.
Each of these considerations has an impact on your shipping costs, handling costs, and fulfillment workflows.
Size – Every shipping provider uses some combination of volume and weight to determine shipping costs. For e-commerce sellers, this incentivises packing optimization – finding the ideal size and protective infill combinations to minimize costs while also ensuring secure transit. Failing to make these calculations correctly can reduce your overall profits on every package shipped.
Supplier – The demand for envelopes, mailers, and cartons has created a highly competitive industry for packing material suppliers. As with any large, recurring purchase your business makes, shop around for the most competitive rates for the types of materials you require. Most suppliers offer some combination of bulk discounts, subscription ordering, and long-term contracts that make it possible for you to bring your handling costs down and boost profits.

In some cases, it may make sense to spread your orders across multiple vendors for different types of packaging materials. Not only can this be a cost-saving measure, but it can help establish relationships that could come in handy should an order fall through, a vendor's quality begin to suffer, or you simply need more supplies in a pinch.
Shipping partner terms – Each shipping provider has its own thresholds for characteristics that add or reduce price. For instance, packages that exceed the metrics for overweight or oversized can incur additional fees. On the other hand, some providers offer discounts for using flat-rate packaging materials. Ideally, you should weigh how these carrier differences relate to the products and orders you ship.
Branding – Depending on the channels where you sell, you may consider incorporating your own company and/or product branding into your packaging. While this will come at a cost and likely require a specialty packaging supplier, many marketing experts tout the value of making a positive first impression rather than shipping in blank packaging or packaging emblazoned with logos from other brands.
Environmental impact – Consumers are showing increasing concern regarding the waste produced by their shopping habits. Due to the additional shipping packaging, e-commerce purchases tend to produce significantly more waste than a brick-and-mortar purchase. Opting for more eco-friendly packaging options is a way to show your customers that you are aware of the environmental impacts associated with shopping online and that your brand is committed to sustainability. 
No matter your packaging choices, Shipbridge gives you the ability to streamline your shipping workflows across your omnichannel e-commerce business. It is a critical component of the Sellercloud platform and available to all Sellercloud subscribers at no additional cost. 
Contact us directly to start your free demo and see for yourself how Shipbridge and the rest of the Sellercloud family of e-commerce tools can help you create the perfectly customized and optimized online sales experience for your brand.