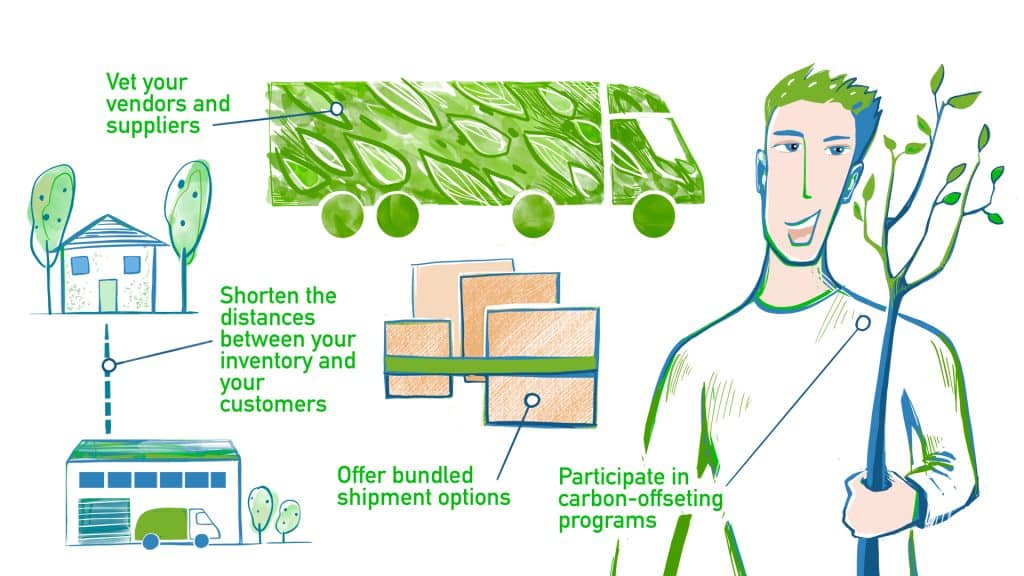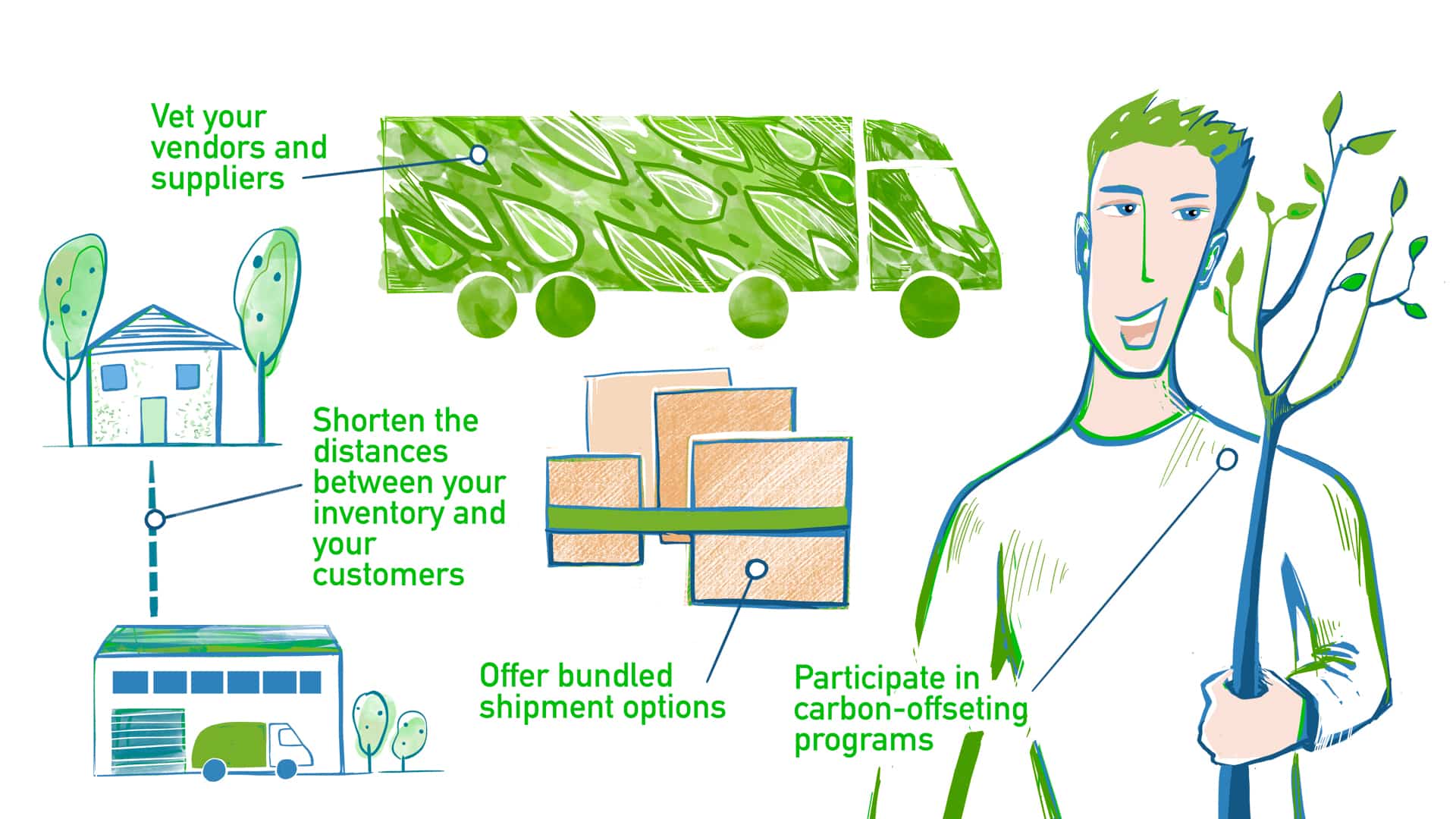 As customers are increasingly turning to e-commerce for their purchases, more and more are starting to voice concerns over the environmental impacts of online shopping. Sure it's convenient, but what about the pollution and energy use associated with having everything delivered to your doorstep? What about all that packing material that ensures merchandise arrives safely?
It should be no surprise that for years now, studies have shown that customers are more likely to show loyalty to brands and businesses that are committed to sustainable and eco-friendly practices. Many are even willing to pay a little more or even wait a bit longer for their orders if they believe it is for an environmentally-conscious reason.
This trend in consumer sentiment makes environmentally-conscious e-commerce not just the right thing to do, but also a potentially lucrative marketing opportunity for brand growth. What's more, some sustainable and eco-friendly business practices can help boost both the overall productivity and efficiency of your brand.
The two most significant areas where your online retail business can make a meaningful environmental impact include reducing carbon emissions and using eco-friendly materials.
Know and Respond to Your E-Commerce Business's Carbon Footprint
According to a US Environmental Protection Agency (EPA) study, transportation accounted for 29% of total greenhouse gas (GHG) emissions in 2019. If current trends hold, e-commerce will play an increasing role in that problem as the industry continues to grow. A World Economic Forum study projects that last-mile delivery could increase GHG emissions over 30% in the next ten years. 
While technological advancements in hybrid and zero-emissions freight methods could reduce or eliminate this concern, the reality is that this type of change takes time and financing – it won't change overnight.
That same EPA report found that electricity accounted for 25% of 2019's GHG emissions and industry accounted for 23%. Considering how heavily these three areas are intertwined with e-commerce, retail, and logistics, there is the potential for your brand to make a positive impact with the choices you make.
So, what can you do to help reduce your e-commerce business's carbon footprint and demonstrate to your customers that you take your brand's environmental impact seriously?
Vet your vendors and suppliers – While you don't directly control the energy and transportation decisions made by your third-party vendors and suppliers, it can be a consideration when deciding who you do business with. Many shipping companies and manufacturers are becoming increasingly forthright with their environmentally-focused policies (it's good marketing for them, too!). If you are taking the environmental impact of your brand seriously, make environmental impact one of the factors that you use to evaluate your third-party partners. 
Offer bundled shipment options – In the case of Amazon, Prime subscribers have a tendency to make multiple purchases in a single shopping session across individual or smaller orders. This can result in multiple unique orders that will arrive to the customer via the same truck on the same day, but packaged separately.
For your e-commerce business, rather than shipping multiple-item shipments piecemeal, be proactive about offering customers the option to have all of their merchandise shipped in the same package and/or shipment. This reduces both freight and last-mile emissions. That said, be aware that if the products for an order are spread across multiple warehouses, this may not actually be as viable (or carbon efficient).
Shorten the distances between your inventory and your customers – Speaking of multiple warehouses, there is a benefit to both your carbon footprint and shipping speeds if you can position your inventory close to where your customers are located. Sellercloud makes it easy to track and manage inventory across multiple locations as well as expand your reach to better serve new regions of customers.
Taking things even further, if you have inventory stored in multiple locations, Sellercloud's order rules engine has the ability to automatically choose the fulfill orders based on the warehouse closest to the customer's destination. The result is faster and more eco-friendly fulfillment.
Participate in carbon-offsetting and carbon-bundling programs – For now, it is nearly impossible to operate a zero-emission e-commerce business. The technology and infrastructure is still developing and evolving. However, nonprofit organizations like the International Carbon Reduction and Offset Alliance (ICROA) offer businesses an opportunity to invest in emission-reducing and eliminating activities at a rate proportional to their own GHG emissions. These voluntary carbon marketplaces are seen as critical forces in achieving more permanent and lasting climate-change solutions for our planet.
Taking responsibility for your e-commerce business's carbon output is an important step toward becoming a green brand, but it isn't the only one. There are adjustments that you can make to how you package your products as well as your products themselves that can improve your environmental impact.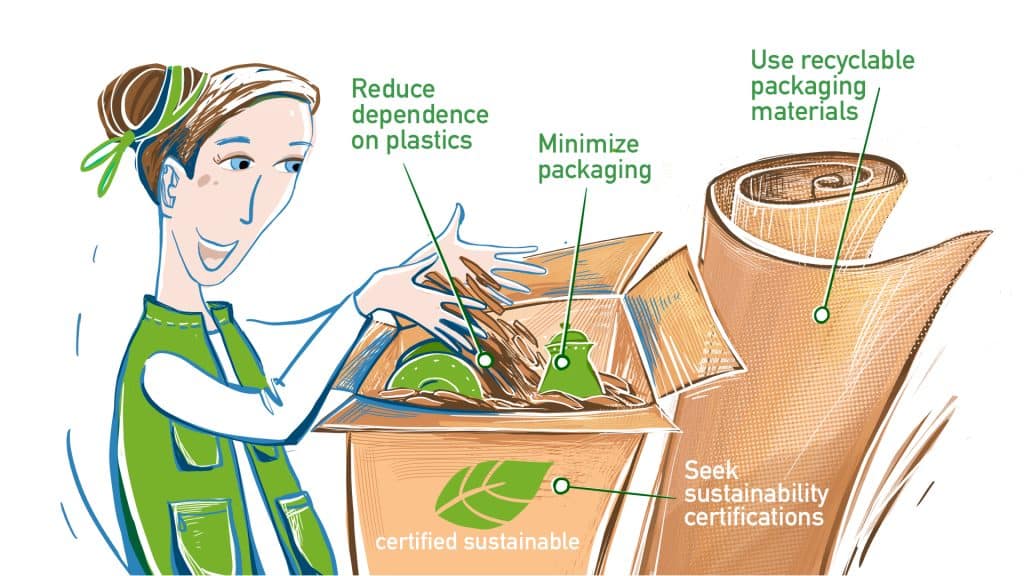 The Materials You Choose Can Have a Meaningful Environmental Impact
Just as there are a number of ways that your business can minimize its carbon footprint, there are various ways to make green decisions about the materials you use to both make and ship your products: 
Minimize packaging – One of the areas most ripe for greenifying your e-commerce practices is likely your packaging. Because of the need for shipping, e-commerce tends to produce more waste than traditional brick-and-mortar retail. Shipping materials are one of the chief culprits, but there are ways to reduce or eliminate their impact.
When shipping boxed products, consider simply applying shipping labels directly to the packaging without putting them into additional cartons (this is becoming increasingly popular with Amazon and other big-name retailers). Similarly, when shipment packaging is necessary, strive to use cartons, mailers, and shipping materials that are as optimized to your product sizes as possible. This cuts down on the amount of void fill material per package as well as the overall amount of waste material customers are left to deal with. Not only that, minimizing and optimizing your shipping dimensions can be a major fulfillment-cost savings.
Don't forget about the products themselves. Try to keep the amount of material – particularly plastics – to a minimum. Smaller, more eco-friendly product packaging can also reduce the size of the shipment packaging you need to get your merchandise safely to customers' doorsteps.
Use recyclable packaging materials – When packaging is necessary, opt for materials that can be easily recycled. Even better – using materials that have already been recycled themselves demonstrates an even deeper commitment to sustainable packaging.
Reduce dependence on plastics – Petroleum-based plastics are some of the most devastating sources of solid waste pollution. Replacing plastic components and/or packaging materials with greener options should be an important priority for environmentally-conscious brands. If plastics are essential to your merchandise, packaging, or shipping supplies, seeking out recyclable and non-petroleum-based plastics can make a difference.
Seek sustainability certifications – One way to improve sustainability of both your products and packaging is to strive to adhere to the Cradle to Cradle (C2C) certification standard. The Cradle to Cradle Products Innovation Institute is an internationally-recognized institution dedicated to promoting materials and products with positive planetary and societal benefits. To do so, the C2C certification process evaluates products across five areas: material health, material reutilization, renewable energy and carbon management, water stewardship, and social fairness. A C2C certification is a visible and marketable way to show consumers that you take your company's environmental impact seriously.
There are more options than ever when it comes to supporting Earth-friendly business decisions. Taking advantage of them can be both good intentioned and good business.
As with any shifts and evolutions of your e-commerce business practices, Sellercloud's omnichannel e-commerce growth platform empowers you with the tools you need to optimize and streamline your inventory-based workflows. Our over 120 integrations with leading marketplaces, shippers, suppliers, logistics partners, and more make it possible to manage your partnerships from a single, convenient interface. Contact us directly for a free demo and start transforming how your brand does e-commerce.