Every retailer needs to store their inventory someplace. In most cases, that means a warehouse. However, when it comes time to find the perfect warehouse for your e-commerce business, there are many different types to consider.
There are a lot of details to consider when deciding the optimal warehousing model for your own e-commerce brand. It is not a one-size-fits all proposition. As such, any search for the ideal e-commerce warehouse has to begin with a self-assessment of your inventory and fulfillment needs.
From there, you need to be prepared to navigate the wide variety of warehouses and warehousing models now available to businesses like yours. Each has its own pros and cons. Furthermore, some warehouses exist as hybrids of multiple storage and fulfillment components. By reflecting on your needs and budget, you should be able to narrow down the list and identify which warehousing solutions are a good fit for your brand, and which are not.
1. Third-Party Fulfillment Centers
Fulfillment centers are a convenient option for online sellers who are not particularly interested in or prepared for the idea of handling their own warehousing (truth be told, running a warehouse is more feasible than you might think). Services like Fulfillment By Amazon (FBA) offer sellers the opportunity to ship bulk quantities of inventory to a third-party warehouse where orders are received and processed on the sellers' behalf.
Pros:
Simplicity – Fulfillment centers can drastically reduce the time and effort you need to put into fulfilling each order. This can reduce costs related to staffing, training, and maintaining your own warehouse space.
Performance – A reliable fulfillment center arrangement could potentially offer a more streamlined fulfillment workflow than you can currently offer internally. What's more, reliable and speedy logistics are often a prerequisite for eligibility into performance-related programs like Amazon Prime.
All that being said, an omnichannel growth platform like Sellercloud and our WMS, Skustack, make it possible to reach comparable or superior performance metrics without giving into the cons listed below.
Cons:
Cost – There are inevitably fees associated with both the storage and handling components of a third-party fulfillment arrangement. These costs can often outweigh the costs of sourcing other warehousing alternatives.
Lack of control – Any time you outsource workflows or responsibilities to a third party, you take on a degree of risk. Some energy inevitably must be dedicated to quality control to ensure that you get the most out of your third-party arrangement.
2. Public / Government Warehouses
Public warehouses are viable options for anyone looking for storage space. These options are typically owned and controlled by a governmental body or a third party operating on the government's behalf. Public warehouses commonly allow for both short- and long-term storage options and are flexible in the amount of storage they offer.
Pros:
Flexible lease terms – Not all warehouse options offer the ability to secure short-term and/or seasonal space the way public warehouses do.
Scalable – Public warehouses usually make it easy to increase or decrease the amount of space you reserve on either a monthly or seasonal basis.
Security – Some government-run warehouses offer superior security compared to other public or private options. This can be especially useful if you have proprietary and/or especially valuable merchandise.
Cons:
Limited additional features – You are not likely to find many additional perks or amenities in public or government warehouses. You're paying for an empty space – little else.
Limited control and fulfillment capabilities – Public warehouses tend to be storage-focused solutions rather than fulfillment operations. With the rise of e-commerce, some public options may offer fulfillment services. Should you choose to rely on this type of service, you will want to be sure you have adequate tracking and inventory management systems in place to monitor inventory levels and movement.
3. Private Warehouses
These warehouses are owned by independent entities rather than governmental ones. Should you opt to lease or purchase your own warehouse for use solely by your own e-commerce business, this is the path you would be taking.
Pros:
Stability – Ownership (or a long-term lease) of a private warehouse offers peace of mind that you will not have to continually relocate your inventory and fulfillment operations.
Granular control – Owning and operating your own private warehouse gives you the ability to make any of the physical and procedural adjustments your business needs to run smoothly without having to seek permission or support from a third party.
Exclusivity – Not having to share warehousing space or operational services with others can be a major positive from both a security and productivity optimization standpoint.
Cons:
Potential for significant up-front costs – Not only do you need to pay for the real estate, but you also need to outfit the warehouse with the racks, equipment, technology, and staff that your e-commerce brand needs to run streamlined inventory and fulfillment workflows. However, once you have your optimal warehouse configuration completed, it's yours!
This is another area where Sellercloud can help. Skustack, our feature-packed WMS, and Skublox, our scalable put-to-light fulfillment sorting system, can make setting up your warehouse convenient and affordable. Both can be managed through Sellercloud's omnichannel growth platform to create a unified and streamlined warehousing experience.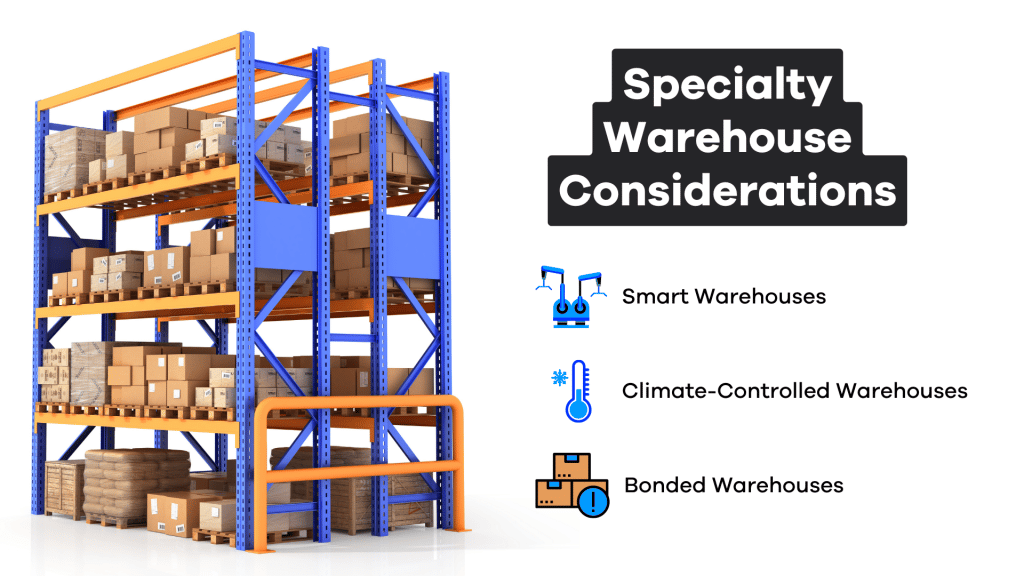 4. On-Demand Warehouses
Think of on-demand warehouses as the Airbnb of inventory storage. When some private warehouse owners have extra space, they make that cubic footage available to outside companies for either short- or long-term use.
Pros:
Affordable space in a pinch – Whether its seasonal overflow or an extra-large supply order, sometimes you just need some extra space. On-demand options are well suited for these types of use cases.
Negotiable terms – On-demand options may offer more favorable terms and conditions compared to public alternatives.
Additional perks – Depending upon the warehouse, you may be able to reap the benefits of specialty conditions and storage assets associated with the owners' warehouse design (such as climate control, specialty rack configurations, and/or technological access). This can be a boon – particularly if your products and storage needs align with the warehouse owners'.
Cons:
Limited long-term value – Should the warehouse owner need their space back, you may be out of luck. On-demand warehouse arrangements are commonly best suited for short-term storage only.
5. Cooperative (Co-op Warehouses)
Similar to on-demand warehousing, cooperative warehouses are shared spaces between two or more businesses. Terms are ironed out between parties at the outset to ensure a mutually beneficial arrangement.
Unlike on-demand warehousing, there is greater flexibility in choosing the technologies and warehouse setups that work best for each party. Your inventory is not simply a guest in someone else's space. This gives you the opportunity to take advantage of the full range of benefits afforded by an omnichannel inventory management solution like Sellercloud.
Pros:
Reduced costs – Sharing a warehouse with trusted partners can make it possible to afford more space, features, and technology than any of the parties involved could reasonably afford on their own.
Shared staffing opportunities – Hiring and retaining warehouse workers can be challenging in the current labor market. A cooperative warehouse may be able to offer more favorable and competitive terms than other employers.
Cons:
Interdependence – Should one or more parties wish to back out of the co-op arrangement, it could leave the others unable to sustain the shared costs. Even if affordability is not an issue, the missed opportunity costs of unused space could become a drag on the remaining participants' bottom lines.
6. Consolidation Warehouses
The process of combining or consolidating shipments can save businesses big money. Consolidation warehouses receive goods and inventory from multiple sources, and then combine shipments with others en route to the same destinations. Since many long-haul freight companies charge by the container load, consolidation can make it possible to both fill a container more quickly and defray the costs that you would otherwise be paying for unused space.
Pros:
Great opportunity for high-volume wholesalers and B2B e-commerce businesses – If you routinely ship large quantities to a few specific destinations, consolidation warehouses can be a practical way to do so with added efficiency.
Faster high-volume shipping speeds – When you don't need to fill an entire container yourself, shipments can go out quicker and with increased frequency.
Sustainability – Consolidated shipping practices reduce the amount of emissions caused by trucks and freight lines making multiple, unfilled trips.
Cons:
Not practical for all e-commerce sellers – If you run a B2C e-commerce brand, the odds that you sell enough volume to a select few destinations is low. Finding the right consolidation partnerships and landing on a practical outbound shipping schedule could be problematic.
Delays – The extra coordination and organization that go into consolidated warehousing can mean a slower turnaround time for shipments compared to if you were going it alone. 
Along those same lines, tracking inventory quantities and movement are a must to ensure you aren't the one causing the holdup.
Specialty Warehouse Considerations
For many of the warehouse types outlined above, there are additional storage and workflow features available that may be worth an additional investment depending on your inventory and fulfillment needs.
Smart Warehouses
The use of artificial intelligence (AI) and robotics has become an increasingly popular component of modern e-commerce warehouses. This reliance on technology can improve inventory counting, order accuracy, and fulfillment efficiency. That said, there are still many tasks that are still easier and more efficient for a human workforce to complete. Be sure to assess just how "smart" a warehouse is when evaluating any added costs or markups associated with AI-driven features. If there is no proven boost to efficiency, you may be paying a premium for flash instead of substance.
Climate-Controlled Warehouses
Depending on what you sell, cold storage, humidity regulation, and climate control may be necessities for your inventory. These are fairly common features for modern warehouses, but may come at an additional cost. If this is a need for your products, it may be worth weighing the cost differences between a warehouse already equipped with the climate-related equipment you need and retrofitting an existing space to your exact specifications.
Bonded Warehouses
Imported shipments sometimes require warehousing while they wait to go through the customs clearance process. Bonded warehouses are specialty options provided by the government that offer secure spaces for these types of shipments whether it be for short-term or long-term storage. These spaces are rented on bonds (hence the name) that are refunded when the shipments clear customs.
Whatever your ideal warehousing solution – whether it be one of the warehouse types outlined above or outsourcing your fulfillment and storage needs entirely – Sellercloud and our omnichannel WMS, Skustack, are ready to boost both your selling potential and your bottom line. Our tools make it easy to know exactly where your inventory is across all of your storage solutions and shipping-carrier partners. Taken further, Sellercloud goes beyond inventory management to give you total control of your catalog, listings, fulfillment, and third-party associates thanks to our integrations with over 120 industry-leading e-commerce partners.
Ready to experience the Sellercloud difference for yourself? Contact us directly for a free demo today!