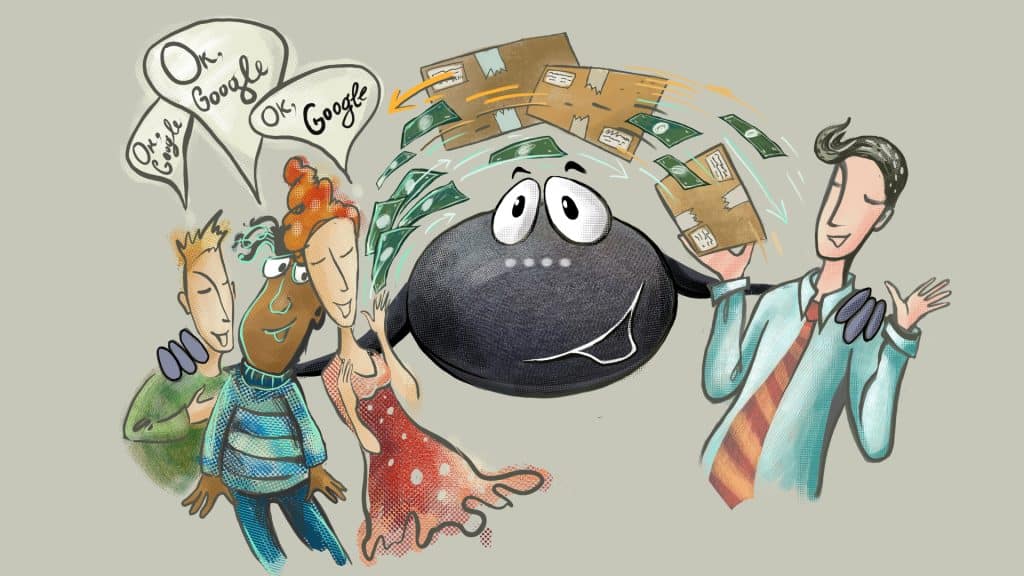 Voice controlled devices have transitioned from the stuff of sci-fi imagination to reliable daily companions. Odds are if you were to say "Hey Siri", "OK Google", or "Alexa!" right now, something around you would give a knowing ding and be ready for your command.
From there, you can do just about anything – ask about the weather, set reminders, send a message, request a song, control home automation, or even hear a bad joke or two.
Ecommerce sellers can benefit from the growing popularity of these voice assistants as well. Your customers can do everything from placing an order to establishing a recurring Amazon subscription by simply calling out to their digital companion.
However, each voice assistant and ecommerce channel handles these requests differently. The key is making sure your business is in the position to capitalize. This won't happen automatically.
In particular, if you are heavily dependent on the Amazon marketplace, their assistant, Alexa, may not be working as hard for you as she is for your competition (and certainly not as hard as she is working for her creator!). Even if your company's relationship with Amazon seems solid now, circumstances have been known to change – and change quickly. If that happens, your business will be left out in the cold.
Thankfully, Alexa is not the only girl at the ball. In fact, her chief competitors are significantly more appealing in many respects. That said, there's a phrase that any seller with an over-reliance on Amazon's seller platform needs to learn: "Alexa, I'm going to start seeing other marketplaces."
The combination of the Google Shopping Actions program and the convenience of the SellerCloud inventory management system is the perfect way to move beyond a single-marketplace model and get out there to play the field of available buyers.
Breaking the Amazon infatuation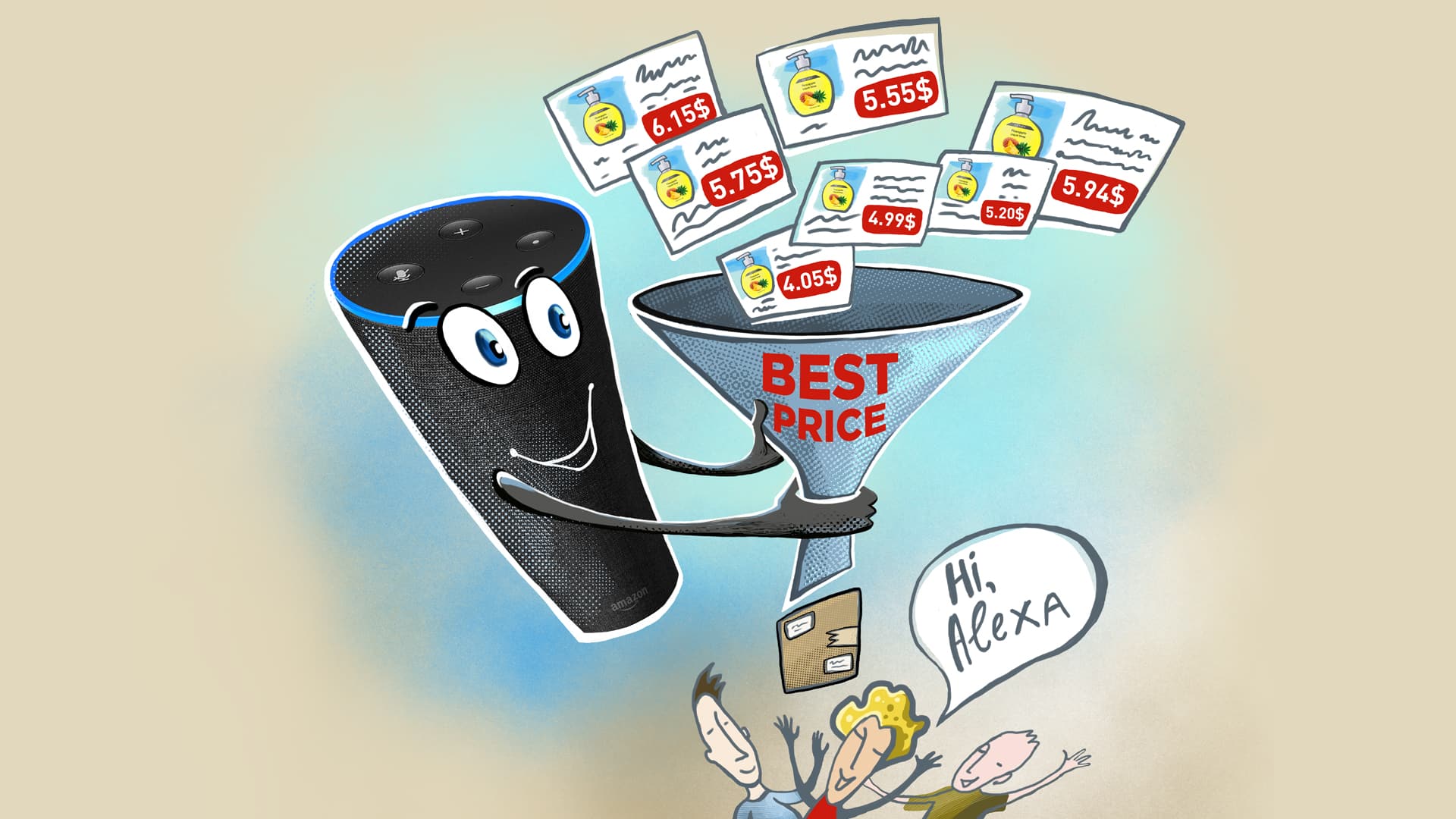 In the world of ecommerce, Amazon is a dominant force. Its large market share, huge customer base, and high consumer confidence, make it a coveted landing spot for novice and experienced sellers alike.
Now, as Amazon's proprietary Alexa-powered speakers and devices become more commonplace, customers can access the retail giant's services with a simple, spoken phrase.
What's not to love?
It turns out, plenty. For one thing, Amazon's loyalty is not to the seller. There have been numerous policy shifts over the years that have made the marketplace more customer-friendly while, at the same time, have also made things more challenging for third-party retailers.
Grievances aside, becoming infatuated with Amazon is just bad business.
Typically, it is considered a major risk if one customer represents more than 15% of a business's revenue. For online sellers, this is an easy trap to fall into. Many ecommerce retailers start out as third-party sellers on a single marketplace and, increasingly, that marketplace is Amazon. Once the businesses begin to thrive, many of them fail to expand into other marketplaces or to establish their own ecommerce web space. They find comfort in the relationship and stick with the platform that brought them to the dance.
The problem is, businesses that sell exclusively on Amazon have just one customer – Amazon. Sure, your products may be travelling to other customers all over the world, but the reality is that Amazon's third-party sellers are viewed by Amazon as little more than an extension of their inventory supply chain to satiate consumer demand.
It makes sense. Customers come to Amazon to buy from Amazon, not you.
To be fair, Amazon is a great customer to have, but the risk of losing that relationship is real. With all the attention focused on customer satisfaction, Amazon has shown an increased willingness to leave third-party sellers at the altar after even just a few customer complaints.
As a third-party seller, this means your value to Amazon is really only skin-deep. Once a relationship with Amazon sours, other issues soon follow. Without a viable marketplace, ecommerce businesses can find themselves with excessive amounts of capital tied up in inventory with nowhere to sell it. Taken further, over-reliance on Amazon's fulfilment services can leave spurned sellers without a viable channel for distribution or inventory management.
Even credit can be harder to come by. As part of the loan approval process, banks have learned to inquire about businesses' ecommerce marketplace diversification. Lenders are growing more and more reluctant to loan money to sellers too heavily reliant upon a single channel like Amazon.
Amazon's siren song is strong, especially as the company bolsters its influence with each Alexa-enabled product it sells. Still, you must resist the temptation to settle for a single channel – regardless of how alluring or convenient it may be. Whether you are a novice third-party just starting out or a veteran of the online retail space, you owe it to both yourself and your business to take advantage of opportunities to spread your reach beyond Amazon.
The SellerCloud inventory management system is here to help. We have established integrations with over a hundred ecommerce channels, vendors, and services to help you eliminate the risks associated with over-reliance on a single marketplace – Amazon or otherwise.
Specifically, SellerCloud now integrates with Google Shopping Actions – an ideal option for sellers looking to broaden their horizons and reach new customers.
Google Shopping Actions help find you the perfect matches
Google Shopping Actions has been tailor made to provide a balance of value to both sellers and customers. The program has evolved from Google's previous forays into ecommerce (like Google Express and Purchases on Google) into an omnipresent addition to the search engine's results pages and advertisement spaces. Even the simplest search – like 'shoes' or 'alarm clock' – now displays an ad block that includes relevant products, their prices, and click-through links to bring you to the appropriate store fronts. The program is also fully compatible with Google Assistant and its voice-activated convenience.
That last piece is a big deal. Market research estimates project voice shopping to grow to as much as $40 billion a year by 2020.
While Amazon is a retail powerhouse with some flashy, proprietary tech designed to bolster its own traffic and sales, Google is a tech giant that profits from its ability to connect customers to the relevant marketplaces run by others. What Google lacks as a self-contained marketplace, it more than makes up for with ubiquity and influence. Seemingly anything connected to the internet is, in some way, connected to Google.
Try this. Think about how many android phones you see in a day. Next, think about how many devices you interact with that can run the Chrome browser or some flavour of either the Android or Chrome operating systems. The list is long and growing: tablets, PCs, Macs, smartphones, set-top-boxes… heck, even kitchen appliances.
Now, compare that with the number of Fire phones, Kindles, and Echoes you have seen in the past month. See what I mean? While Amazon's Echo and Fire devices are quality products, they have their limits. Most significantly, they have nowhere near the reach of Google's Android and Chrome platforms.
Now consider this: every Android- and Chrome-enabled device comes pre installed with Google Assistant. That means that with the Google Shopping Actions program, every one of these devices is a possible pathway to a sale and Google Assistant is there to make the transaction easier. There is an unmistakable value in bringing your ecommerce business into the Google ecosystem.
Google's Assistant provides the perfect partnership to building customer loyalty
On the surface, it seems like Google Assistant and Alexa are equals when it comes to voice-activated transactions. A customer gives a command, and the device initiates the purchase of a product. In reality, it's how each of those commands is carried out that matters.
When Amazon receives an order through Alexa, the lowest-priced item they have in their system is typically granted the sale. The same holds true for 'Subscribe and Save' orders. Amazon selects the lowest priced option for a particular listing, charges the subscriber, and ensures the merchandise is sent on its way.
With Alexa, there is no way for customers to request your third-party store front directly. Additionally, if your inventory doesn't meet a certain Prime-approved criteria, Alexa won't even acknowledge it.
Amazon already provides very limited potential for you, the retailer, to establish any kind of relationship with your customer. There are firewalls in place to keep both parties dependent upon Amazon as the transactional go-between. Alexa exacerbates them.
Naturally, there are some workarounds. For instance, SellerCloud has a feature where a seller can email a customer, but the real email addresses remain veiled, and all of the messages are channelled through Amazon's marketplace system. You are able to communicate directly with a customer, but Amazon is acting as your chaperone.
SellerCloud can also retrieve customers' phone numbers from the Amazon marketplace transaction data. Amazon allows this as a way to assist sellers in making sure packages reach the correct destinations. However, sellers are explicitly forbidden to use customer phone numbers to promote or up-sell products. The temptation may be there, but remember the real risk of earning Amazon's scorn.
On the other hand, Google is taking an approach that is similar to eBay. Rather than viewing direct retailer-to-customer relationships as competition, Google and its trusty voice assistant are more than willing to help fix you two up.
Unlike Amazon, Google Shopping Actions is equipped to help you build customer loyalty. Buyers can turn to you, specifically, as their preferred retailer for certain products. Once a purchase has been made, Google makes it easy for a customer to find you through both traditional and voice-activated searches when they are ready to buy from you again. Perhaps the biggest boon for sellers is the way Google uses its analytics to surface your products to customers when they have "the highest intent to re-order".
Here's the amazing part: until a sale is actually made, Shopping Actions merchants pay nothing to have their products so accessible and featured so prominently. Therefore, if things go well and the customer follows through with a purchase, Google happily takes their cut. If not, no hard feelings and the seller doesn't owe a dime. It's hard to argue with that kind of marketing power and value!
SellerCloud has integrated with Google Shopping Actions so that sellers like you can easily publish your product listings on Google just as you always have to various other popular marketplaces. Sellers can participate in the Google Shopping Actions space without the need to do extra data entry or create entirely new inventory work-flows. When sales are made, the resulting orders will fit right into your existing order processing procedures.
Marketing yourself instead of a marketplace
Ecommerce customers are constantly evolving, and sellers must evolve with them. Locking yourself into a narrow lane of marketplace options may start out well, but the honeymoon period almost always fades away.
Google Shopping Actions presents an ideal opportunity to create and market your products as a first-party seller on your own website rather than as a third-party on someone else's.
In the past, creating a successful ecommerce website has been prohibitively expensive for many sellers. Development costs were high, and the marketing costs to generate traffic were even higher. Even worse, the steep cost of generating traffic still didn't guarantee sales. The return on investment was an expensive gamble.
With the Google Shopping Actions per-per-sale model, it is now possible to mitigate much of the marketing risks and costs associated with establishing your own online retail presence. The combination of new, easy-to-use web creation tools; Google Shopping Actions participation; and SellerCloud inventory management support means you can transition from precarious, exclusive relationships with large retail marketplaces to more authentic and sustainable relationships with your customers.
What's more, as customers continue to gain both comfort and confidence with voice-activated ordering, you can be sure your business is prepared to answer the call.
Once your website is up and running, SellerCloud can help automate the process of getting your product listings in sync not only with the Google Seller Actions program, but also with over a dozen different website shopping carts. This means you can easily maintain your third-party presence on your current marketplaces while simultaneously growing your own.
If you have only been selling on sites like Amazon and eBay, now may be the perfect time to develop your branded website and invest in your own independent ecommerce identity. Contact us to schedule a demo of all the ways SellerCloud can help make this happen and further optimize your business with our ever-growing platform of logistical and ecommerce integrations.