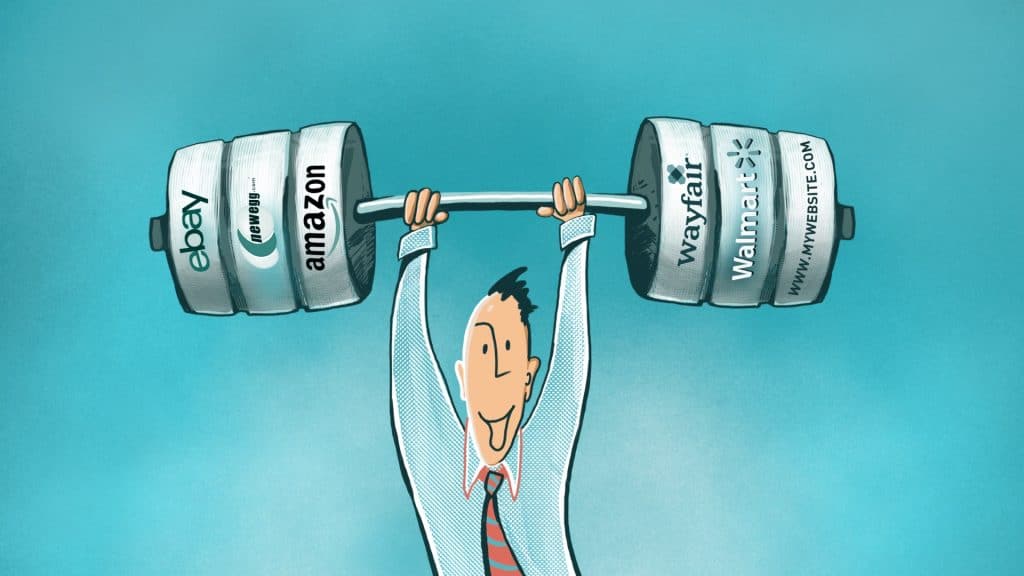 In ecommerce, there's no denying the power of the marketplace. With nearly half the population checking Amazon first before any other retailer, it seems only logical to consider going all in. However, the online marketplace isn't an all or nothing situation.
In fact, it's more conducive to set up your business strategy to include both your online store and an online marketplace such as Amazon or eBay. There's a way to strike a balance and we're going to help you find it.
Online Marketplaces
First, let's explore online marketplaces. You probably know that, by participating in a marketplace like Amazon or eBay, you're likely to gain increased exposure and, thus, instant sales. Let's dig a little deeper.
Amazon sees approximately 184 million visitors a month while eBay sees about 164 million. Especially when just starting out, that's a lot more traffic than any of us can hope to achieve on our business sites.
These aren't just local visitors, either. You might find yourself sending shipments across the globe. It's very wise to leverage this kind of exposure and list as many of your products as possible on a marketplace that will get you noticed.
Through your increased visibility, you're also likely to welcome new customers. Most of us shop in Amazon via product title or description, not retailer. So, as customers enter in their keywords, any number of retailers will come up.
If they choose to order from your store and enjoy a pleasant experience, they might keep a lookout for your name when it's time to reorder. New customers will turn into repeat customers, all because they first stumbled upon you in a keyword search on Amazon or eBay.
Research shows many of us prefer shopping in marketplaces. Nearly 50% of millennials shop this way. Think about all our malls, grocery stories, Walmarts, and Targets. If you're participating in the forum people prefer to shop in, that's a big check-mark in the visibility column.
Of course, Amazon and eBay aren't the only players in the game. There are countless specialized marketplaces, too. How about Newegg, which has a technological bent, or Bonanza, with its fashion/beauty angle? Etsy continues to dominate, too, while Jet holds its own.
Your Online Store
Understanding the perks of your participation in an online marketplace is important. When you consider hundreds of millions of customers visit them each month, it's hard to deny their value.
Just remember there are key components to running your own online store, too. Your online store will be free from fees, outside the cost of hosting your web domain. You'll also maintain more control over your products.
Depending which marketplace (or marketplaces) you choose, you have to remain keenly aware of their fees. Sometimes, you'll pay a fee based on a percentage of your sales. Oftentimes, you'll pay a fee for shipping costs. Some fees are even based on the type of product you're selling.
It all depends on which marketplace you select. But, as you figure out which marketplace will work best for your business, make sure you understand their fees, down to the dime. Knowing this will help you understand how much room is left in the budget.
That said, what you're not spending in Amazon fees, you're losing in exposure. You'll have to get your brand out there in other ways. While social media marketing and SEO blog posts will be a part of your business plan no matter how you involve yourself in the marketplace, will you have to spend more money on advertising? These are all things to consider.
The greatest perk of an online store is that it's all yours. You can brand things the way you want, interact with customers however much you want, and completely customize your products.
If you consider some of the high-end luxury brands, you'll notice they're not on Amazon. On one hand, they don't want their several thousand dollar handbags being sold alongside bathroom plungers.
On the other hand, if they're going to be charged a fee based on their sales, there's no way they want to fork over several thousand dollars to a middle man.
That's a very large scale example, though. Until you start reaching six figure revenue, it's safe to say you'll benefit from handing over a bit of your control to an online marketplace. When you hit Yves Saint Laurent status, then it's time to focus entirely on your online store.
Play the Field
In the end, you can set yourself up for increased exposure in any number of ways. It all comes down to your budget. Take a look at this success story. This couple chose to offer their products on Amazon while maintaining their online store. While their Amazon products 'sold like hotcakes', their online store's sales increased by about 25%.
In truth, your long-term goal can include selling exclusively via your online store. Saving on fees and maintaining total propriety are major points for consideration. Once you reach luxury good status, you can consider taking your products out of the marketplace to focus exclusively on your online store.
Your short-term goal, however, should include online marketplaces. Even though you'll watch some of your funds go out the window in fees, you may also see your bottom line increase as you gain exposure from a forum many consumers prefer to shop in.
The good news is, no matter which marketplace you choose, SellerCloud can help you maintain all your inventory, track every item in your budget, and handle all your shipping in one place. This will enable you to strike a healthy balance between online marketplaces and your business site, as you achieve higher and higher levels of success.