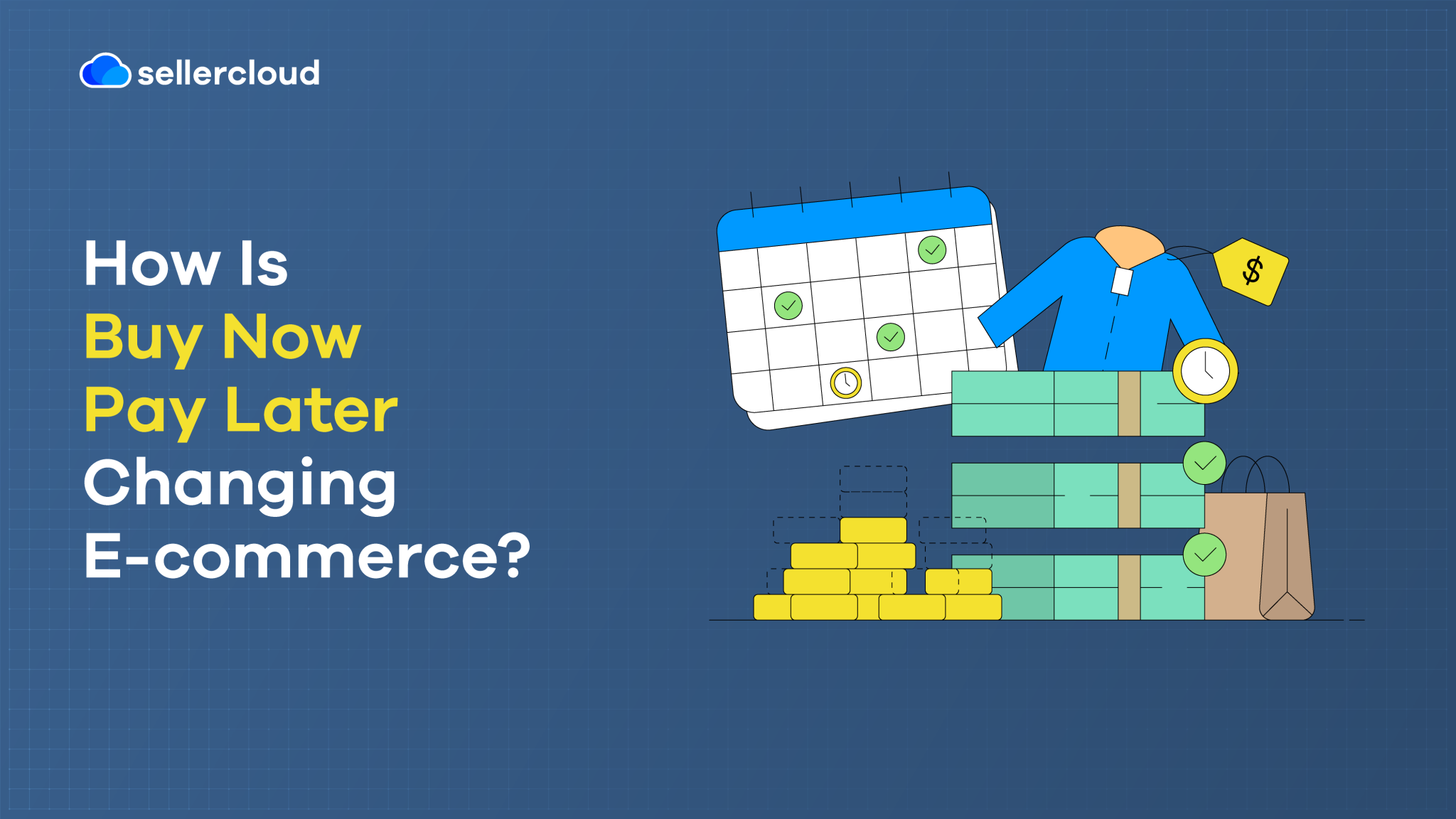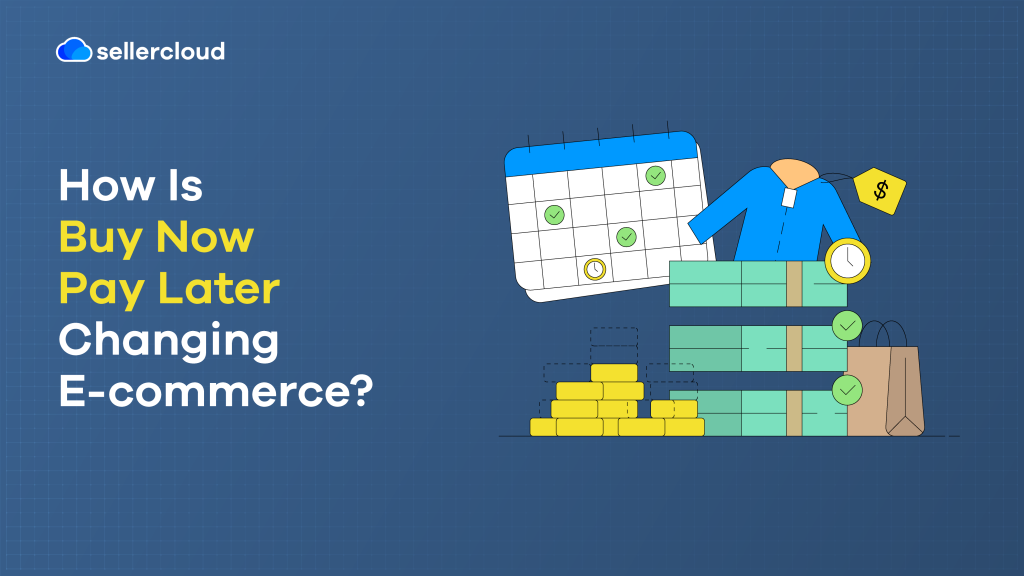 Will adopting buy now pay later help your e-commerce business, or is it a fad? Find out why BNPL is so popular, how it works, and its risks and benefits.
BNPL is growing in popularity amongst the young because it enables them to pay for products over several installments without interest payments.
Risks include higher merchant fees, increased risk of fraud, potentially negative shopping experiences, and a lack of federal oversight.
The hottest e-commerce trend of the last few years is by far 'Buy Now, Pay Later.'
This short-term financing solution has taken the e-commerce industry by storm and is set to keep growing.
However, while there's nothing wrong with jumping on the buy now pay later trend, it will only do you good to ensure you fully understand what it means for your business.
So, if you're asking yourself, 'Should my e-commerce business also adopt buy now pay later?' 'Is it too late to adopt buy now pay later?' or 'Is Buy now pay later risky?' Ask no more.
We'll go over what makes buy now pay later so groundbreaking, what it means for e-commerce, including the risks and benefits, and what remains to be seen.
What is Buy Now, Pay Later in E-commerce?
'Buy Now Pay Later,' often abbreviated to 'BNPL,' can also be called 'point-of-sale (POS) installment loans' but shouldn't be confused with 'Point of sale financing,' which is for larger purchases for longer periods.
The idea behind BNPL is simple. There are three participants in BNPL payments—the customer, the merchant, and the BNPL provider.
A customer buys a product from a merchant, but instead of paying the total price, they pay a small down payment, and the BNPL provider pays the rest.
The customer then pays the remaining balance in installments to the BNPL provider.
Buy now pay later is very similar to 'pay over time,' which credit card companies have offered for many years. Like BNPL, customers make several interest-free payments to pay off a product.
The difference is that with pay over time, customers only receive the product after the last payment, while with BNPL, customers get the product immediately.
Why is BNPL So Popular?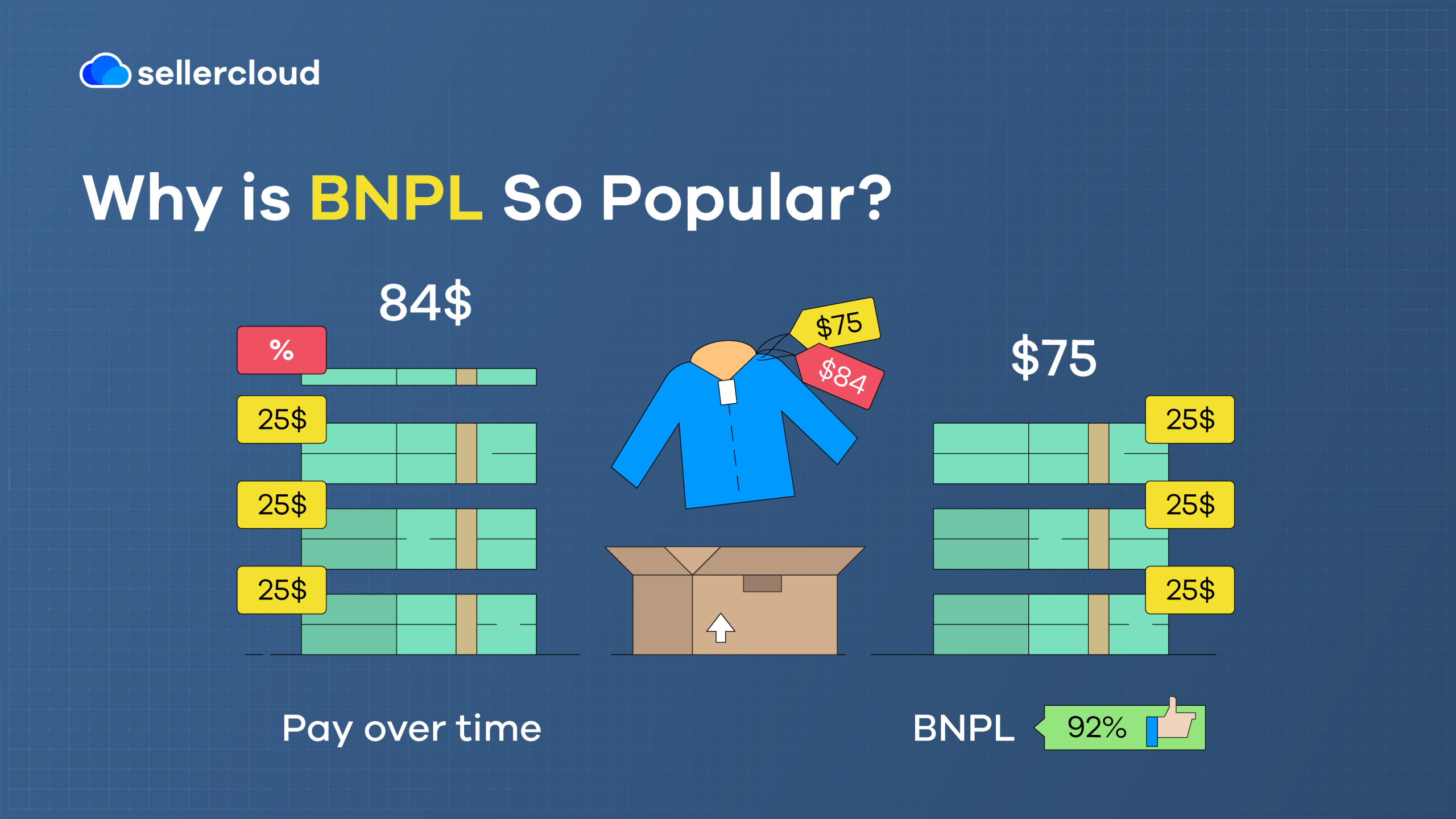 BNPL rocketed in popularity in the last few years because it's highly convenient for customers who might not be able to pay full price for a product and increases their purchasing power.
According to whatdoestheinternetthink?, 92.3% of people think of 'BNPL' positively.
The pandemic played a significant role in BNPL's popularity. With many people out of work, BNPL became an affordable option to buy the products people needed.
For example, Overstock, which uses Klarna for BNPL payments, said that most BNPL payments on their platform range from $10 and $400.
Aside from the practical aspects of BNPL, a key reason for BNPL's success is that most BNPL providers don't charge interest rates on payments.
This price of the product is what customers pay, and there are typically no hidden fees. 
Meanwhile, credit card companies will compound interest daily, making a small purchase reasonably expensive in the long term.
For merchants, the overall benefit of adopting BNPL is potentially higher conversion rates and increased average order value.
Customers are also more likely to return to your online store. Effectively, BNPL can make your store busier.
How Many People Use BNPL?
According to an article by Josh Howarth of Exploding Topics, as of January 2023, there are approximately 360 million BNPL users.
Howarth also highlighted that roughly half of all US citizens are interested in using BNPL services, clothing is the most popular BNPL purchase, and 16% of BNPL users are 18 to 34.
Breaking down BNPL users demographically, a Consumer Financial Protection Bureau (CFPB) report noted:
"Black, Hispanic and female consumers and those with household income between $20,001-50,000 were significantly more likely to borrow using BNPL compared to white, non-Hispanic and male consumers, or those with household income below $20,000."
According to data from Statista, the estimated value of the BNPL market in the USA was $3 billion in 2019.
In 2022 the BNPL market exploded to $77.3 billion, and it is expected to reach $94.87 billion in 2023. By 2026, Statista estimates the value of the BNPL market to be at $143.44 billion.
According to a July 2021 survey by PYMNTS, approximately 28.1% of small and medium-sized merchants said they had "innovated new installment payment options for their customers."
Suggesting that BNPL solutions are growing in popularity among businesses of all sizes.
BNPL Share of E-commerce
BNPL is quickly snapping up a large portion of the e-commerce market, and many big tech companies want a piece of that.
Returning to Exploding Topics' article, Klarna, the most established BNPL provider, has approximately 1 million active users globally and "has around 14x more users than any other BNPL service."
However, in the US, PayPal Credit outperforms Klarna, with roughly four times as many users.
To keep up with the demand for BNPL, some e-commerce companies are building their own BNPL solutions, while others are partnering with other companies.
Amazon launched its own service called 'Amazon Monthly Payments,' which enables customers to pay off products over the course of four months.
Meanwhile, Walmart and Shopify have partnered with BNPL provider Affirm and Etsy has partnered with Klarna.
It's not just e-commerce companies that are jumping on the bandwagon. Most recently, Apple introduced Apple Pay Later.
How Does BNPL Work for Merchants?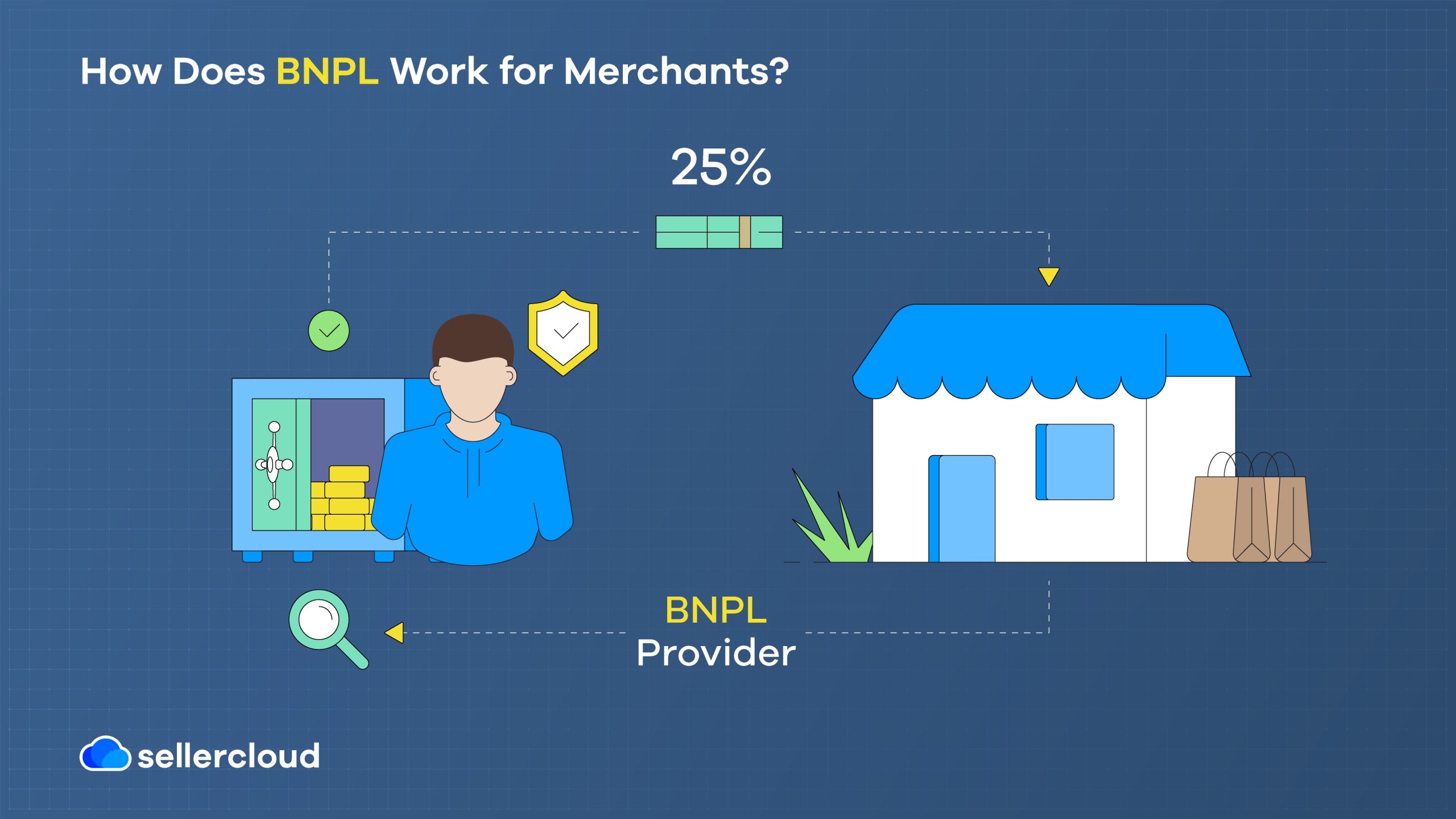 Before diving into how BNPL works for merchants, it's worth noting that not all BNPL providers work in the same way, so merchants must check this before signing on.
When customers make a BNPL payment, the BNPL provider the merchant has partnered with will make a quick 'soft credit check' to ensure the customer can pay.
If the customer passes, they are typically charged a 25% down payment which is paid to the merchant.
The BNPL provider then pays the remaining 75% to the merchant, and the customer pays installments to the BNPL provider to cover what they borrowed.
As mentioned, most BNPL providers don't charge customers interest rates or additional fees to merchants.
How Does BNPL Make Money?
So, if BNPL providers don't charge customers interest rates, how exactly do they make their money? The answer is through charging merchants transaction fees.
As a blog post by Shopify explains, most BNPL merchant fees are between 2% and 8%, similar to that of credit card companies.
In comparison, most merchant service charges (or processing fees) are between 0.25% and 3%, according to TrueLayer, so BNPL can cost merchants more to use.
The tradeoff is that merchants should be able to attract more customers by offering BNPL. This is why it's so essential for merchants to understand the fees before signing up for a BNPL service.
On top of this, BNPL providers can also make money by charging customers late fees if they miss a payment.
For example, Klarna and Afterpay can charge late fees of up to $7 and $8, according to NerdWallet. However, some BNPLs, such as Affirm, do not charge users late fees.
Why is BNPL Risky?
Buy now, pay later is not risk-free. Just like adopting any new tech solution, there are risks for merchants that must be examined before adopting it.
As mentioned above, BNPL can cost merchants more than traditional direct payments. Another critical issue is the higher risk of fraud.
This is because BNPL providers often don't require many details to sign up, so it's easy for fraudsters to impersonate someone else and purchase products in their name.
The fraudster will often send the product to an untraceable address, and no payment will be made. In such an event, BNPL providers will disclaim liability, as Michael Hill of CSO explains.
The issue is that consumers usually don't pay until they receive their product, so the merchant is often out of pocket, has to cover the cost of fraud, and likely will not be able to reclaim the product.
On the flip side, there are also concerns about the effects of BNPL on consumer well-being. 
One of the most frequently noted issues with BNPL is that it can encourage consumers to overspend and collect debts they cannot afford to pay back.
Once in debt and subject to late fees, this can harm their credit scores. Overall, this leads to a negative shopping experience which can damage your reputation.
Lastly, it's worth considering BNPL's legal ambiguity. Currently, there is no federal-level regulation on BNPL.
Saul Ewing explains that while the CFPB does have some enforcement authority over BNPL providers, regulation can differ from state to state.
Not only does this make it harder for merchants to navigate, but it also raises questions about potential federal regulation in the future and how this could affect merchants.
Will BNPL Survive?
BNPL is such a new and emerging e-commerce trend that it's hard to say what its future might look like.
If BNPL fails to get e-commerce stores more customers, business owners could turn away from it because of the higher merchant fees.
Likewise, BNPL may become less popular if many customers begin to fall into debt with providers.
The big question is will BNPL regulation help or hamper the growth of the industry and what impact it will have on consumers and businesses.
Despite this, BNPL's popularity among Gen Z could prove that it'll last and continue to grow in popularity.
For many consumers, it makes paying for products more accessible, and it's a chance to increase sales for merchants.
However, while much of this is speculative, one thing is for sure—BNPL companies are feeling a pinch from the current economic climate, which may impact their survival.
According to Imani Moise of The Wall Street Journal, higher interest rates and recession fears are pushing BNPL companies to tighten their standards and reject more customers or lower their spending limits.
Moise explains that BNPL companies are starting to focus more on profitability and that many of the top BNPL companies are yet to turn a profit in 2023.
Key Points
Let's summarize the most important points made in this post.
Buy now pay later (BNPL) is a rapidly growing payment method where customers pay a small amount for a product and pay the rest in installments.

As of 2023, there are approximately 360 million BNPL users globally, and the market has grown from a value of $3 billion in 2019 and could reach $143.44 billion by 2026.

BNPL is particularly popular among low-income households and Gen Z, and 28.1% of small and medium-sized merchants have invested in BNPL solutions.

While BNPL merchant fees are higher than direct merchant fees, online sellers can theoretically make more sales by adopting it.
Many top e-commerce platforms—Amazon, Walmart, Etsy, and Shopify—have partnered with BNPL providers or built their own solutions.